Covid: Govt health officials say all above 18 can't be vaccinated now
They said India's vaccination campaign is in line with public health requirements, global practices and WHO guidelines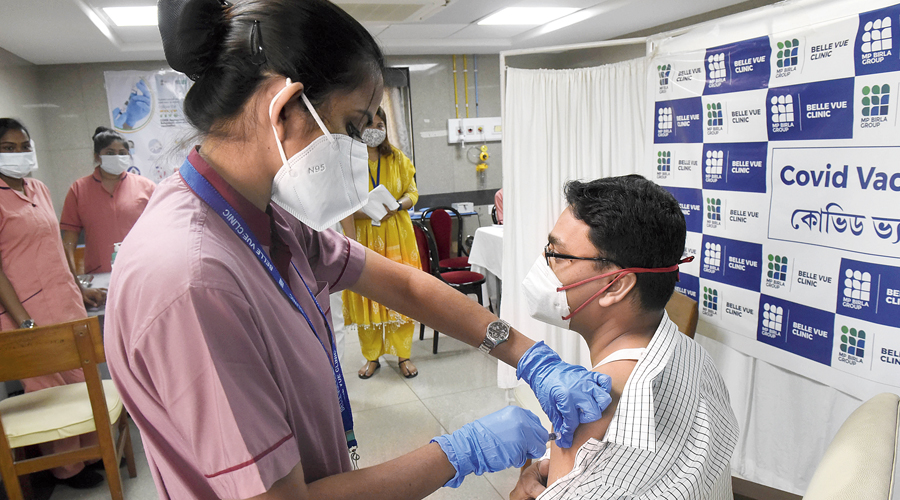 The health officials said other countries, including Australia, France, Sweden, the UK and the US, have adopted similar policies of starting their vaccination campaign with priority population groups just as India has done
File picture
---
New Delhi
|
Published 07.04.21, 01:28 AM
|
---
India's current vaccination campaign open to people 45 years or older seeks to minimise deaths and protect the most vulnerable, health officials asserted on Tuesday, rejecting arguments from sections of doctors and health experts that vaccines be offered now to all adults.
The officials who had helped shape the country's vaccination strategy said the campaign is in line with public health requirements, global practices and World Health Organisation guidelines and cannot for now be opened to all above 18 years.
"The objective cannot be to provide the vaccination to whoever desires it, the objective should be to provide the vaccination to whoever needs it most," Union health secretary Rajesh Bhushan said, responding to a growing chorus for vaccines-on-demand for all adults.
The Indian Medical Association (IMA), the country's largest body of doctors, had on Monday cited the resurgence of the epidemic and urged the Centre to permit all citizens above 18 years of age to receive Covid-19 vaccines, as one measure to mitigate the surge.
Several public health experts, including Giridhar Babu, a professor of epidemiology at the Indian Institute of Public Health, Bangalore, have also argued that India should accelerate its vaccination campaign and open it up as early as possible to all adults.
But the health officials said other countries, including Australia, France, Sweden, the UK and the US, have adopted similar policies of starting their vaccination campaign with priority population groups just as India has done.
In France, for instance, vaccines in mid-April are available only to all people above 60 years, people above-50 at special risk, and to teachers who want it. In the UK, the February to April campaign was open only to all those between 60 and 69 years, those between 16 and 64 years with underlying health conditions and unpaid carers for elderly and disabled, and those between 50 and 59 years. The US also started its campaign with frontline essential workers, people aged 75 years or older and people between 75 and 74 years.
The US, however, plans to have all its adults vaccinated before the middle of this year.
"The basic aim is to reduce deaths through vaccination. The other aim is to protect your healthcare systems," Bhushan said. "These are the two objectives — whether in India, America, the UK or any other country. No country has gone ahead and opened vaccination to all above 18 years of age."
India has in the 80 days since the start of the campaign administered nearly 80 million doses, marking what officials have described as the fastest vaccination campaign in the world. Over five million healthcare workers, four million frontline workers and nearly 1.2 million people above 45 years in India have received both doses of the vaccines.
Vinod Paul, a senior paediatrician and chair of the national expert group on Covid-19 vaccines, said suggestions to open up the vaccination campaign immediately to all adults "trivialises" the narrative.
The campaign's current strategy, Paul said, is intended to reduce deaths and the burden of severe disease. Infection patterns from across the world have shown that older people are at the greatest risk of severe Covid-19 and deaths from the infection.
"We respect these suggestions but seek that we embrace the current strategy, counter hesitancy and encourage more (eligible) people to come for their vaccinations," Paul said.