Rahul Gandhi asks the poor to wake up
'You are dying of hunger and they are using your rice to make sanitiser'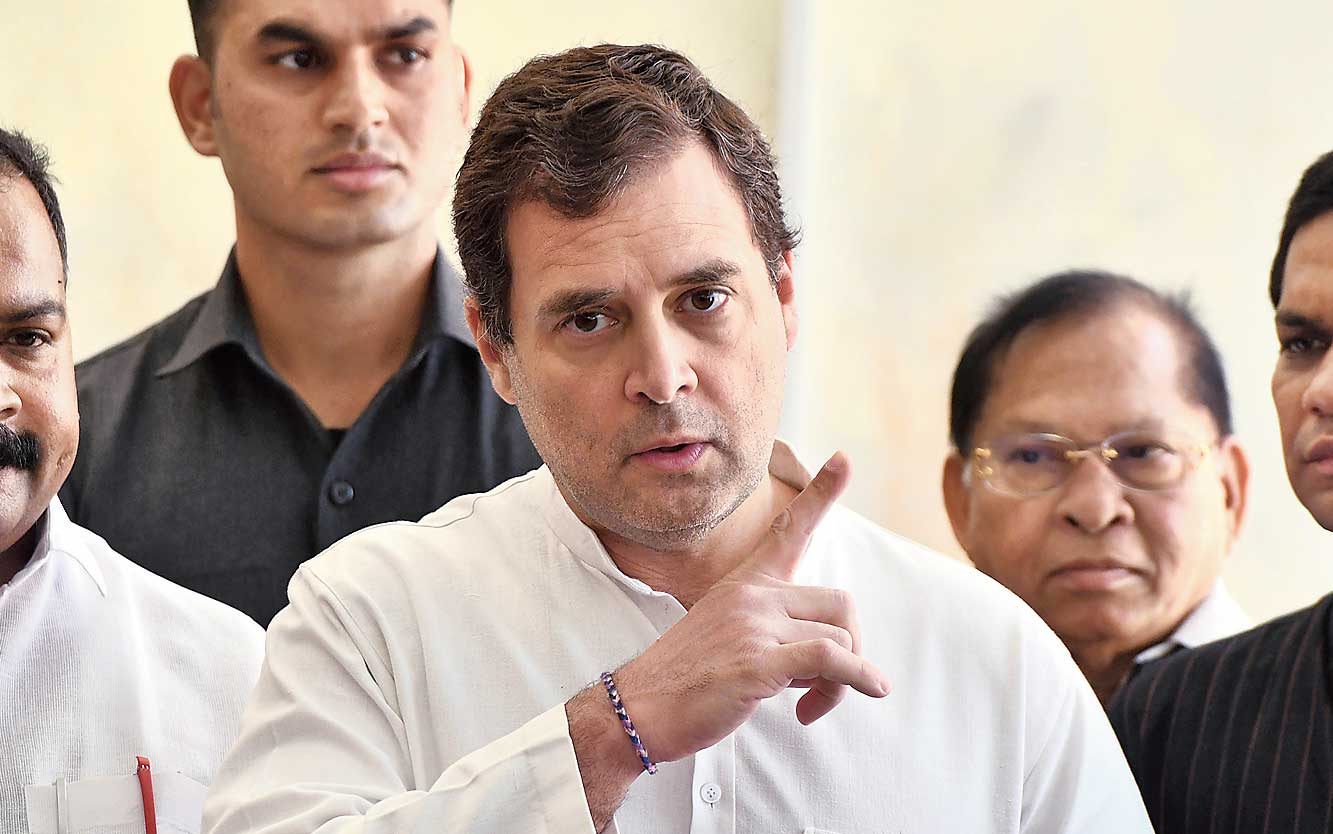 Rahul Gandhi, who led the Congress in proclaiming that this was not the time for partisan warfare, erupted in frustration as the government declared it would use the surplus stocks of rice to make ethanol for sanitisers.
Telegraph file picture
---
New Delhi
|
Published 21.04.20, 09:33 PM
|
---
The resolve of the Congress to display restraint and desist from attacking the Narendra Modi government during the pandemic crisis appears to have waned as its "constructive" suggestions on managing the coronavirus, the economy and the humanitarian crisis have not yielded substantive responses.
Rahul Gandhi, who led the Congress in proclaiming that this was not the time for partisan warfare, erupted in frustration as the government declared it would use the surplus stocks of rice to make ethanol for sanitisers.
"When will India's poor wake up, after all? You are dying of hunger and they are using your rice to make sanitiser so that the rich can wash their hands," Rahul tweeted.
The lament –- that India's poor haven't woken up despite policies that harmed their interests -- is rooted in Rahul's understanding of the results of the 2019 parliamentary elections. He firmly believed Narendra Modi ran an anti-poor government and tried to provide undue benefits to the select few among the corporates.
He was convinced that the poor suffered most post-demonetisation and the flawed Goods and Services Tax (GST) badly hurt the small shopkeepers and presumed that they would never vote for Modi again.
The former Congress president was stunned by the continued support of the poor for Modi that resulted in a bigger victory for the Prime Minister. Some of Rahul's aides revealed he could not believe that the poor voters would fail to see through the falsity of "achhe din" that Modi had promised in 2014.
It is the same frustration that made him wonder now when will the poor wake up because the Modi government was more interested in sanitisers than hunger.
Asked to explain Rahul's tweet, a senior leader said: "It is more a concern than frustration; but yes, how can a government even think on these lines when the crisis is that big?"
Party spokesperson Pawan Khera said: "It is a painful phase in India's history. Millions of poor have nothing to eat. If somebody gives them a food packet today, they don't know when the next meal will come. The desperation was reflected in their decision to walk hundreds of miles on foot to reach their villages where survival is less difficult. What the petroleum minister Dharmendra Pradhan said yesterday was a cruel joke."
Kera was referring to a statement by the petroleum ministry that a meeting chaired by Pradhan had "approved that the surplus rice available with FCI may be converted to ethanol for utilisation in making alcohol-based hand sanitisers and in blending for ethanol blended petrol programme".
Khera added: "A sensitive government would have come out to declare that 'nobody will sleep hungry. We have enough food stocks'. There are demands for universalisation of PDS (public distribution system); we can easily supply free food for 80 per cent of our population for six months. Hasn't the government seen those heart-wrenching videos of poor eating ashes and frogs to keep alive? The government is not only ill-prepared, its priorities too are wrong."
Punjab chief minister Amrinder Singh had already written to the Prime Minister to supply ration to the poor for six months -– a move that will also create storage facility for the new crop.
Rajasthan chief minister Ashok Gehlot said in a series of tweets on Tuesday: "The demand for ration has increased during the lockdown as a large number of families are asking for wheat to be distributed through PDS. The state government has requested the central government to release more wheat so that no one suffers from hunger during this crisis. The FCI (Food Corporation of India) reserves are full of wheat stocks and the new crop will also be ready soon. In this situation, I am hopeful of a positive decision from central government and that more wheat will be released for ration to the states soon."
Former finance minister P. Chidambaram's use of strong expressions like "cry India cry" and "government's attitude is cruel" had betrayed rising levels of frustration in the party after the initial spirit of cooperation.
Party chief Randeep Surjewala also asserted on Tuesday: "There is total mismanagement in procurement of wheat and mustard in Haryana. If a farmer has brought 40 quintals, barely four quintals are being purchased. Farmers are shedding tears of blood. The Haryana chief minister is like Nero fiddling while Rome burns."
Rahul commented on the high prices of petroleum products when international crude rates had crashed.
He tweeted: "Prices of international crude oil have fallen to unprecedented level. But why is petrol being sold in our country at Rs 69 and diesel at Rs 62 per litre? During this tragedy, lower the price, the better. When will this government listen?"
The Congress said in a statement: "This is unprecedented in the history of oil industry that the rate cashed below zero. The Government of India earns Rs 10,714 crore with the fall of one dollar in international market. (The rate during the UPA was roughly $115 per barrel). The government has earned a profit of Rs 20 lakh crore in the last five years. Why can't a portion of the profit be shared with pour farmers and consumers? The transporters who will play a critical role in restoring the supply chain in lockdown, will also be helped."
The Congress asked why the government refused to purchase crude at such a low price. Party spokesperson Khera said: "After we stopped purchase from Iran, we are the tenth largest importer from the US. Why did we not buy crude when the price fell unexpectedly low?"