Coronavirus lockdown: 'Plot' charge after Kerala unrest
Paippad has about 8,000 migrant workers, mostly from Bengal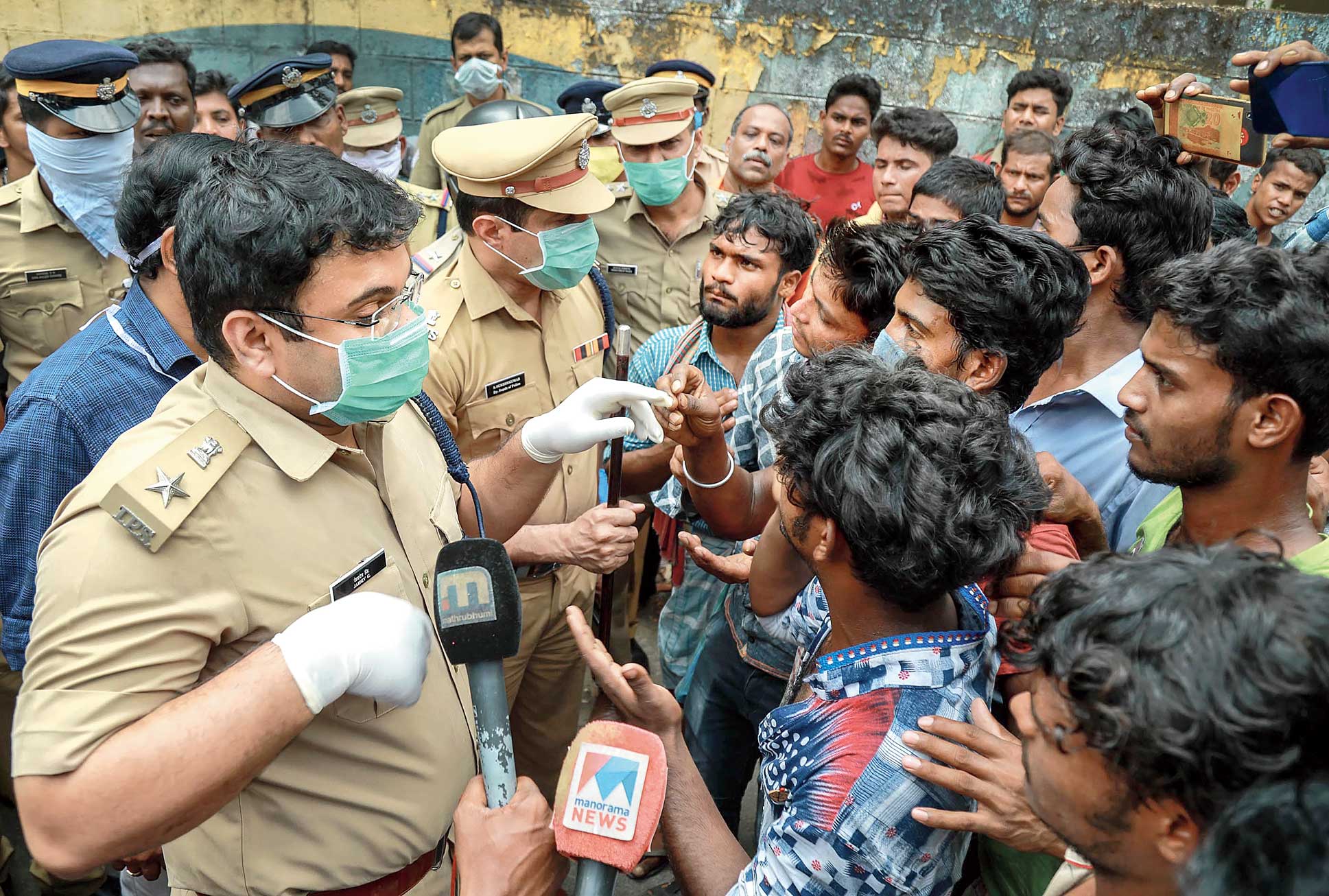 ---
---
About 1,000 migrant workers, most of them from Bengal, hit the streets in a Kerala town on Sunday demanding they be sent back home regardless of the nationwide lockdown.
The street demonstration at Paippad in Changanassery — itself a violation of the coronavirus protocol — came despite Kerala having repeatedly promised the stranded and unemployed migrant labourers free food, medical care and accommodation.
Kerala chief minister Pinarayi Vijayan said there was a conspiracy behind the Paippad demonstration and lashed out at "forces" which were trying to create unrest in the society by provoking the working class during the coronavirus pandemic.
The workers' travel demand coincided with a central directive to the states to seal state and district borders and stop all popular movement across cities or along highways.
Initially, the language barrier had made it difficult for the police to convey that the migrants would face no problems in Kerala. The workers were seen insisting in Hindi that they just wanted to go home.
District collector P.K. Sudheer Babu arrived on the spot and brought in an interpreter to address the Bengali-speaking workers. He made it clear the state alone could not take a decision to send them home.
"They say they want to go home. That is practically impossible at the moment," Babu told reporters.
The migrant workers were unrelenting and could be seen arguing with Kottayam superintendent of police G. Jayadev.
"We are getting food but we want to go back to Bengal," one of the agitating workers could be heard saying on footage aired by Malayalam TV channels.
Another young worker broke down and said he just wanted to go home. "We don't have money, we are not getting food or even drinking water," he told the gathered reporters.
Several others too said they were running out of money since they no longer had jobs after the lockdown.
"Buses are going from Delhi; we too need buses," one of them said.
Uttar Pradesh had started a bus service to take migrant workers home from Noida and Ghaziabad but officials said it had been stopped following the Centre's Sunday directive.
Paippad has about 8,000 migrant workers, mostly from Bengal. The collector said that at least 5,000 of them had left for home before the lockdown.
State BJP president K. Surendran appeared to justify the agitation, accusing the government of failing to provide food to the migrants. "The chief minister has been making tall claims about community kitchens feeding the migrant workers, but they have not been getting food," he said.
Babu, the collector, denied this. He said he had met the protesting workers on Friday when they sought provisions to cook their own meals, saying they didn't want traditional Kerala food.
"They told me they didn't want Kerala food and we started supplying provisions. There's absolutely no shortage of food or drinking water for the migrant workers," he said.
Babu warned those instigating the workers of "stringent action" but did not name anyone. He cautioned the migrant workers' contractors and landlords against evicting them, alluding to recent instances in Ernakulam and Kannur.
Kerala agriculture minister V.S. Sunil Kumar said in Ernakulam that the "state government will make travel arrangements to take them to their native places after Covid-19 is controlled".
The state government has instructed all the district police chiefs to ensure that the migrant workers' basic needs are met.
Police and district officials in Ernakulam have reached out to migrant labourers in the industrial township of Perumbavoor, where about 50,000 of them work, to pre-empt any similar agitation.
The police identified one speaker each of Bengali, Odia and Hindi from among the migrants and got them to tell their brethren about the measures the state had taken for them.
Kumar, the agriculture minister, warned of strict action in future if any group of workers violated the lockdown as in Paippad.
"Perumbavoor and Angamaly in Ernakulam district have the largest numbers of migrant workers. We will not tolerate violation of the orders not to step out," he said.