Pay complaint against six jute mills
Sources in the industry said that only two jute mills have continued paying wages after the nationwide lockdown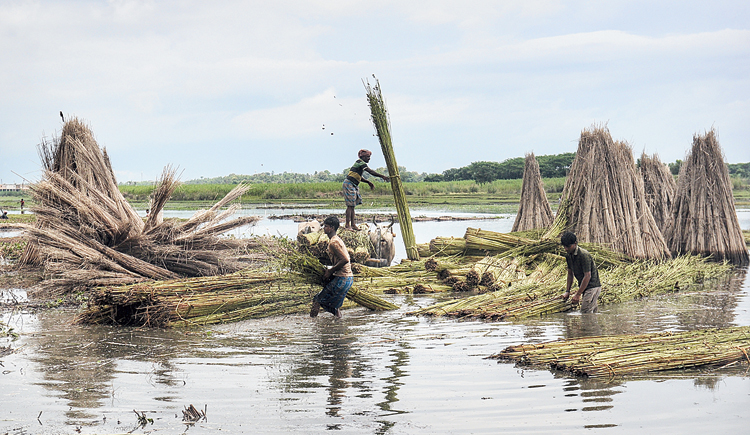 ---
|
Calcutta
|
Published 27.04.20, 09:40 PM
---
As many as 21 labour unions have lodged police complaints against six jute mill owners, accusing them of violating the Centre's and the state government's directives to pay wages to workers for the lockdown period.
Complaints against more mill owners are expected to be lodged with the police on Tuesday.
The six jute mills are Bally, Bharat, Delta and Mahadeo in Howrah and Baranagar, and Naihati in North 24-Parganas.
Sources in the industry said that only two jute mills -– out of 59 in the state — have continued paying wages after the nationwide lockdown was imposed amid the Covid-19 pandemic while others have either refused to make payments citing loss of revenue or are yet to take a clear stand.
The unions think that further delay in payment of wages might create a law-and-order problem. "Most labours engaged in jute mills work on a 'no-work-no-pay' basis. We want immediate disbursement of wages for both permanent and other kinds of employees…. We will be lodging more complaints in the coming days," said Ganesh Sarkar, general secretary of the National Union of Jute Workers.
The mill owners, however, maintain that they are not in a position to pay wages. Most of them deny that there has been any written instruction on payment of wages from the government.
"There were two advisories, which didn't make payment of wages for the lockdown period mandatory," said a source at the Indian Jute Mills Association (IJMA).
The source said the state government had allowed a handful of mills to operate with a maximum of 50 workers, which means that a jute mill will run only at 2 to 3 per cent of its daily total capacity.
"Most applications to restart mills have been rejected because these mills are located in the containment zones of Howrah, Hooghly and North 24-Parganas districts. The IJMA has written to chief minister Mamata Banerjee and chief secretary Rajiva Sinha separately, describing the crises in the industry. But there hasn't been any change in the government's stand," said the source.
The jute mill owners fear the future looks uncertain for the industry as the Union government has allowed the use of 6.5 lakh plastic bales, replacing jute bags. If the trend continues, it will spell doom on the industry that provides livelihood to over 35 lakh jute farmers and 2.5 lakh workers in the state.