Covid-19 crisis: Jurists list lapses
The paper comes at a time the lockdown has left lakhs of migrant workers stranded far away from home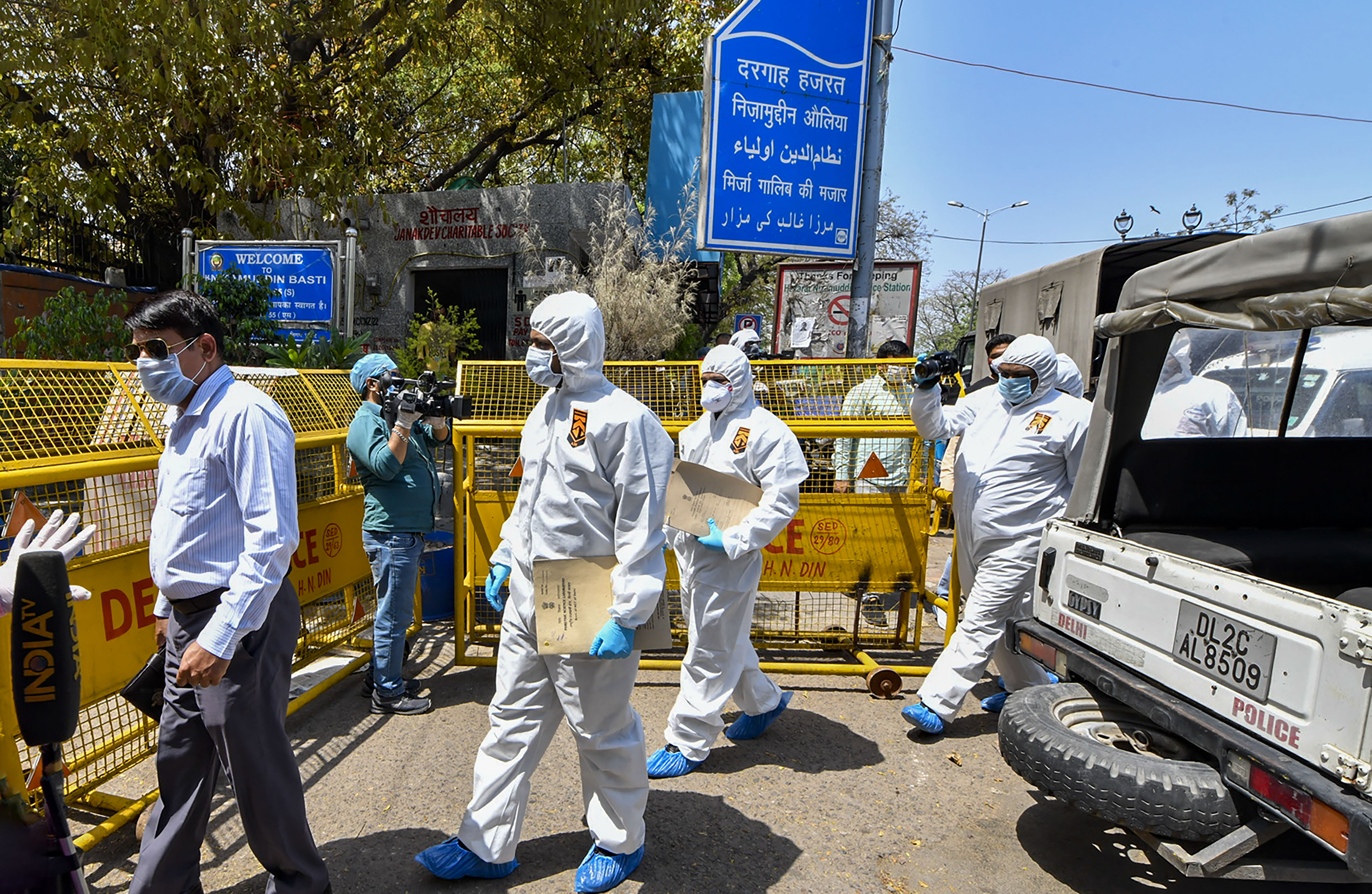 Forensics and crime branch officials arrive at Nizamuddin Markaz to conduct an inspection in New Delhi.
(PTI)
---
New Delhi
|
Published 28.04.20, 09:57 PM
|
---
The International Commission of Jurists has alleged that the Indian government has fallen short of its "obligation" to ensure that citizens had access to adequate food amid the Covid-19 crisis, the damning observation coming in a paper that also mentioned discrimination and violence against Muslims and Dalits.
"The Government must ensure that laws are enforced in a non-discriminatory manner, and that acts of violence are redressed. This includes an obligation to exercise due diligence to ensure that private individuals and businesses do not act to impair enjoyment of the right to food. Unfortunately, there are regular media reports regarding violence and discrimination," the briefing paper from the Geneva-based body, released in India on Tuesday, said.
"Muslim persons in particular have faced severe discrimination. Muslim vegetable and fruit vendors have been prevented access to neighbourhoods in Delhi and Rajasthan, and have been beaten up. Gujjar milkmen in Jammu, Himachal Pradesh, and Punjab have faced boycott as well as physical violence while trying to sell milk," it added.
"The failure to enforce criminal law, including the Scheduled Castes and Scheduled Tribes (Prevention of Atrocities) Act, 1989, for preventing acts of violence and discrimination, and to ensure the protection of food vendors is incompatible with India's obligation to protect the right to food," the commission said.
The paper comes at a time the lockdown has left lakhs of migrant workers stranded far away from home.
The 60-member commission — made up of senior judges, attorneys and academics reflecting the geographical diversity of the world and its legal systems — cited the Global Hunger Index 2019 that ranked India on a "level of hunger that is serious".
The paper said 400 million informal sector workers in India were "at risk of falling deeper into poverty during the Covid-19 crisis amidst hunger pangs making deep forays into the Indian society".
India has been in a nationwide lockdown since March 25. Informal sector workers and others who survive on meagre daily wages have lost access to regular income since the lockdown began.
The paper said: "Several million persons, including informal sector workers living in deprived urban and rural areas lack access to adequate food, as well as information about the availability of community kitchens."The jurists' body, an international human rights non-government organisation, had earlier called upon the Indian government to ensure that the rights of internal migrant workers were protected.
The UN's guiding principles on extreme poverty and human rights, adopted by the Human Rights Council, require that States ensure effective distribution mechanisms that recognise market shortcomings to make adequate food physically and economically accessible to the poor.
"There are certain minimum core obligations that India and other States must immediately undertake… to ensure for everyone under (the State's) jurisdiction access to the minimum essential food which is sufficient, nutritionally adequate and safe, to ensure their freedom from hunger, even during natural or other disasters, " the commission said.
Further, it said the country needed to ensure there was no discrimination in access to food on grounds such as race, colour, gender, language, religion or social background.