Congress demands objective economic report in 2 weeks
Congress echoed the same sentiment, recalling how such desperate measures led countries to ruin, Argentina being the latest example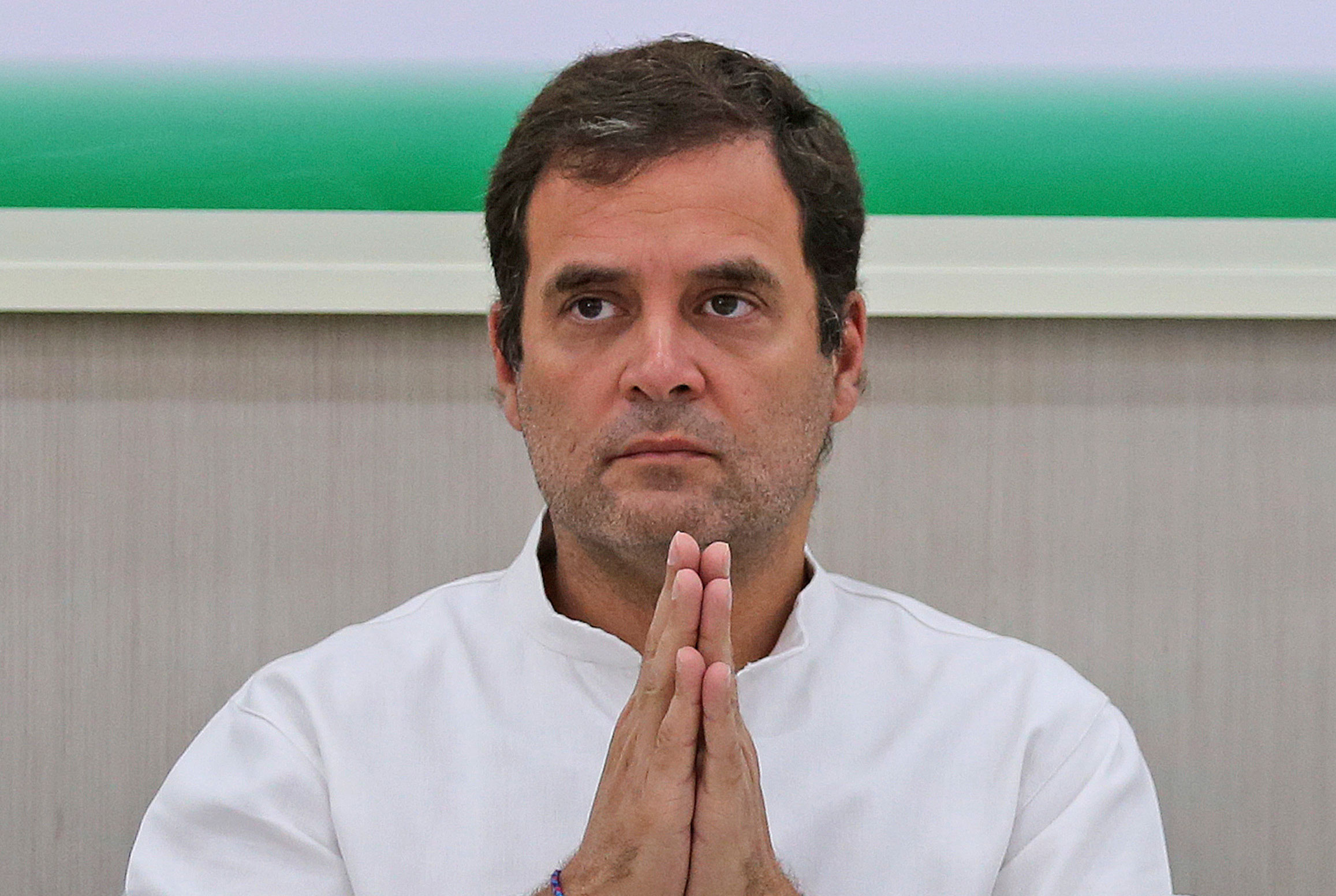 Rahul Gandhi tweeted: "Prime Minister & Finance Minister are clueless about how to solve their self-created economic disaster. Stealing from RBI won't work -- it's like stealing a Band-Aid from the dispensary & sticking it on a gunshot wound."
(AP)
---
New Delhi
|
Published 27.08.19, 10:42 PM
|
---
The Congress on Tuesday expressed the fear that India was drifting on to a path of ruin and asked the Government to release data on critical parameters for experts and research institutes to prepare an objective report on the state of economy within two weeks.
Former commerce minister and Congress spokesperson Anand Sharma told a media conference: "We demand that the government immediately come out with a white paper on the state of the Indian economy. We know they are less than honest, they will try to fudge the data, embellish numbers but they must do it."
Sharma added: "We also ask the government to immediately release data on the following parameters for the research institutes to prepare a report in two weeks' time. That is the projects which are at present under progress, projects nationally in all sectors, investments -– public sector investments and private sector investments, credit off-take by MSMEs and by the agriculture sector, electricity consumption in Indian factories, export scenario and the actual factory output."
Sharma said: "The government is pushing the country towards bankruptcy. What we are already facing is not downturn or a recession; we are already in the midst of the worst ever economic crisis. The RBI's act of transferring its entire surplus is merely a confirmation of what we forewarned before the election. If there is a global crisis tomorrow, the RBI is left with nothing to offer. People will now genuinely worry about their money."
Rahul Gandhi tweeted: "Prime Minister & Finance Minister are clueless about how to solve their self-created economic disaster. Stealing from RBI won't work -- it's like stealing a Band-Aid from the dispensary & sticking it on a gunshot wound."
The Congress echoed the same sentiment, recalling how such desperate measures led countries to ruin, Argentina being the latest example.
Predicting catastrophic consequences, Sharma said: "All the engines of economy are stuttering. The GDP growth has been falling, rupee has become the worst performing currency of India, unemployment is at all-time high, major industrial centres are collapsing, many sectors -– particularly automobiles and textiles --- have openly rung the alarm bells. Agrarian distress is too well known. All this is happening because of government's incompetence and mismanagement."
Sharma also referred to the credibility of the RBI, arguing that the surrender of the "pliant" governor Shaktikant Das to the government's pressure would spell doom for the autonomous central body.
Former Union minister Jairam Ramesh also made the same point in a tweet: "Urjit Patel (Ex-RBI governor) & Viral Acharya (Ex-deputy governor) held the fort. They were forced to leave. The fort was breached. The Govt of India now usurps a huge windfall from the RBI, going contrary to what the central bank's own think tank CAFRAL had said. Fiscal breathing space but at what and whose cost?"
Contesting the government's claim that previous governments also took money from the RBI, Sharma said: "No, we never dug into the contingency reserves. You look at the numbers. Those are the dividend transfers and income transfers. 2008-09 was a global financial crash; it was not a normal situation. But it was all restored, it was never continued. There is no global financial crash today. The government is coming with absurd statements."