Cloudburst near Amarnath shrine in J&K, no casualty reported
Home Minister Amit Shah speaks to L-G to take stock of the situation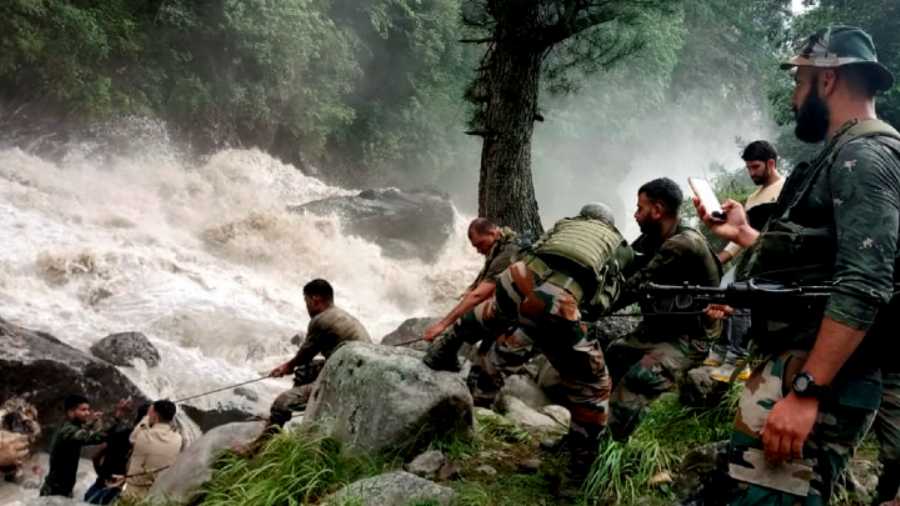 ---
Srinagar/ New Delhi
|
Published 28.07.21, 08:42 PM
|
---
A cloudburst occurred near the holy shrine of Amarnath in south Kashmir Himalayas on Wednesday. No loss of life was reported during in the incident, officials said.
Massive volume of water rushed down the shrine during the afternoon, leading to shooting stones which caused damage to some tents, maintained the officials.
However, there was no loss of life in the incident, they said.
However, at least 30 people were reported missing after a cloudburst in a remote village in Kishtwar district of Jammu and Kashmir early Wednesday.
The officials said, "Two teams of the State Disaster Response Force (SDRF) are already deployed at the holy cave while an additional team has been deputed from Ganderbal district."
Taking note of the cloudburst, Union Home Minister Amit Shah spoke to Jammu and Kashmir Lieutenant Governor Manoj Sinha directing him to take stock of the situation arising due to the cloudburst near the holy shrine of Amarnath and in Kishtwar in the Union Territory.
"I have spoken to L-G of Jammu and Kashmir Manoj Sinha and got information about the cloudburst near the holy cave of Baba Amarnath. NDRF teams are being sent there for relief operations and an accurate assessment of the situation," Shah tweeted in Hindi.
किश्तवार (J&K) में बादल फटने के संबंध में मैंने जम्मू-कश्मीर के LG और DGP से बात की है। SDRF, सेना और स्थानीय प्रशासन बचाव कार्य में लगा हुआ है, NDRF भी वहाँ पहुँच रही है। अधिक से अधिक लोगों की जान बचाना हमारी प्राथमिकता है। शोकाकुल परिवारों के प्रति संवेदना व्यक्त करता हूँ।

— Amit Shah (@AmitShah) July 28, 2021
Shah also discussed the situation with Jammu and Kashmir Director General of Police (DGP) Dilbag Singh.