CJI dwells on retirement age for Supreme Court and HC judges
His remark came at the farewell to Justice R.F. Nariman, who retired on Thursday at the age of 65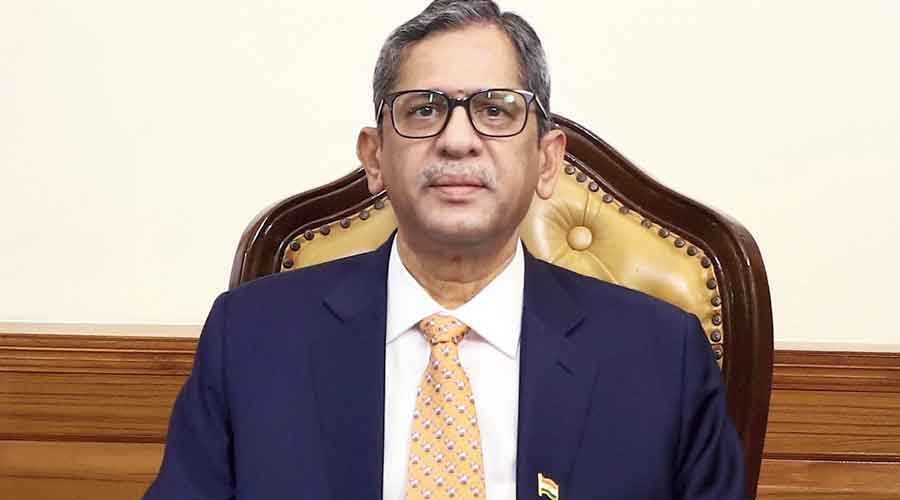 Chief Justice of India N.V. Ramana.
File photo
---
New Delhi
|
Published 13.08.21, 03:25 AM
|
---
Chief Justice of India N.V. Ramana on Thursday appeared to throw his weight behind the growing demand for raising the retirement age for Supreme Court and high court judges.
Justice Ramana's remark came at the farewell to Justice R.F. Nariman, who retired on Thursday at the age of 65.
"The retirement of luminaries such as brother Nariman who are repositories of legal acumen makes one wonder if a person's age is the appropriate yardstick to decide the tenure and time of retirement," the Chief Justice said.
Justice Ramana's comment comes at a time massive vacancies of judges in the country — amid a huge backlog of cases — has strained relations between the judiciary and the Centre, which is seen as delaying judges' appointments.
Earlier, attorney-general K.K. Venugopal and the Supreme Court Bar Association, including its president Vikas Singh, had demanded raising the retirement age for Supreme Court judges from the current 65 to 70 and that for high court judges from 62 to 65.
About 40 per cent of judges' posts are vacant in the high courts, which have a sanctioned strength of 1,080 judges. Justice Nariman's retirement has reduced the Supreme Court's strength to 24 judges against a sanctioned strength of 31.
On April 20, vexed with the government's attitude, a special apex court bench of then Chief Justice S.A. Bobde and Justices Sanjay Kishan Kaul and Surya Kant had issued several directives to the Centre to speed up judges' appointments.
It had also used its extraordinary powers to allow the appointment of retired judges as ad hoc judges of high courts to clear the backlog of 57 lakh high court cases.
"The high courts are in a crisis situation. There are almost 40 per cent vacancies in the high courts, with many of the larger high courts working under 50 per cent of their sanctioned strength," the bench had said.
One reason for the vacancies is that the judiciary often struggles to find an immediate replacement for a retired judge because of a dearth of suitable candidates. Another is the Centre's tendency to sit on recommendations from the collegiums of judges.
There's been constant friction between the Narendra Modi government and the judiciary on the subject since a constitution bench in 2014 struck down as "unconstitutional" the National Judicial Appointments Commission that sought to give the government a larger say in judges' appointments.