Charanjit Singh Channi slams rivals of taking Dera Sacha Sauda help
Anurag Tripathi said Gurmeet, once a supporter of the Congress, turned towards the saffron party after a meeting with Amit Shah before the 2014 Lok Sabha polls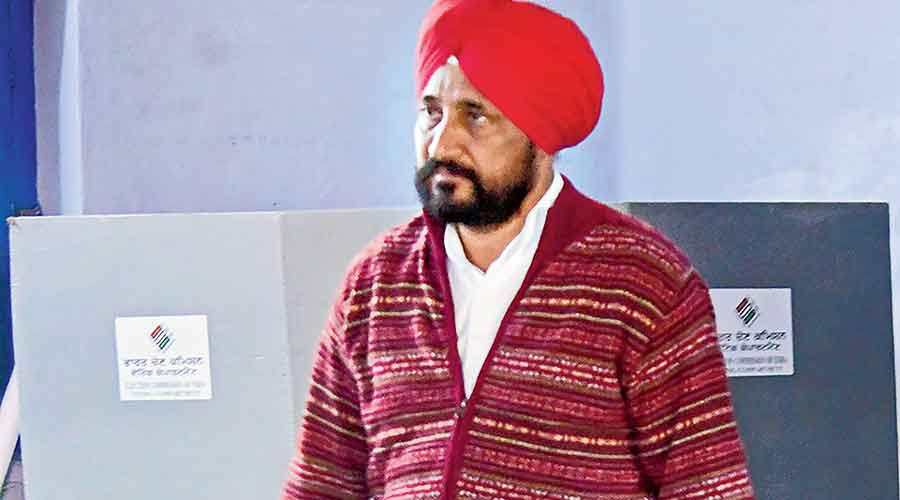 Channi after casting his vote in Kharar, Punjab, on Sunday.
PTI Photo
---
New Delhi
|
Published 21.02.22, 01:29 AM
|
---
Punjab chief minister Charanjit Singh Channi on Sunday slammed the Shiromani Akali Dal, BJP and AAP for allegedly receiving support from Dera Sacha Sauda — a spiritual group led by convicted murderer and rapist Gurmeet Ram Rahim.
Gurmeet, who is serving a life sentence at Haryana's Rohtak District Jail for the murder of a journalist and a 20-year term for raping two disciples, was granted a 21-day furlough on February 7.
Shiromani Gurdwara Parbandhak Committee, the largest body that manages Sikh shrines, condemned the furlough and accused the BJP-led Haryana government of doing this "for the purpose of gaining political advantage in the elections".
Chief minister Manohar Lal Khattar said the furlough, granted thrice since Gurmeet's conviction in 2017, was his right. During the period, he will be confined to Gurgaon district — not bordering Punjab — where his family stays.
The godman, who is credited with spreading a largely Dalit spiritual movement to other castes and making four propaganda films for himself, was also investigated by Punjab police for desecrating the Guru Granth Sahib.
Taking to Twitter on Sunday, Channi said: "Akali and bjp partnership is out in open, both are taking support from Dera Sacha Sauda. Let them team up, people of Punjab are teaming up against these beadbi (sacrilege) partners and will teach them a lesson with their votes… Bhagwant Mann and AAP have also seeked Dera support in Dhuri. All this desperation by these parties and reports suggest Congress is forming Government in Punjab with majority."
Akali and bjp partnership is out in open, both are taking support from Dera Sacha Sauda.
Let them team up, people of Punjab are teaming up against these beadbi partners and will teach them a lesson with their votes.

Baraat jinni marzi vaddi hove, Pind ton Ghat hi hundi hai

— Charanjit S Channi (@CHARANJITCHANNI) February 20, 2022
The CM's tweet on polling day came hours after Punjab's main English daily, The Tribune, published a report quoting anonymous Dera sources saying that the group had asked followers to support BJP and SAD candidates in most seats. Both parties were former allies but are contesting separately this time.
Anurag Tripathi, who authored an investigative book on the Dera in 2018, said Gurmeet, once a supporter of the Congress, turned towards the saffron party after a meeting with then BJP president and now Union home minister Amit Shah before the 2014 Lok Sabha polls.
"He wielded influence in 47 (out of 117) Assembly seats in 2017 (when the Congress won power from the Akalis). Now, if at all, there are not more than four-five seats where he has any influence. The Dera inflates the number of its followers, who are now around 25-30 per cent of what they were before his conviction. No political party is openly even touching him," Tripathi added.
"Dalits who are part of the Dera are there due to historical reasons of the outreach of earlier saints of the movement. Gurmeet brought in others who wanted to make money from even the upper castes during his time. He is basically out to settle the tussle over his undeclared wealth among the factions of the Dera. The government confiscated (a lot of) their known assets (to compensate for the vandalism in Haryana's Panchkula after his conviction)," Tripathi said.
A Barnala-based leader of a rationalist group, which was allegedly targeted by the Dera and whose members testified against Gurmeet, said political parties had used several such Deras to herd voters and the godman seemed to be a tool for the BJP to retain its relevance in the state where it stood discredited by the farm laws it was forced to withdraw under pressure.
Anil Mittar, Punjab state committee member of the Tarksheel Society, said: "These saints think their followers are sheep. Parties want them to remain sheep. The saints commit crimes because of political leaders and Gurmeet is an example. Their followers (called Premis) have mostly opposed AAP today, backing the strongest candidates against them. They are basically a BJP tool to try and achieve a hung Assembly where the party may be able to indulge in subterfuge and have a government of its choice. The PM hosting Sikh community leaders during the elections is also an attempt to attract votes from the religious following they have. This is wrong."
Mittar added that when the Premis ensured a Congress victory in several seats in the Malwa region in 2007, the Akalis responded violently and the first political killings related to the group took place. Yet the group has been able to adapt, now backing the Akalis and the BJP, which it had blamed for the deaths of 41 of its followers in police firing, mostly in Panchkula in 2017.
This newspaper found many people in their former areas of influence in Malwa either unwilling to reveal their devotion to Gurmeet or vociferously opposing him.
"In Barnala, they have dwindled from 10,000 to around 6,000. Even among this small number, a large section is unwilling to blindly follow a diktat. People will gradually make their own rational choices," Mittar said.