Centre to brief Opposition parties on situation in Afghanistan
The all-party meeting of floor leaders has been scheduled for Thursday morning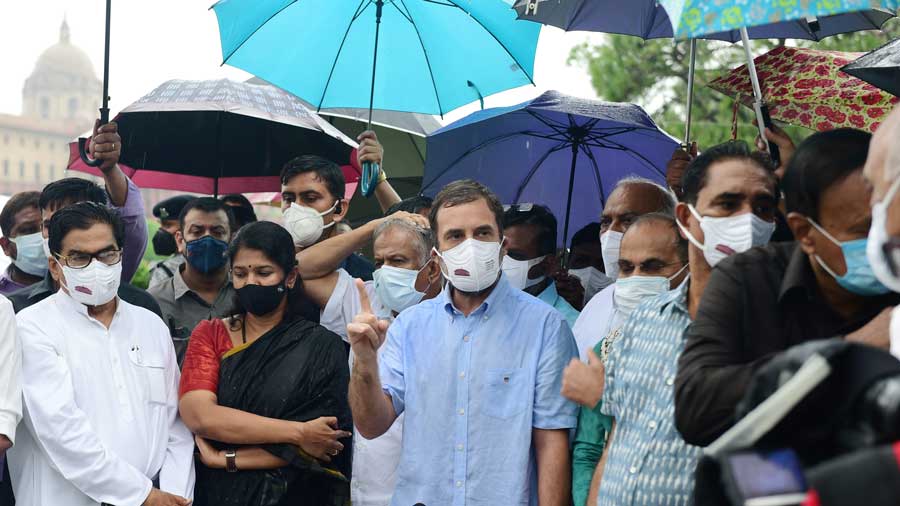 ---
New Delhi
|
Published 24.08.21, 01:53 AM
|
---
The Centre on Monday decided to brief the Opposition parties on the situation in Afghanistan where India, of all the regional stakeholders, has been painted into a corner.
The all-party briefing of floor leaders has been scheduled for Thursday morning.
The announcement was made by external affairs minister S. Jaishankar in a tweet: "In view of developments in Afghanistan, PM Narendra Modi has instructed that MEA brief Floor Leaders of political parties. Minister of Parliamentary Affairs Pralhad Joshi will be intimating further details."
Some of the Opposition party leaders have been taken by surprise with the suo motu briefing.
Since the situation in Afghanistan is still fluid and every country, including the US and other Nato members, is grappling with it, the Opposition had not begun clamouring for such a briefing.
Add to this the near-complete breakdown in relations with the government during the monsoon session of Parliament when the demands of the Opposition were mostly ignored.
The parliamentary minister's office began working the phones in the morning but initially did not inform the Opposition leaders what the meeting was about. All they were asked was if they would attend a meeting on August 26.
"Just now I got a call from the office of the parliamentary affairs minister, intimating about an all-party meeting. About the agenda, to my repeated questions, they had no information. Something strange! Such meetings are important for us. For the government, nothing is serious," tweeted CPI Rajya Sabha MP Binoy Viswam.
"Later in the afternoon, a junior parliamentary affairs minister called me and told me what the meeting was about," Viswam told this newspaper.
Another batch of 46 Afghan Sikhs and some other Indians have been evacuated from Kabul by India and are expected to reach here on Tuesday.
They are carrying with them three Guru Granth Sahibs from the gurdwaras of Jalalabad, Ghazni and Kabul for fear of them being desecrated if left behind.
According to Puneet Singh Chandok, president of the Indian World Forum who has been coordinating with the Sikh community in Kabul, around 200 Sikhs are still in Kabul awaiting evacuation. They will try and bring as many sacred books as possible with them.
The remaining Sikhs have taken shelter in Gurdwara Karte Parwan in Kabul, Chandok said.