Centre offers Rs 50,000 ex gratia to Covid victims' kin
Certification by qualified medical practitioner and sufficient identity proof rider set by health ministry in government's affidavit to Supreme Court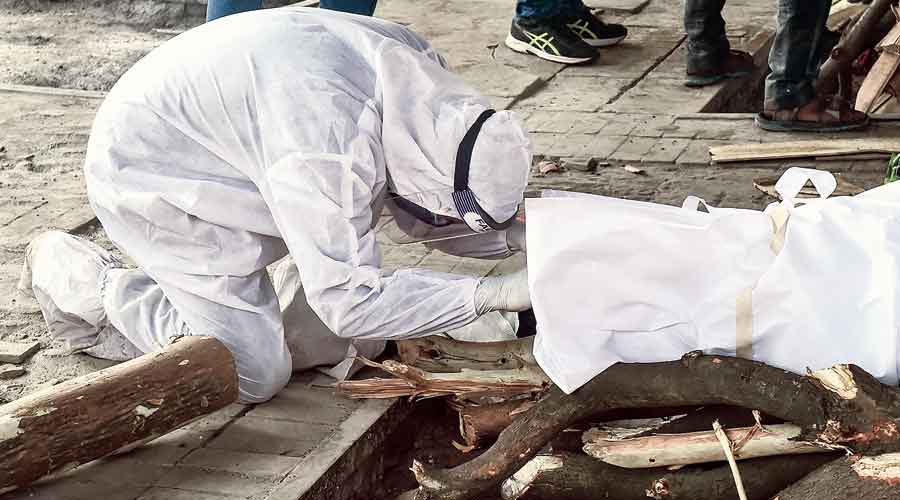 ---
New Delhi
|
Published 23.09.21, 02:24 AM
|
---
The Centre on Wednesday told the Supreme Court that the family of each Covid dead would be awarded an ex gratia of Rs 50,000 and that the states would pay the money from the state disaster relief funds (SDRFs).
The National Disaster Management Authority (NDMA) had in an order in April 2015 announced that ex gratia for families of those dying of a disaster should be Rs 4 lakh.
But in an affidavit on Wednesday, the home ministry said "different norms" needed to be applied to Covid for the following reasons:
⚫ The pandemic was still continuing and the number of deaths rising, with uncertainty about new variants of the virus and likely future waves. This made it impossible to estimate the total financial burden that the ex gratia — which would be given to the families of all future Covid dead too — would eventually run up.
So, financial prudence demanded a sum that the authorities could go on providing even if the Covid fatalities continued to rise.
⚫ The states have already incurred huge expenditures from the SDRFs on various aspects of Covid prevention, management and response.
⚫ The possibility of other natural disasters that occur more frequently has not abated. So the SDRFs should maintain sufficient funds to provide timely relief in case of other disasters too.
The Supreme Court, dealing with a batch of petitions seeking ex gratia of Rs 4 lakh for each Covid-bereaved family, had on June 30 directed the Centre to provide the relief but allowed it to decide the amount.
The government had contended that ex gratia was discretionary and not mandatory, and that no judicial directive could be passed on the matter under the Disaster Management Act, 2005. But the court had rejected the argument.
Wednesday's affidavit made it clear that the ex gratia would be given only if the death has been certified by a qualified medical practitioner as resulting from Covid, and sufficient identity proof provided.
In the June 30 order, the apex court had also directed the NDMA to frame guidelines for the payment of Covid ex gratia and simplify the procedure for issuing Covid death certificates to avoid harassment of the claimants.
Apart from the ex gratia, the families of the Covid dead have the option of seeking additional remedies such as compensation claims in civil courts against the government or insurance companies.
The official Covid death toll in India is about 4.45 lakh although independent sources such as The New York Times have estimated a far higher count.
The June 30 directions had come on petitions filed by advocates Reepak Kansal, Gaurav Kumar Bansal and a couple of others.