Covid: Jab syringe export restrictions after govt stupor
The curbs will stall the supply of syringes to international agencies and countries dependent on Indian-made devices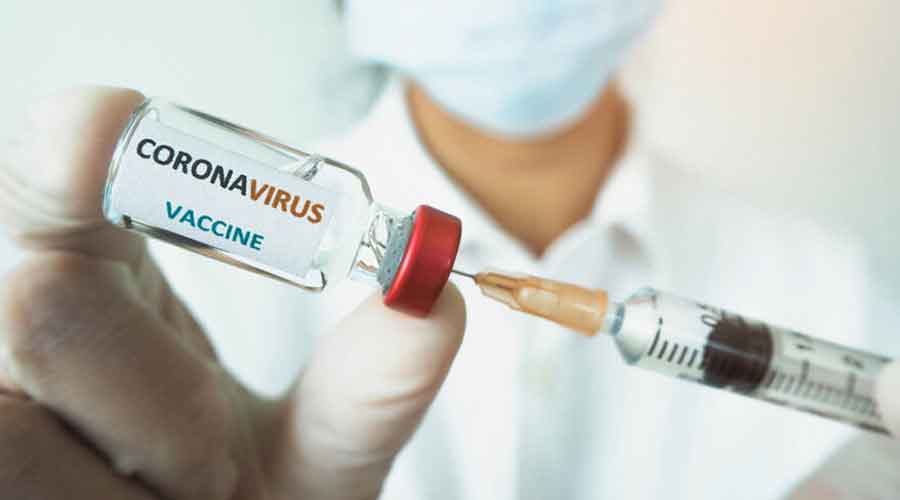 ---
New Delhi
|
Published 10.10.21, 01:13 AM
|
---
The Centre has imposed temporary export restrictions on syringes for Covid-19 vaccines to address a possible shortage that industry executives say could have been averted through government planning they had first requested over 18 months ago.
The Union health ministry on Saturday announced restrictions on the export of a range of auto-disposable, disposable and reuse prevention syringes for three months, saying they are needed to vaccinate all eligible citizens within the shortest possible time.
The restrictions suggest that inadequate quantitative planning by the government that had hobbled India's Covid-19 vaccination campaign through limited supplies in its early months has also impacted syringes, experts tracking the campaign and executives have said.
"It is clear there has been poor planning — a failure to make projections and prepare for inventories needed," said R. Ramakumar, a health economist and professor of developmental studies at the Tata Institute of Social Sciences, Mumbai.
"We saw this with vaccines, we're seeing it with syringes," he added.
India's Covid-19 vaccination campaign had administered 940 million doses by Saturday morning and needs to deliver at least 948 million more doses to fully vaccinate the country's estimated 944 million adults with two doses. Only about 265 million (28 per cent) people have received both doses so far.
The export restrictions will stall the supply of 0.5ml and 1ml auto-disposable syringes, 0.5ml, 1ml, 2ml and 3ml disposable syringes, and 1ml, 2ml and 3ml reuse prevention syringes to international agencies and countries dependent on Indian-made devices.
For instance, Hindustan Syringes and Medical Devices, the world's largest manufacturer of auto-disposable syringes, will have to hold or seek special permission from the Indian government to meet pending orders of over 30 million 0.5ml and 1ml syringes from Argentina, Brazil and Guatemala.
Hindustan Syringes has already had to hold back nearly 100 million syringes meant for Unicef to divert them to meet the health ministry's demand for India's vaccination campaign even though the order from the UN outfit for children predated India's order.
"It was awkward — such actions could threaten our credibility," said Rajiv Nath, managing director of Hindustan Syringes and president of the All India Syringes and Needles Manufacturers Association. "This kind of situation could have been avoided had industry received advance demand visibility."
Nath first wrote to the health ministry in April 2020, suggesting that it would be "prudent to plan in time" for vaccine delivery to avoid shortages of syringes.
He had also proposed a timeline for production ramp-up from 44 million syringes per month in April 2020 to 67 million by March 2021 to 90 million by September 2021, requesting both committed orders and financial support from the government.
In April 2021, Nath again wrote to the health ministry saying the company had increased production to 70 million per month and could raise it to 87 million by September, and again requesting "clarity of committed orders and financial support".
Despite those pleas, members of the All India Syringes and Needles Manufacturers Association say the health ministry's orders have come in dribs and drabs, foisting uncertainty on producers who are cautious about large investments that might remain unused after the Covid-19 threat recedes.
Nath again wrote to the health ministry last month asking for the "probable quantities" of syringes India would require between January and March 2022 and between April 2022 and March 2023 to enable the company to allocate appropriate production space.
Ramakumar said it was "not surprising" that the industry would seek clarity of committed orders and respond only to demand, particularly if there is a risk that the extra production capacity created for Covid-19 might become redundant after the epidemic.
The health ministry's Saturday announcement of export restrictions for three months on select syringes follows a Union commerce ministry notification on October 4 that had imposed such a halt on all syringes, triggering concern within industry and international agencies.
The notification prompted the World Health Organisation Regional Office for the Americas and the Pan American Health Organisation to write to the Indian government on October 7, saying there is a "critical demand" for India-made syringes and requesting that pending orders be shipped out.
The All India Syringes and Needles Manufacturers Association has welcomed Saturday's clarification, saying this implies that the export of insulin syringes, 0.3ml syringes and 5ml or larger syringes could continue. The 0.3ml auto-disposable syringes may be used to deliver the Pfizer-BioNTech vaccine but are not suitable for Covishield or Covaxin, the primary vaccines used in India.
Health experts had attributed the slow start of India's Covid-19 vaccination campaign earlier this year to poor planning and lack of adequate advance investments by the government to prepare for the quantum of doses required in its early months.