Centre defends electoral bonds in Supreme Court
Justice Gavai, heading the bench, asks whether system took into account where money comes from and solicitor-general Tushar Mehta says yes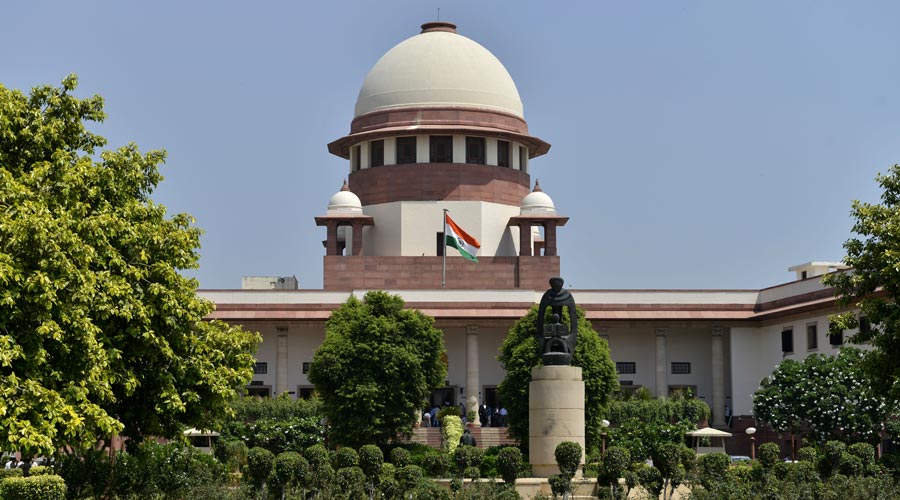 The Supreme Court of India
File Picture
---
New Delhi
|
Published 15.10.22, 01:05 AM
|
---
The Centre on Friday defended in the Supreme Court the controversial electoral bonds as a methodology adopted to tackle the menace of black and unaccounted money and to facilitate transparent political funding, rejecting allegations that it strikes at the very root of democracy.
"Methodology of donation is so transparent that now it is impossible to get any black or unaccounted money. A very transparent system has been evolved. To say that this affects democracy may not hold water. The methodology of receiving money from electoral bonds has been so transparent. It is the most transparent system. How the money comes and how it is deposited are all accounted for in the system," solicitor-general Tushar Mehta told a bench of Justices B.R. Gavai and B.R. Nagarathna.
Justice Gavai, heading the bench, asked whether the system took into account where the money comes from. Mehta responded: "Yes, absolutely."
Mehta made the submission in response to arguments advanced by advocate Prashant Bhushan, appearing for the Association of Democratic Reforms, that the scheme of electoral bonds was opaque and struck at the very root of democracy.
Bhushan said the organisation had challenged the various retrospective amendments made to the Foreign Contribution Regulation Act which facilitated unlimited and anonymous funding of political parties.
He told the court that there were three main issues — the concept of electoral bonds, whether political parties should come under the RTI Act, and who all can receive foreign money under the FCRA and can FCRA amendments be made through a money bill.
Justice Gavai asked: "This requires a detailed hearing?" The various counsel present agreed.
Besides the ADR, the CPM and certain individuals have challenged the validity of the electoral bonds brought by the NDA government through amendments to the Finance Act, 2017, and the Finance Act, 2016, both passed as money bills.
Senior advocate Kapil Sibal, appearing for some of the petitioners, said the matter ought to be referred to a constitution bench for an authoritative pronouncement.
Justice Gavai said the court would first examine whether the matter needed to be referred to a constitution bench or whether the present bench had the competence to deal with the issue on its own.