Centre asks states to include millets once a week in school meal
The food grains are rich in dietary fibres, both soluble and insoluble, that improve the digestive system and protects the heart and the kidneys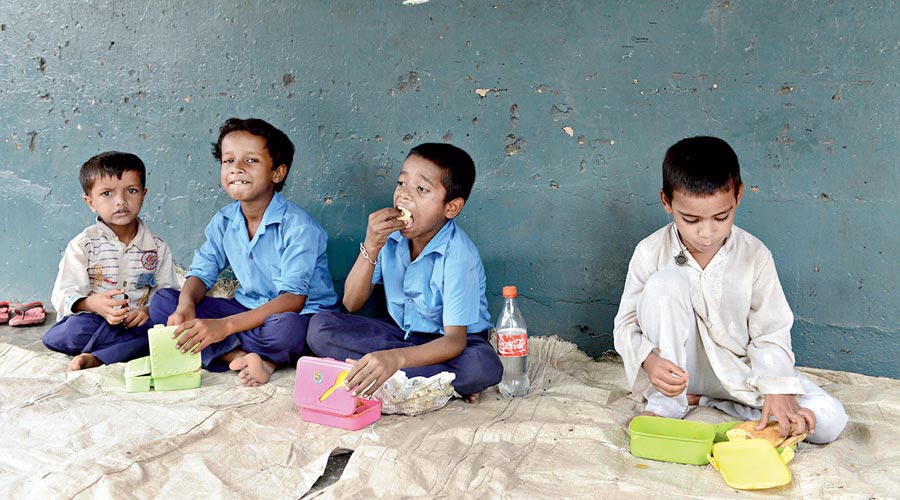 Children enjoy the mid-day meal at a primary school in New Delhi.
File picture
---
New Delhi
|
Published 17.11.21, 01:06 AM
|
---
The Centre has asked the states to introduce millet-based recipes in the meals served at government and aided schools to children up to Class VIII.
School education secretary Anita Karwal and agriculture secretary Sanjay Agrawal have issued a joint letter to the chief secretaries of the states and Union Territories to serve millet-based items once a week to begin with.
The major varieties grown in India are sorghum (jowar), pearl millet (bajra), finger millet (ragi or modua), foxtail (kanganni), kodo, barnyard (sanwa), little millet (kutki), buck wheat (kuttu) and amaranth (chaulai).
Millets are rich in dietary fibres, both soluble and insoluble, that improve the digestive system and protects the heart and the kidneys.
The menu of the erstwhile midday meal scheme, now renamed PM Poshan, includes rice, wheat and vegetables. The states are free to add items. While eastern and southern states have added non-vegetarian recipes, some of the northern states have introduced milk and fruits. But millet is not part of the menu anywhere.
In their letter on October 28, the two secretaries highlighted that the National Family Health Survey-IV had found that 38 per cent of children under five years were stunted and 59 per cent were anaemic.
"Among one of the series of initiatives, the government of India is laying emphasis on consumption of millet," the letter says. The letter also asks the states to tell the schools to discuss in class the health benefits of millets.
Ashok Rao, a social activist associated with the NGO Swami Sivananda Memorial Institute that supplies food to anganwadi centres in Delhi, said the government should have decentralised the operation of the scheme from the beginning with freedom to locals on procurement of ingredients and preparation of food in keeping with their respective eating habits.
The midday meal scheme was started in 2001 following a direction from the Supreme Court. The Food Corporation of India (FCI) provides rice and wheat under the scheme.
"For administrative convenience, rice and wheat have remained in the MDM (midday meal) menu throughout the country. It is because the FCI only procures paddy and wheat. This has changed the food habits of children in many areas where people consume a lot of millets and fish. It is good that they have now included millets," Rao said.
He said Brazil had enacted a law making it binding on food programmes to procure local items.
"Now there is little connect between the large food programmes like the MDM and the Integrated Child Development Scheme and the local farmers. The government should allow freedom to the schools, anganwadi centres and villagers to procure all ingredients locally," Rao said.