CBI murder rap on BJP MLA Kuldeep Singh Sengar
9 others have been charged in connection with the July 28 road collision that many saw as a plot to kill the victim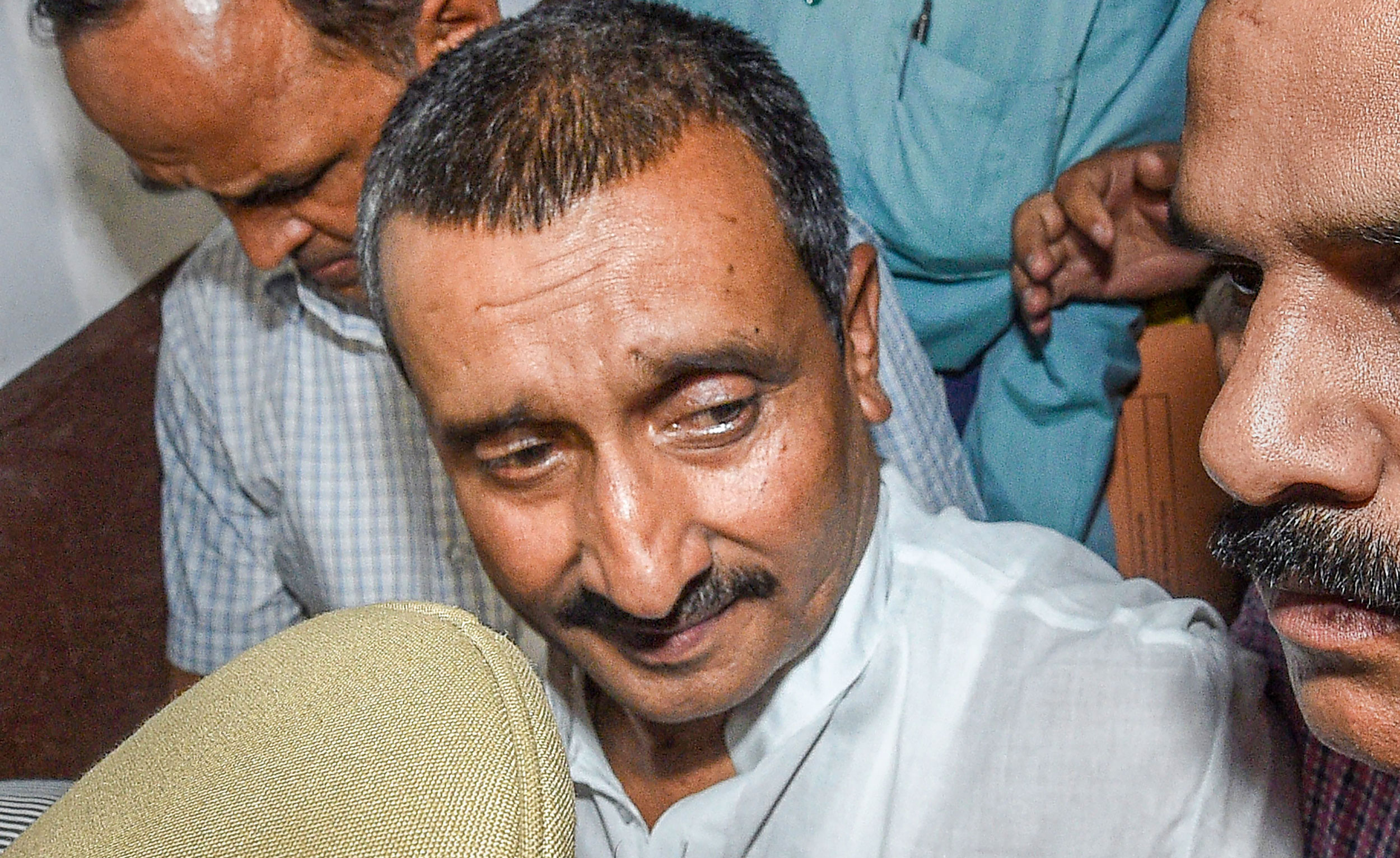 ---
---
The CBI on Wednesday charged BJP legislator Kuldeep Singh Sengar with murder after taking over the probe into Sunday's collision that left the woman the lawmaker is accused of raping two years ago seriously injured and two of her relatives dead.
The Centre had on Tuesday handed over the investigation to the agency, which is already probing the rape case against the Uttar Pradesh MLA.
Nine others have been charged in connection with the July 28 road collision that many saw as a plot to kill the victim and led to Sengar's suspension from the BJP amid mounting outrage.
"It was alleged that the accused persons were conspiring, threatening and harassing the family of the complainant. It was further alleged that in this matter, the accident that occurred on July 28 has resulted in (the) loss of two lives. Also the Unnao victim and the family lawyer (both passengers in a car) are still under treatment at a hospital in Lucknow. (The) CBI has constituted a team for speedy and smooth investigation of the case," the agency said in a statement.
Uttar Pradesh police had on Monday charged Sengar, his younger brother Manoj Singh Sengar and associate Rinku Singh with murder, attempt to murder and criminal conspiracy on the basis of a complaint by an uncle of the rape victim.
Sources said the CBI team had collected relevant case documents from Uttar Pradesh police. "The team visited the accident site and collected details from police officials of Gurubaxhganj police station in Rae Bareli where the collision took place," an agency official said.
The rape victim, her lawyer and two aunts were returning from Rae Bareli to Unnao when a truck with a blackened registration plate cut across the road and rammed the car they were travelling in, leaving the teen and her lawyer grievously injured and her relatives dead.
One of the aunts, Pushpa, 45, was cremated on the banks of the Ganga in Unnao on Wednesday under tight security. The teen's uncle, Mahesh Singh, whom the family had visited in the Rae Bareli district jail before Sunday's accident, attended his wife's last rites after being granted short-term bail. Only family members and close relatives were allowed near the barricaded cremation ground.
District magistrate Devendra Pandey and superintendent of police M.P. Verma were present along with other officials.
Doctors at the Lucknow hospital where the rape survivor is admitted said her condition showed a marginal improvement on Wednesday. "Today there was very slight improvement in her condition, but this cannot be termed satisfactory. She is still unconscious," Dr Sandeep Tiwari, in-charge of the hospital's trauma centre, said.
Additional reporting by PTI