CAA protesters cleared, right to dissent upheld
Chargesheet does not even contain a whisper or insinuation that the accused persons acted in tandem or that they coalesced at the spot: Delhi Court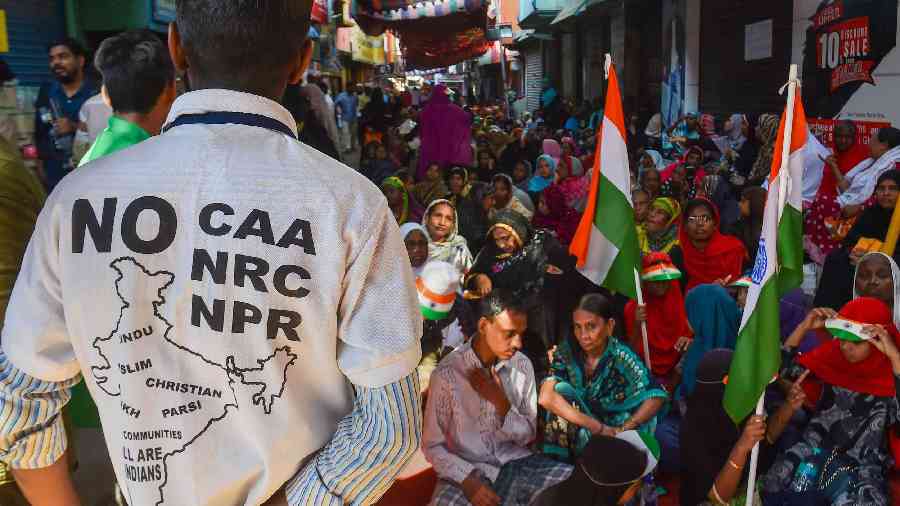 CAA protest in Chennai in 2020.
File picture
---
New Delhi
|
Published 05.02.23, 03:48 AM
|
---
A Delhi court on Saturday acquitted 11 students charged with rioting during a protest march against the Citizenship Amendment Act  (CAA) on December 13, 2019, saying the police had failed to catch the "actual perpetrators" and made "scapegoats" of the accused.
Among those acquitted were Jamia Millia Islamia students Safoora Zargar, who spent two months in jail when she was pregnant, and Asif Iqbal Tanha and Jawaharlal Nehru University scholar Sharjeel Imam. Zargar and Tanha are out on bail.  The order issued by additional sessions judge Arul Varma of the Saket Court says: "The chargesheet does not even contain a whisper or insinuation that the accused persons acted in tandem or that they coalesced at the spot after confabulating to do so. A meeting of minds for committing an illegal act or act by illegal means is a sine qua non for criminal conspiracy. No such meeting of minds has been alleged in the chargesheet… No 'toolkit' has also been placed on record which could lend credence to the assertions of the prosecution that the accused acted in concert."
Judge Varma said: "To allow the persons charge-sheeted to undergo the rigmarole of a long-drawn trial does not augur well for the criminal justice system of our country. Furthermore, such police action is detrimental to the liberty of citizens who choose to exercise their fundamental right to peacefully assemble and protest."
He added: "It would be pertinent to underscore that dissent is nothing but an extension of the invaluable fundamental right to Freedom of Speech and Expression contained in Article 19 of the Constitution of India, subject to the restrictions contained. It is therefore a right which we are sworn to uphold."
The order quotes Mahatma Gandhi: "Conscience is the source of dissent. When something is repugnant to our conscience, we refuse to obey it. This disobedience is constituted by duty. It becomes our duty to disobey anything that is repugnant to our conscience."
It also quotes Chief Justice of India D.Y. Chandrachud: "The destruction of spaces for questioning and dissent destroys the basis of all growth — political, economic, cultural and social. In this sense, dissent is a safety valve of democracy."
The court said:  "Marshalling the facts as brought forth from a perusal of the chargesheet and three supplementary chargesheets, this court cannot but arrive at the conclusion that the police were unable to apprehend the actual perpetrators behind the commission of the offence, but surely managed to rope the persons herein as scapegoats."
Zargar and Tanha are out on bail in the Delhi riots conspiracy case for which they were booked under the stringent Unlawful Activities Prevention Act.
Imam continues to remain in custody on charges of terrorism and sedition for calling for a blockade of the rail line to the Northeast. Charges have only been framed against M. Ilyas, a mechanic, who was photographed throwing a burning tyre during the protests.
The police had used force to disperse the protesters, some of whom fled into the Jamia campus following which cops used tear gas shells. The students tried to march again on December 15 and were met with a more aggressive police response.
Police were seen on CCTV footage rampaging through the varsity ostensibly looking for protesters who had allegedly set several vehicles ablaze near the campus.
They left a trail of destruction through the libraries and even a place of worship to the tune of Rs 2.66 crore. A student was left blind in an eye by a police lathi.
Imam's brother Muzzammil, a Janata Dal (United) activist, tweeted: "Truth Prevails."
Two members of the All India Students's Association (AISA) from Jamia, Chanda Yadav and M. Shoaib, were also acquitted.
AISA said in a statement: "The judgment of the court vindicates our students' position i.e. anti-CAA protests led by students were peaceful and democratic. It is Delhi Police at the behest of the Modi government that filed false cases against students and demonised the student community."