BJP targets Cong on temple, South India
BJP spokesperson G.V.L. Narasimha Rao said that Tharoor and the Congress were exhibiting an "anti-Ram-temple mindset" by trying to link the shrine to the demolition of the Babri Masjid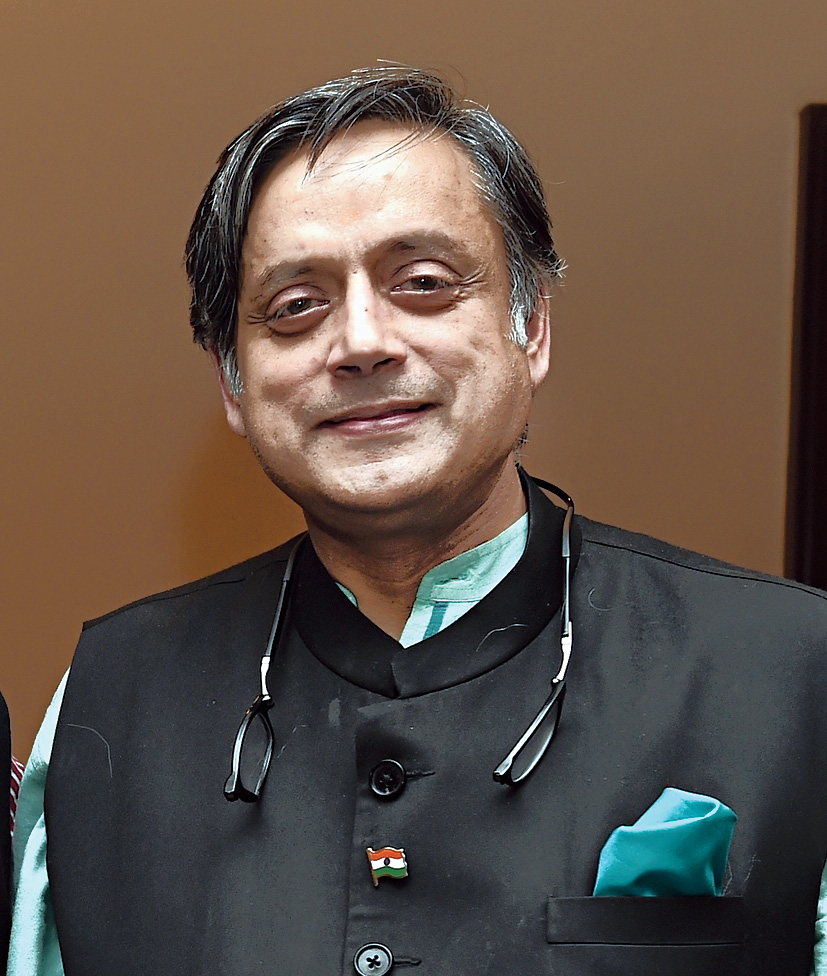 Shashi Tharoor
File picture
---
New Delhi
|
Published 15.10.18, 08:09 PM
|
---
The BJP on Monday accused the Congress of opposing a Ram temple in Ayodhya and harbouring animosity for south Indians, referring to statements attributed to Congress politicians Shashi Tharoor and Navjot Sidhu.
BJP spokesperson G.V.L. Narasimha Rao said that Tharoor and the Congress were exhibiting an "anti-Ram-temple mindset" by trying to link the shrine to the demolition of the Babri Masjid.
"Shashi Tharoor's comment is insulting to Hindus…. The Congress needs to clarify whether they are in favour of a Ram temple," Rao said.
Tharoor claimed his "personal opinion" had been distorted. "I condemn the malicious distortion of my words by some media in the service of political masters. I said: 'Most Hindus would want a temple at what they believe to be Ram's birthplace. But no good Hindu would want it to be built by destroying another's place of worship'," Tharoor tweeted on Monday.
Union minister Prakash Javdekar too attacked Tharoor. "Astonished that Shashi Tharoor believes that true Hindus don't want a Ram temple in Ayodhya. This could be the view of Tharoor or Rahul Gandhi, not of the people", Javadekar was quoted by news agency ANI.
The BJP also picked on a statement attributed to Sidhu, Punjab minister and Congress politician. Sidhu reportedly told a literary festival in Kasauli, Himachal Pradesh, last week that to a Punjabi like him, Pakistan's culture and food were more familiar than those of south India.
Sidhu was quoted as saying he couldn't understand the local language when he travelled to south India but when he went to Pakistan, he encountered the same language he spoke in India.
Rao demanded that Rahul Gandhi sack Sidhu for "insulting the people of south India" and threatened an agitation if the demand was not met. He claimed that Sidhu was close to Rahul and accused the Congress president of sharing his views.
"Rahul Gandhi may like pasta and pizza. He may not like south Indian dishes. But his party leader has no business to say that 'I like Pakistan more than south India'," Rao said.
He recalled how Sidhu had hugged the Pakistani army chief, Qamar Javed Bajwa, when he travelled to that country to participate in Imran Khan's swearing-in as Prime Minister.
Sidhu had told reporters: "If someone (Bajwa) comes to me and says that we belong to the same culture and that we'll open the route to Gurdwara Kartarpur Sahib (in Pakistan) on... Guru Nanak Dev's 550th birth anniversary, what else could I do?"
Rao said: "The Congress follows an anti-India and pro-Pakistan strategy. The Congress is following a divisive strategy."
He accused the Nehru-Gandhi family of having "insulted" former Prime Minister P.V. Narasimha Rao.