BJP leader shoots in UP, 1 dead
Police administration, which is yet to arrest Dhirendra Pratap Singh, has admitted 'laxity' and suspended 9 cops and 2 administrative officials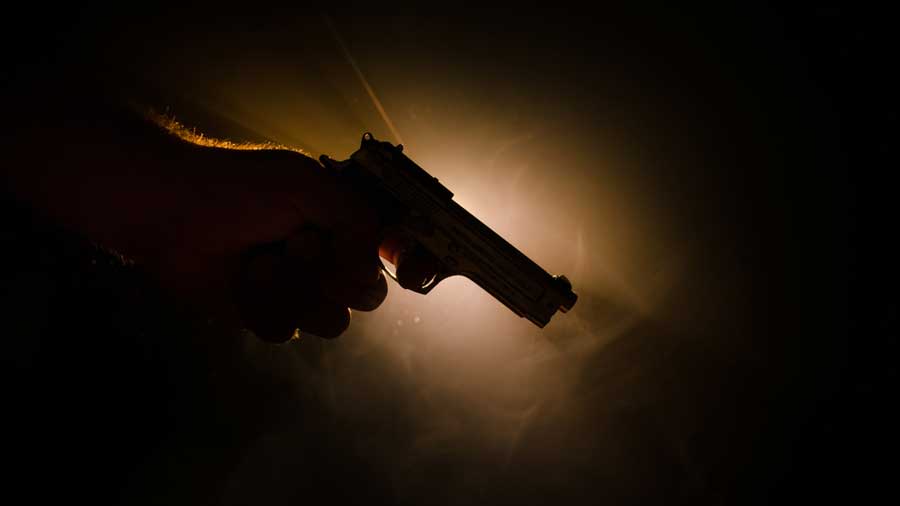 ---
|
Lucknow
|
Published 17.10.20, 03:18 AM
---
One person was killed and another injured when a BJP leader allegedly opened fire during a meeting to settle a dispute over the allotment of a ration shop in Uttar Pradesh's Ballia district, with the deceased's kin alleging that the politician was allowed to escape despite the presence of over 20 policemen and senior administrative officials.
The police administration, which is yet to arrest Dhirendra Pratap Singh despite over 24 hours having passed since the crime, has admitted "laxity" and suspended nine cops and two administrative officials. Local BJP MLA Surendra Singh, to whom Dhirendra is said to be close, claimed that the accused had opened fire in self-defence.
Video footage showed people running helter-skelter after the firing and a group of policemen surrounding a man resembling Dhirendra, a former soldier with a paramilitary force who is now the Ballia district ex-servicemen's cell chief of the BJP.
Tej Pratap Pal, the brother of Jai Prakash, 46, who died in the firing, alleged that the police had caught Dhirendra after the firing, but "took him to a nearby embankment and let him go".
Surendra, the MLA, said: "We need to know that Dhirendra and many more people would have died had he not fired in self-defence. Dhirendra is the president of the Ballia district ex-servicemen's cell of our party. The kind of incident that took place in Durjanpur village can happen anywhere. Both sides had attacked each other."
On Friday morning, policemen were deployed in front of the palatial house of Dhirendra after some villagers allegedly damaged a car and some chairs in front of the building. The villagers also organised a dharna and chanted slogans against the Yogi Adityanath government for "protecting a killer".