BJP fumes as Patna posters depict Rahul as Lord Ram
Congress retorts: BJP using Ram's name to beg for votes while Rahul is trying to follow the ideals set by Ram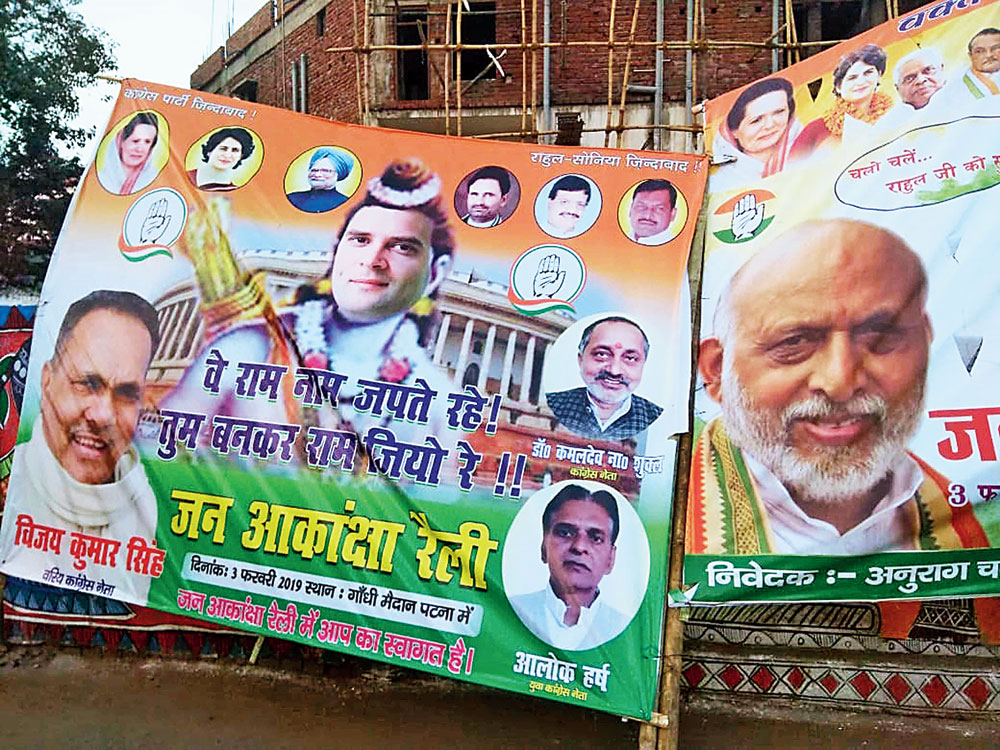 ---
Patna
|
Published 29.01.19, 09:52 PM
|
---
Posters showing Rahul Gandhi as Ram cropped up in the Bihar capital on Tuesday ahead of his rally here on February 3, prompting the BJP, which has been drumming up the Ayodhya temple as a poll issue, to complain that the Congress was trying to use the Lord for electoral politics.
"They (read BJP) kept chanting Ram's name, but you are living like him," reads the slogan on the posters.
A brainchild of senior Bihar Congress leaders such as Kamadev Narayan Shukla, Vijay Kumar Singh and Alok Harsh, the huge posters have been installed at 20 prominent places across Patna, including outside the airport and the zoo. The posters also show Sonia Gandhi, Priyanka Gandhi, Manmohan Singh, All India Congress Committee (AICC) Bihar in-charge Shaktisinh Gohil, Bihar Congress president Madan Mohan Jha, and campaign committee chairman Akhilesh Prasad Singh.
"Our country is facing a situation akin to Ravan raj (rule of the demon kind in the Ramayan) while our ideal is Lord Ram who upheld humanity, harmony, impartiality and helped people in distress," said Shukla. "Our party under the leadership of Rahul Gandhi is trying to imbibe such virtues and destroy the misrule, hence he has been depicted as Ram."
He asserted that the BJP was using Ram's name to beg for votes while the Congress was trying to follow the ideals set by the Lord in the interest of the country. The idea for the posters came during a discussion with party leaders about preparations for the forthcoming rally, he added.
The BJP called the posters proof of the dual face of the Congress.
"The Congress is making a mockery of Rahul Gandhi," said Bihar BJP spokesperson Nikhil Anand. "On one hand they are constantly creating hurdles in the construction of the Ram Temple in Ayodhya and on the other they are trying to claim the legacy of Lord Ram. It is a party that denied in the Supreme Court about Ayodhya being the birthplace of Ram."
While the Congress is pulling out all stops for the February 3 rally and the newly elected Congress chief ministers from Madhya Pradesh, Rajasthan and Chhattisgarh are expected to attend, sources in the party said Priyanka would not be present at the event.
The RJD's Tejashwi Yadav, HAMS chief Jitan Ram Manjhi and RLSP leader Upendra Kushwaha are among those invited.