Bid to escape blame for tragedy on tracks
Most of the dead were migrant labourers from Uttar Pradesh and Bihar. Fifty-seven people were injured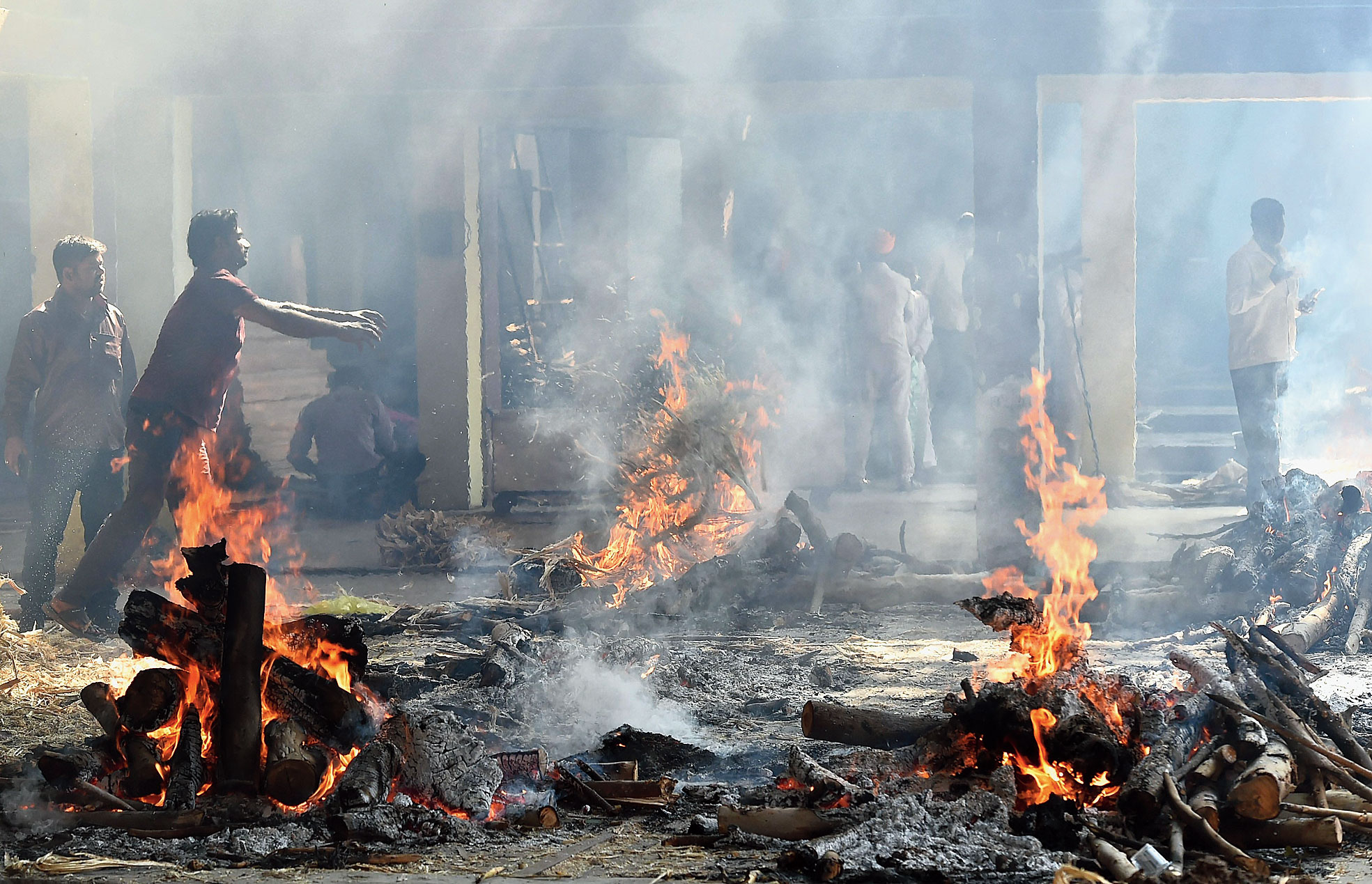 ---
|
Amritsar
|
Published 20.10.18, 08:30 PM
---
The railways were not informed about the trackside Dussehra event, nor was permission sought from the civic body, officials said a day after a train mowed down 59 revellers during a Ravan Dahan near Amritsar.
Residents of the area, Joda Phatak, asserted that the event, which involves the burning of Ravan's effigy, had been going on at the spot for at least 20 years.
But Amritsar municipal commissioner Sonali Giri said: "Nobody was given permission for organising the event; nobody had applied for permission."
She said Friday evening's event was held on a larger scale than last year's. The crowd had spilled onto the tracks and the sound of firecrackers drowned out the horn of the approaching train.
Most of the dead were migrant labourers from Uttar Pradesh and Bihar. Fifty-seven people were injured.
Railway board chairman Ashwani Lohani said the railways had not been informed about the event and stressed that the tragedy did not occur at a level crossing.
"At midsections, trains run at their assigned speed and people are not expected to be on the tracks. At midsections, there are no railway staff posted," he said.
Lohani said there could have been a bigger tragedy had the driver applied emergency brakes.
Amritsar police said they had given a "no-objection" certificate for the event but told the organisers they must take permission from the civic body and the pollution department, which they didn't.
The event was organised by Saurabh Madan, husband of Congress councillor Vijay Madan, the police said. Navjot Kaur Sidhu, former MLA and wife of Punjab minister Navjot Singh Sidhu, was the chief guest. An FIR has been lodged against unknown people.
On Saturday, crowds squatted on the tracks, which had been cleared of the bodies and body parts by morning, and chanted slogans against the state's Congress government. Tensions ran high as police, who barricaded the area, tried chasing them away.
"Why did the government not ensure proper security? Why was such an event allowed near the tracks?" asked Sujit Singh, a protester.
Many relatives were wailing outside the hospitals. Vijay Kumar, who lost his 18-year-old son Manish, described how a WhatsApp photograph of a head had flashed on his phone screen at 3am, ending his frantic search. His younger son Ashish returned safely from the event.
The hospital-to-hospital search for Manish's remains proved traumatic too, Kumar said. A leg was found and one hand, but they were not his son's. "My son was wearing blue jeans; this one was not.... I have lost my world," Kumar wept outside Guru Nanak Hospital.
Inside the hospital, Sapna, 30, who has head injuries, recalled how she had been on a WhatsApp call with her husband, relaying the Ravan Dahan event live to him, when the tragedy happened.
"When the effigy was set on fire, people started moving away from the stage and towards the tracks," she said.