Bharat, not Bhagwat, Ratna
Political messages in choice of awardees in election year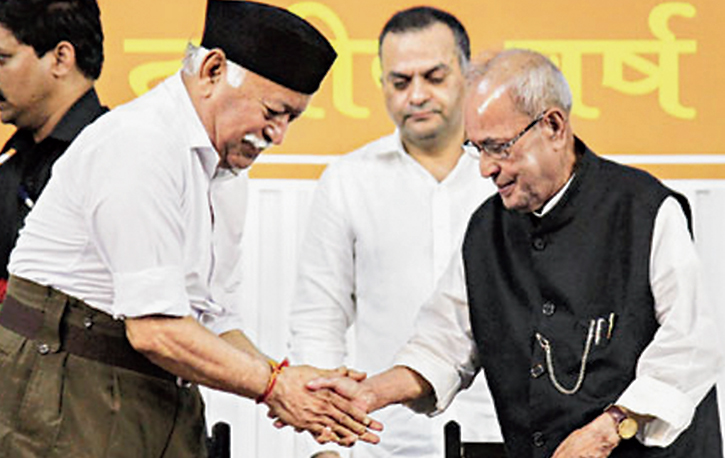 ---
New Delhi
|
Published 25.01.19, 09:14 PM
|
---
Former President Pranab Mukherjee was on Friday chosen for India's highest civilian award, the Bharat Ratna, along with the late RSS ideologue Nanaji Deshmukh and the late singer Bhupen Hazarika.
This being an election year, many chose to look at the list from a political perspective, although there was near-universal approval of the choices.
The selection of a Congress veteran like Mukherjee was quickly interpreted as an attempt to court the Bengal electorate.
It also got invariably linked to his decision to visit the RSS headquarters in June last year, less than a year after retiring as President.
Mukherjee had delighted the Sangh parivar with his trip to Nagpur, where he shared a stage with RSS chief Mohan Bhagwat. Although Mukherjee said he did not endorse the ideology of the RSS, many had felt that his presence at the event had helped accord some sort of legitimacy to the Sangh parivar and its agenda.
Hazarika's anointment is being seen as an effort to cool tempers in Assam where, as in many other parts of the Northeast, protests are intensifying against the central government's citizenship bill.
Apparently fearing losses in its traditional Hindi heartland stronghold, the BJP is eyeing compensatory wins in the east and the Northeast.
Congress president Rahul Gandhi posted a congratulatory tweet, stressing Mukherjee's Congress credentials. "Congratulations to Pranab Da on being awarded the Bharat Ratna! The Congress Party takes great pride in the fact that the immense contribution to public service & nation building of one of our own has been recognised & honoured."
"I'm happy that Shri Bhupen Hazarika and Nanaji Deshmukh have been honoured, posthumously, with the Bharat Ratna," Rahul added.
The Trinamul Congress and the CPM, too, congratulated Mukherjee.
At least one voice struck a dissenting note. Janata Dal Secular politician Danish Ali said: "Pranab Mukherjee is being awarded the Bharat Ratna because he visited the RSS headquarters and described the founding Sarsanghchalak chief, K.B. Hedgewar, as 'the son of the soil'."
Privately, Congress leaders saw a BJP effort to highlight how Congress stalwarts from outside the Nehru-Gandhi dynasty have to wait for others to acknowledge their contributions. Prime Minister Narendra Modi often recalls how Vallabhbhai Patel was "not allowed" to become the first Prime Minister. "It's an effort to make a Sardar Patel out of Pranabda," a Congress politician said.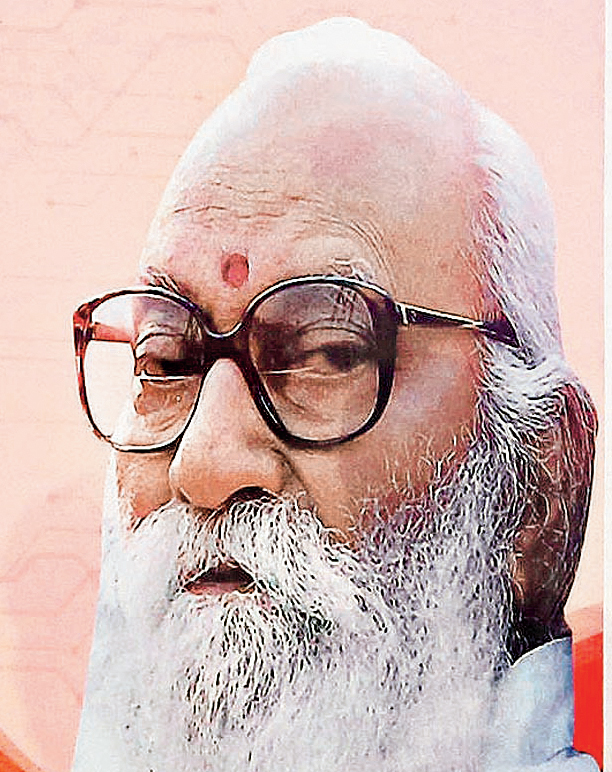 Mukherjee joins Bidhan Chandra Roy, Mother Teresa, Satyajit Ray, Amartya Sen and Ravi Shankar as Bharat Ratnas from Bengal.
Modi took to Twitter immediately after the announcements to laud each of this year's awardees.
"Pranab Da is an outstanding statesman of our times. He has served the nation selflessly and tirelessly for decades, leaving a strong imprint on the nation's growth trajectory. His wisdom and intellect have few parallels. Delighted that he has been conferred the Bharat Ratna," Modi posted.
"The songs and music of Shri Bhupen Hazarika are admired by people across generations. From them radiates the message of justice, harmony and brotherhood. He popularised India's musical traditions globally. Happy that the Bharat Ratna has been conferred on Bhupen Da," Modi added.
Mukherjee tweeted his gratitude. "It is with a deep sense of humility and gratitude to the people of India that I accept this great honour #BharatRatna bestowed upon me. I have always said and I repeat, that I have got more from the people of our great country than I have given to them."
The veteran leader who shared a dais with Bhagwat is now having to share his moment of glory with a Sangh veteran.
Deshmukh, who had joined the RSS inspired by its founder K.B. Hedgewar, was later associated with the RSS political arm, Jana Sangh, which evolved into the BJP.
After contesting elections and serving in the Janata Party-led government of the late 1970s, Deshmukh quit active politics in 1980, when he was in his early 60s, and devoted himself to rural development. He was nominated to the Rajya Sabha by the NDA government in 1999.
"Nanaji Deshmukh's stellar contribution towards rural development showed the way for a new paradigm of empowering those living in our villages…. He is a Bharat Ratna in the truest sense!" Modi tweeted.
Among the Padma Bhushan awardees are Malayalam actor Mohanlal, who unconfirmed reports say could be a BJP candidate in the general election, and V.K. Shunglu, the retired CAG who had probed the 2010 Commonwealth Games scandal that singed the UPA government. The Padma Shris include former foreign secretary S. Jaishankar.
A transgender person, Narthaki Nataraj, a Bharatanatyam practitioner from Tamil Nadu, was among those who were conferred with the Padma Shri.