Congress pounces on Yogi faux pas
Yogi Adityanath promises justice for BJP workers in Bengal, not UP
When some of the families of the murdered leaders and activists alleged political motives and sought CBI probes, the CM's administration ignored them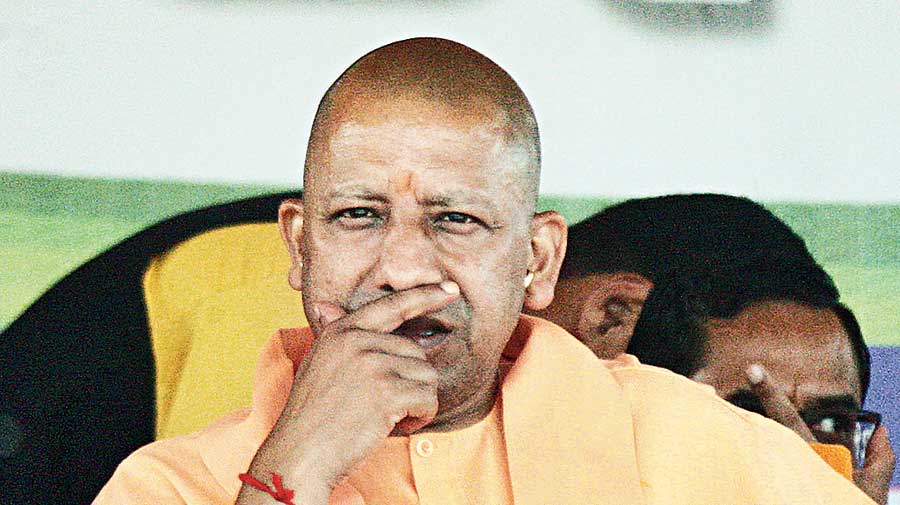 Yogi Adityanath
File picture
---
Lucknow
|
Published 18.03.21, 02:03 AM
|
---
On Tuesday in Purulia, Uttar Pradesh chief minister Yogi Adityanath breathed fire over the murders of three BJP workers in the Bengal district in 2018 and promised justice to their families.
Adityanath has, however, never expressed any concern at the murders of over a dozen Sangh parivar leaders and activists in Uttar Pradesh since he became chief minister in March 2017. When some of the families alleged political motives behind the murders and sought CBI probes, the administration largely ignored them.
(While the BJP blames Trinamul for the Purulia murders, Bengal police have not acknowledged any political motives. All three cases are with the CID, and three suspects have been arrested in one of the cases.)
Snapshots of a few murders of parivar members in Uttar Pradesh over the past year and a half:
Oct. 18, 2020
Dayashankar Gupta, 45, divisional vice-president of the BJP's Tundla town unit in Firozabad, is shot dead.
Motive: Land dispute, say the police.
Accused: Neighbour Ishwar Dev Gupta, who the police say hired a contract killer, is arrested with six others.
Sept. 17, 2020
Sanjay Singh Bhadauria, 45, a medical doctor and district vice-president of the Hindu Yuva Vahini who ran a small hospital in Bareilly town, is stabbed to death.
Motive: A love triangle, say the police, who have ignored Vahini Bareilly president Anuj Pratap Singh's claims of a political motive.
Accused: Two men arrested. One of them, Mohammad Imran, loved the same woman as Bhadauria, the police say.
Aug. 11, 2020
Sanjay Khokhar, RSS member and former president of the BJP's Baghpat unit, is shot dead on his farmland.
Motive: Land dispute, the police say. Khokhar's son Manish met Adityanath, claimed a political murder and demanded a CBI inquiry — all in vain.
Accused: Six men — Shravan Khokhar, Sagar Balyan, Sagar Goswami, Nitin Dhankar, Mayank Dollar and Vinit Sharma — arrested.
Feb. 2, 2020
Ranjeet Bachchan, Vishwa Hindu Mahasabha president, shot dead by two motorcycle-borne assailants in Hazratganj, Lucknow.
Motive: Bachchan had remarried without divorcing his wife, say the police.
Accused: Bachchan's wife Smriti Verma, her friend Deependra, driver Sanjeet Kumar and alleged killer Jitendra Singh arrested.
Oct. 18, 2019
Kamlesh Tiwari, leader of the Hindu Mahasabha and national president of the Hindu Samaj Party, murdered in his Lucknow office.
Motive: The police say Kamlesh had made anti-Muslim statements, provoking three youths from Gujarat to come and kill him. Kamlesh's mother Kusuma Devi accused a BJP politician from Mahmoodabad in Sitapur district of killing her son to grab a temple there, but the government dismissed her claims.
Accused: Uttar Pradesh police and the Gujarat anti-terrorist squad arrested three men from Surat.
Additional reporting by Snehamoy Chakraborty from Birbhum