BBC film: Universities initiate probes against students
At Delhi University, vice-chancellor Yogesh Singh has asked the probe committee to submit its report by 5pm on Monday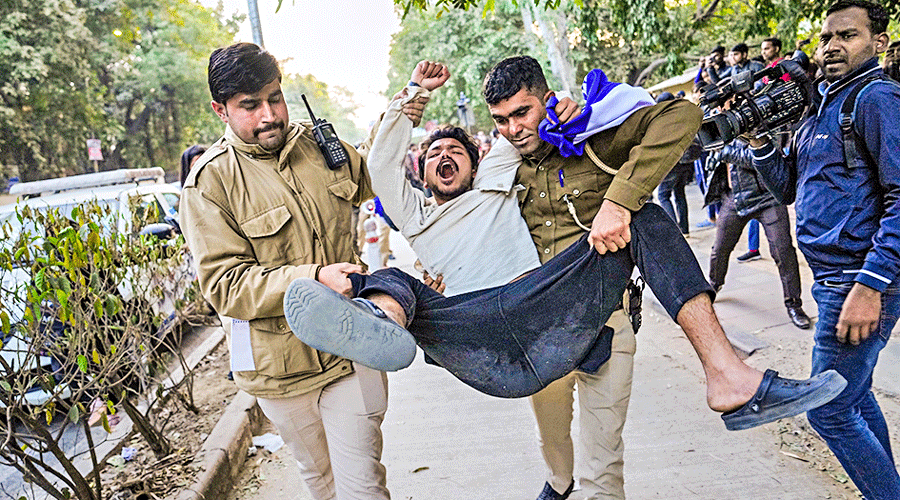 Policemen detain a student at Delhi University Arts Faculty on Friday.
PTI picture
---
New Delhi
|
Published 29.01.23, 03:27 AM
|
---
Universities have begun initiating probes and disciplinary proceedings against students who sought to screen the BBC documentary India: The Modi Question on their campuses, setting the stage for what a veteran educationist said were possible agitations.
Delhi University on Saturday set up a committee to inquire into the efforts by a group of students to screen the film on Friday near the Arts Faculty before the authorities called the police and thwarted the move.
The University of Hyderabad, where two groups of students screened the film on January 21 and 26, is set to refer the matter to the proctorial board, the body that usually issues the showcause notices to students for alleged misconduct.
At Delhi University, vice-chancellor Yogesh Singh has asked the probe committee, headed by proctor Rajni Abbi, to submit its report by 5pm on Monday.
Police and security guards had dragged students away to prevent them from screening the film, or watching it together on laptops and mobile phones, at Delhi University. Over 20 students were detained and later released.
The University of Hyderabad has obtained reports from its chief security officer about the screenings. "We will refer the reports to the proctorial board to inquire and suggest action," an official said.
Former University of Hyderabad president Abhisekh Kumar said that any action by the authorities was likely to trigger a student agitation.
"The screening of the film is not a violation of any university rule. This is routine activity that students do. If action is taken against students, there will be protests," he said.
At Pondicherry University, security guards had filmed the students while a screening was on. At Jamia Millia Islamia here, a screening was foiled when its student organisers were detained by police.
Sai Balaji, national president of the CPIML Liberation-backed All India Students Association and former president of the JNU students' union, stressed that the film had not been banned.
According to reports, the Centre had on January 21 asked YouTube and Twitter to block access to the film, which criticises Narendra Modi's role as Gujarat chief minister during the 2002 riots. The film can be accessed via links on some other social media platforms.
"The BBC documentary is not banned in India. Its circulation has been censored by taking down Internet links," Balaji said.
"What the university administrations across campuses are doing — forming committees to act against students who screened or watched it — is a measure seen only in authoritarian States."
He added: "These acts by the universities show that democracy in India is dead and any and every action will be taken to please the leader, that is, Prime Minister Narendra Modi."