Banners hail Yogi, slam Modi
Uttar Pradesh Navnirman Sena dubs Narendra Modi Hindu betrayer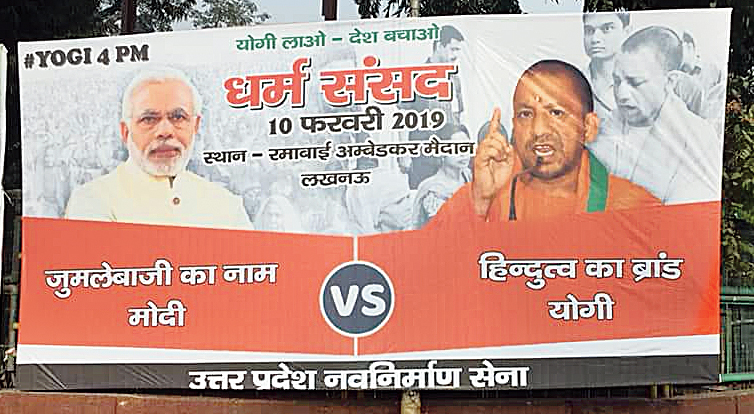 A banner in Lucknow reads: Jumlebaazi ka naam Modi, Hindutva ka brand Yogi (Modi symbolises fake promises, Yogi is the brand of Hindutva).
Piyush Srivastava
---
Lucknow
|
Published 12.12.18, 11:10 PM
|
---
Civic authorities in Lucknow have registered a case against the Uttar Pradesh Navnirman Sena, a relatively new political outfit, for putting up banners in the Uttar Pradesh capital without permission but it's their content that appears to have drawn greater attention.
The banners have dubbed Prime Minister Narendra Modi as one who had "betrayed Hindus in the name of the Ram temple" and called for removing him while lauding chief minister Yogi Adityanath as one "committed to a Ram temple and (India as a) Hindu nation".
The UPNS, led by a person called Amit Jani, is an eight-year-old organisation that had shot into the limelight in 2012 when it beheaded a statue of Bahujan Samaj Party president Mayawati at the Ambedkar Memorial in Lucknow.
Jani was arrested at that time and later released on bail.
More recently it had announced it would field Rupendra Rana, an accused in the Mohammed Akhlaque lynching case, in next year's Lok Sabha elections.
Akhlaque was killed by a mob in September 2015 on the unsubstantiated suspicion of storing beef in his house. Rana is out on bail after spending two-and-a-half years in prison.
Police sources said the banners — on Vikramaditya Marg and near the Assembly complex — were put up on Tuesday night following the announcement of election results in five states, including BJP-ruled Rajasthan, Madhya Pradesh and Chhattisgarh where the party finished second best. The hoardings were removed on Wednesday afternoon.
"There were BJP hoardings in the spaces where the banners of the UPNS were put up. We need to investigate who owns these publicity spaces," said a police officer who asked not to be named.
The banners blamed Modi for describing so-called cow vigilantes as goons and also accused him of appeasing Muslims and destroying traders by enforcing the goods and services tax.
They praised Adityanath for changing the names of Allahabad and Faizabad to Prayagraj and Ayodhya and converting Uttar Pradesh into a "saffron state".
Many government buildings, schools and police stations have been painted saffron since Adityanath took over as chief minister in March 2017.
One of the banners read "Modi Hatao, Yogi Lao (Remove Modi, Bring Yogi)", while announcing a dharma sansad (religious parliament) in Lucknow on February 10.
"Jumlebaazi ka naam Modi, Hindutva ka brand Yogi (Modi symbolises fake promises, Yogi is the brand of Hindutva)," read another.
Adityanath has not yet reacted to the banners. The saffron-clad mahant-turned-politician is in Janakpur, Nepal, to attend a ceremony associated with Ram, whom Sita is said to have chosen as her husband from among her suitors on this day.
Chandra Mohan, spokesperson for the Uttar Pradesh BJP, said: "This banner is a conspiracy against the BJP. The police have registered a case against Jani and would arrest him soon."
Jani's mobile was switched off but a defence came in a video purportedly featuring him.
"Riding the chariot of Hindutva, Modi had won in 2014. But he didn't care about the Hindus after taking over as PM. Yogi Adityanath is continuously supporting Hindutva. The BJP would have lost every seat in the state elections if Yogi Adityanath had stayed away from campaigning there," the voice in the video says.