Bangladesh superstar Ferdous Ahmed is still paying the Lok Sabha poll price
Actor speaks on toll on personal and professional life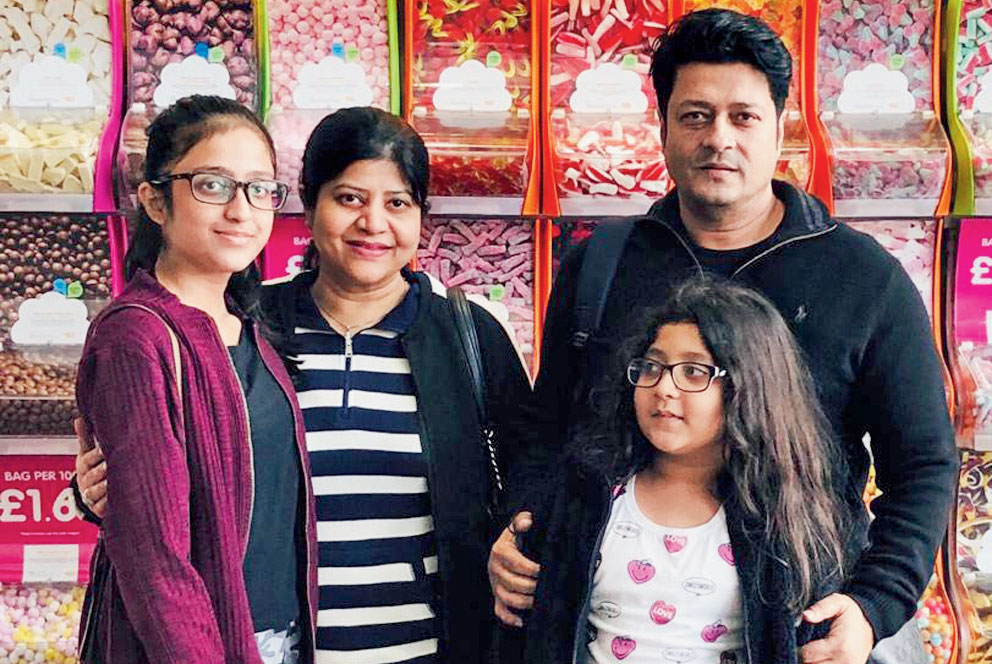 ---
|
Dhaka
|
Published 18.07.19, 09:18 PM
---
Not all but many have moved on in India after the bare-knuckle general election of 2019.
Across the border, one person is still stuck to a footnote of the Indian elections. So are some of his films.
"At least four of my films are stuck and I feel bad about it as it is affecting my co-stars, the director and the producer," Ferdous Ahmed, the Bangladeshi superstar, told The Telegraph during a chance meeting earlier this week at a café in Gulshan, the diplomatic enclave in Dhaka.
The 46-year-old actor had to abruptly leave Calcutta on April 15 after he was served a "leave India" notice for allegedly campaigning for a Trinamul Congress Lok Sabha poll candidate in Nadia.
"I feel worse when my daughters pester me to take them to Calcutta, which is their favourite city, and I just have to remain mum. The other day, my elder daughter told me that she has heard in her school that I cannot take them to India any more as I am banned from entering India. I felt so helpless," said Ferdous, who has acted in over 50 Bengali films made in India.
The actor has two daughters, Nuzhat, 12, and Namira, 8.
"People ask me why I did it. It's embarrassing… I am really sorry…. It's true that I should have been more careful, but I never felt like a foreigner in Calcutta," Ferdous said in his first extensive comments on the campaign controversy which had been indirectly raised by Prime Minister Narendra Modi and BJP president Amit Shah during the elections.
The actor's business visa was cancelled for allegedly campaigning for Kanaia Lal Agarwal, the Trinamul candidate from Raiganj.
Ferdous said he finds it difficult to explain to his daughters the "crime" that prompted New Delhi to slam the doors on him. "My wife Tania is a pilot and every week she flies in our national carrier Biman to Calcutta. My daughters ask, if their mom can go, why can't I," Ferdous added.
"They used to join me in Calcutta to spend the weekend at least once a month. I would take them to shopping malls like Forum or the eateries on Park Street. They loved hanging out in Science City and the water parks in Aquatica or Nicco Park."
This summer, Ferdous took his daughters to England and they watched a couple of cricket World Cup matches but they still missed Calcutta.
"Looking back, I can tell you without any doubt that it was an act of stupidity on my part to be at the campaign rally as I am a foreign national. I am really sorry for that," said an emotional Ferdous, who has acted in over 150-plus Bangladeshi films.
"But I didn't know that I was being taken for an election campaign. I didn't even know the candidate or his name… I stepped out of the hotel as the group that I was with asked me to join them at a programme they were to attend," recounted the hero who has acted with some of the leading ladies of Tollywood like Rituparna Sengupta, Debasree Roy, Indrani Haldar and Rachana Banerjee.
The chronology of events, he said, was etched in his memory as the incident changed "everything" for him "suddenly".
According to him, his shooting schedule for Datta, a film based on a novel by Sarat Chandra Chattopadhyay, in Bolpur got over on April 12 and he left for Raiganj in North Dinajpur on an invitation from Tapan Saha, the producer of his upcoming film Chhere Jaas Na.
"I reached Raiganj on April 13. My co-actors in the film, Ankush and Payel, were also there. They told me that we would go for a programme the next morning…. As it was April 14, the day we celebrate the Bengali New Year in Bangladesh, I thought it was a Poila Baisakh programme and I joined the gang," said Ferdous.
The first day of the Bengali calendar is celebrated with much fanfare in Bangladesh and people from all walks of life take part in colourful processions brought out all across the country.
Ferdous, who is close to the ruling Awami League dispensation in Bangladesh and has often campaigned for Sheikh Hasina's party, said he realised it was a political programme when he stepped out of the hotel.
"But I went along as part of a group…. All of us were taken to a podium from where speeches were being delivered. I was asked to address the gathering and I did. It wasn't a political speech and I said I saw good things happening all around," Ferdous said.
"Those who took me to the programme are my friends. They sort of own me. They didn't do anything intentionally. I didn't break the rule intentionally," said Ferdous. "I had to pay a price. They call me from Calcutta and say sorry for everything. But I can't figure out what to say," he added.
Within hours, he recounted, he got a call from a senior official of the Bangladesh deputy high commission who asked him if he was aware that he had done something wrong. "I was asked to come back to Calcutta and that's what I did. I travelled overnight from Raiganj and on reaching Calcutta, I went off to sleep. Once I woke up to catch my evening flight, I realised that it had snowballed into a big issue," he said.
The full impact sank in only after he reached Calcutta airport. "After immigration, I was waiting at the lounge, where an officer turned up and handed me a letter with a message that I would not be allowed to enter India with the visa any more as I had violated the visa norms. It was a big blow," Ferdous said.
Although his schedule remains packed as he is busy shooting, editing or dubbing for films in Dhaka, he thinks his life has changed. "I didn't go to the campaign intentionally. Those who took me were not aware that it was prohibited. It's true that I should have been more careful but I never felt like a foreigner in Calcutta," Ferdous said.