Avalanche of landslides in Kerala
The number of people in 1,111 relief camps across Kerala has risen to 1,08,138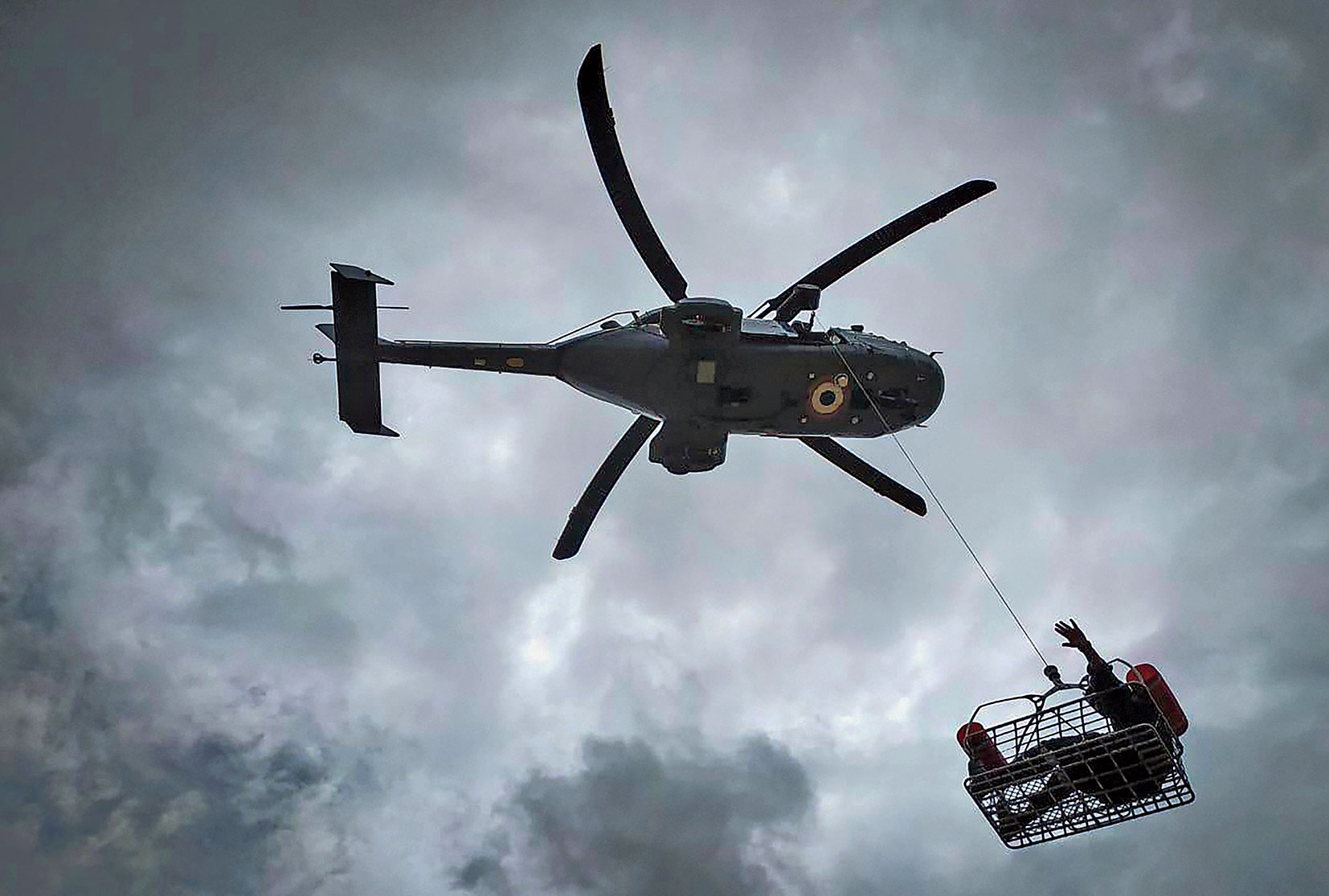 ---
---
Kerala has witnessed 80 rain-triggered landslides in eight districts over the past three days as the death toll crossed 50 on Saturday in floods that have displaced more than 1 lakh people.
The biggest landslides took place in Wayanad and Malappuram. Landslides in Kannur and Kozhikode affected traffic for the third day in a row.
The death toll climbed to over 50 as more bodies were dug out in landslide-affected areas and at least one person was confirmed to have drowned in Kannur on Saturday.
The number of people in 1,111 relief camps across Kerala has risen to 1,08,138. In Wayanad, the worst-affected district where 11 people have died, 74,990 people are in camps.
The situation looked to be improving on Saturday as the number of districts under red alert is set to come down significantly. From nine districts under red alert on Saturday, the number is expected to be reduced to three — Wayanad, Kannur and Kasaragod — on Sunday.
Cochin International Airport has decided to resume services on Sunday afternoon. The airport has been closed since Thursday evening as floodwaters from a tributary of the Periyar river drowned the runway and the parking bay.
A few aircraft, including one of the Abu Dhabi-based Etihad Airways, parked there since Thursday took off on Saturday and returned to their bases. Airport sources said the take-offs were an indication that the airport was flight-ready.
The authorities opened a shutter of the Banasura dam in Wayanad to drain out excess water, prompting the evacuation of close to 25,000 people.
In his daily briefing, chief minister Pinarayi Vijayan told reporters that there was no other way out as the dam was filled to capacity. "Although the intensity of the rain has reduced in Wayanad, the weather forecast showed it would again intensify on Saturday afternoon. Since the dam is filled to capacity, water would be released from 3pm," Vijayan said.
Since rain continued in its catchment areas, there was no reduction in water inflow to the dam. Hours before the shutter was lifted 10cm, 24,990 people living downstream were evacuated to safe places.
Nineteen dams in eight worst-affected districts released excess water on Saturday.
The chief minister asked people to ignore suspicious messages being circulated on social media. "Some people have been circulating messages like all dams were open and petrol distribution had completely stopped. People should ignore these baseless messages," Vijayan said, adding stringent action would be taken against people spreading panic through false messages.
"It is not true that all dams are full. The water level in the Idukki dam is only 35 per cent (of its capacity), as against 98.25 per cent this time last year. The Pamba dam has only 60 per cent of its capacity. The water levels in the Kakki, Idamalayar and Sholayar dams are also at half their capacity," he said.
"Only the Kuttiyadi, Peringalath and Banasura Sagar dams are filled to capacity," Vijayan said, adding that water was being released from the other dams as a precautionary measure.
According to the chief minister, 15 lakh power connections had snapped over the past three days. Northern Kerala districts have faced blackouts since Friday as the rain intensified.
A pregnant woman and her infant were evacuated from an islet at Attapadi in Palakkad district by using a zip line. Lavanya, in an advance stage of pregnancy, and her 11-month-old child were transported to safety across a raging Bhavani river as onlookers and family members watched with bated breath.
A major rescue operation was mounted in Nilambur, Malappuram district, where some 200 people had been stranded because the only bridge across the swollen Vaniyampuzha river has been washed away. A team comprising army and National Disaster Relief Force personnel rescued most of them by evening by using a zip line.
The death toll from the flood in neighbouring Karnataka rose to 24 on Saturday.
Chief minister B.S. Yediyurappa told reporters that he had sought Rs 3,000 crore as relief from the Centre.
"Some of the villages have to be rebuilt completely because of the biggest calamity Karnataka has faced so far," he said.
The weather forecast for Karnataka indicated extremely heavy rainfall in Dakshina Kannada, Uttara Kannada, Haasan, Chikmagalur, Kodagu, Shimoga and Udupi districts till Monday.
The situation has slightly improved in the northern districts where floods have wreaked havoc since Thursday.
Senior Congress leader Janardhana Poojary was among those moved to safety in Mangalore as water gushed into their homes on Saturday. Poojary had been stranded in his home at Bhandaribettu in the coastal city as the water level in the Nethravathi river rose.
The Karnataka State Disaster Monitoring Centre dismissed reports in a section of the media that a red alert had been issued for certain low-lying commercial areas of Bangalore.
Incessant rain continued in the southern parts of the state where landslides interrupted road and rail traffic. Buses and trains to and from the affect areas were cancelled on Saturday.