At UN, India pussyfoots on Vladimir Putin, slams China
S. Jaishankar reminds United Nations Security Council that India is neither a member of ICC nor a signatory to Rome Statute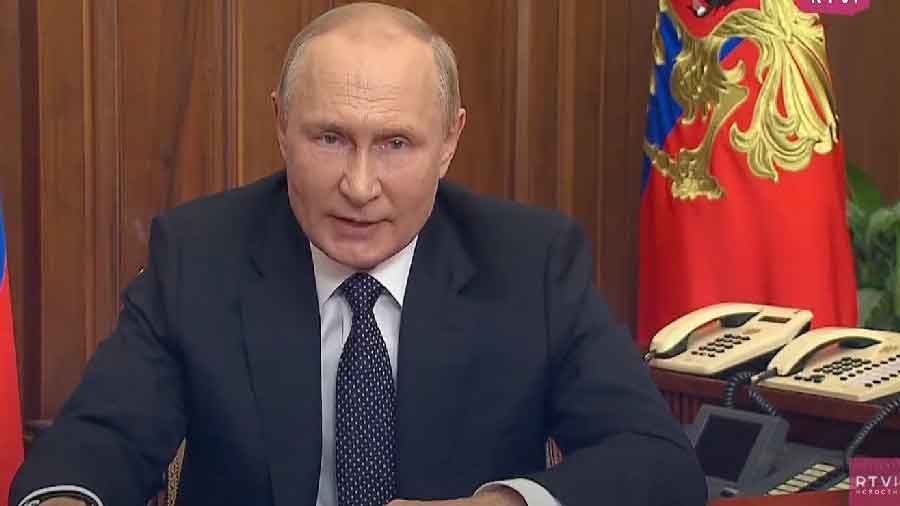 Vladimir Putin.
File picture
---
New Delhi
|
Published 23.09.22, 01:29 AM
|
---
India on Thursday remained non-committal on the efforts to get the International Criminal Court to prosecute Russian President Vladimir Putin for war crimes in Ukraine.
External affairs minister S. Jaishankar reminded the United Nations Security Council that India was neither a member of the ICC nor a signatory to the Rome Statute.
Taking note of the ICC prosecutor's remarks and the UN Secretary-General's briefing on the Ukraine crisis, Jaishankar made no further direct comment on the growing demand to prosecute Putin. He, however, pressed the need to avoid taking steps that might further complicate the situation the world is facing.
Referring to the escalation in recent days with even the "N" (nuclear) word being bandied about, he brought up the shortages of fuel, food and fertilisers to maintain: "We must therefore not initiate measures that further complicate the struggling global economy."
Most of the speakers before him at the UNSC meeting on "maintenance of peace and security in Ukraine" had urged action against Putin's impunity and demanded accountability for his actions. Jaishankar called for consistency, taking a swipe at China — without naming it — for repeatedly blocking the sanctioning of terrorists.
"The fight against impunity is critical to the larger pursuit of securing peace and justice. The Security Council must send an unambiguous and unequivocal message on this count," he said.
"Politics should never ever provide cover to evade accountability. Nor, indeed, to facilitate impunity. Regrettably, we have seen this of late in this very chamber, when it comes to sanctioning some of the world's most dreaded terrorists. We must have consistency if we are to ensure credibility."
Prime Minister Narendra Modi's remark to Putin last week — when they met at Samarkand — that this cannot be an era of war has been cited by Washington and Paris. Jaishankar quoted the remark in the UNSC while iterating the need for an immediate cessation of all hostilities and a return to dialogue and diplomacy.
This has been India's consistent position since Russia began its military operation against Ukraine on February 24. But the US and France are projecting Modi's face-to-face remark to Putin as a considerable shift although the Prime Minister had just a week before the SCO meeting showered praise on the Russian President during the Eastern Economic Forum meeting in Vladivostok.
Modi had lauded Putin for his leadership and sought deeper engagement in the Russian Far East.