Assembly polls: Narendra Modi can't talk about jobs, says Rahul
Campaigning in Uttar Pradesh, Priyanka Gandhi Vadra dwelt on the same theme, asking voters not to be misled by the toxic discourse and emotive issues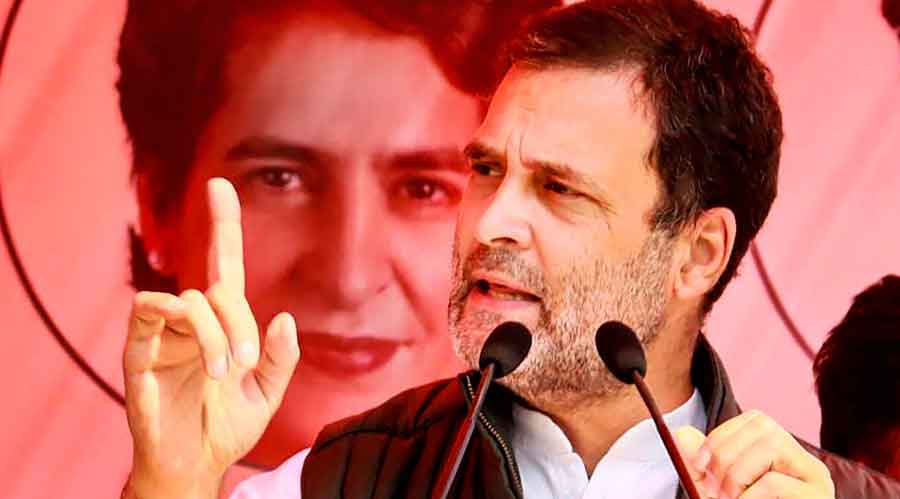 Congress leader Rahul Gandhi addresses the Uttarakhandi Swabhiman, for upcoming Uttarakhand Assembly elections, in Manglaur.
PTI Photo
---
New Delhi
|
Published 12.02.22, 12:50 AM
|
---
The Congress on Friday said the ongoing Assembly elections had fully exposed Prime Minister Narendra Modi's failure, as evidenced from his speeches in which he has nothing substantive to talk about except the Opposition.
Rahul Gandhi led the Congress charge, telling a media conference in Goa which votes on February 14: "The Prime Minister cannot say today I gave you jobs, I fixed your problems. So he has to distract you. His role is to take you away from issues. He can't discuss real concerns of the people. Why has he forgotten his promise of creating two crore jobs every year, of giving Rs 15 lakh to every citizen?"
Alleging that the BJP governments do not work for the people, the Congress leader said: "Why doesn't Modi talk of fighting corruption, of doubling farmers' income? Why doesn't he recall his note-bandi (demonetisation) decision? Because he knows that was a disaster."
Rahul has been constantly reminding people in the run-up to the Assembly elections in five states that the Prime Minister is not addressing real issues and avoiding answering specific questions.
Campaigning in Uttar Pradesh, Priyanka Gandhi Vadra dwelt on the same theme, asking voters not to be misled by the toxic discourse and emotive issues.
"Remember, the people do not get any benefit from such a discourse. Only a few parties gain by whipping up passions over caste and religion. It's their trick to capture power. You should ask them about your livelihood, about jobs, about safety, about prices, about crime against women, about stray animals destroying your crops," the Congress general secretary said.
Party spokesperson Supriya Shrinate referred to the Prime Minister's speeches in both Houses of Parliament and a 70-minute interview to the news agency ANI later to argue that he was only digging up the past, distorting history and abusing the Congress instead of discussing governance matters.
"He is speaking without a break but he has nothing new to say. He cracked the greatest joke when he said in the interview that he tries to maintain dignity. What dignity is he talking about? In Parliament or outside?" she said.
Shrinate asked: "Is it dignified behaviour to give an interview on the eve of voting? Is pulling down elected governments a reflection of constitutional morality? Is the choice of your language dignified? Is retaining the minister whose son was in jail for mowing down farmers a show of morality and dignity? The second joke was when he said he keeps farmers in his heart. What? For mowing them down? Third joke, 'we create rays of hope in defeat'. Hope through coercion by ED, CBI? By buying MLAs?"
Electioneering in the key state of Uttar Pradesh has seen BJP leaders — particularly Modi, Union home minister Amit Shah and chief minister Yogi Adityanath — desperately trying to whip up communal sentiments in the western region of the state by recalling how riots singed some areas a few years ago. No effort has been spared to again create a divide between the Jats and the Muslims, who came together during the farmers' movement. The leaders also tried to portray the Samajwadi Party as pro-criminal and warned the voters against the return of "gunda raj".