Assembly elections: Mayawati blames loss of Muslim vote in UP
The casteist media was involved in dirty conspiracy and negative campaign with the help of sponsored surveys and programmes: BSP chief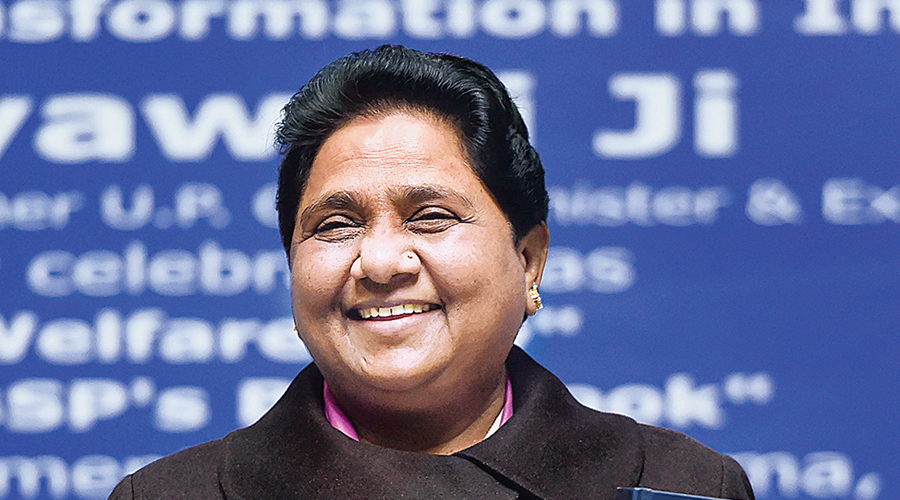 ---
Lucknow
|
Published 12.03.22, 12:41 AM
|
---
BSP chief Mayawati on Friday blamed the media for her party's dismal show in the Uttar Pradesh Assembly elections and said the BSP would have pulled off a massive win against the BJP had Muslims also voted for it, along with Dalits.
"As per the feedback received, the casteist media, which includes the social media, can stoop to any low to stop the downtrodden and poor from taking the master-key of power by following the mission of Baba Saheb," Mayawati said at a news conference on Friday.
"The casteist media was involved in dirty conspiracy and negative campaign with the help of sponsored surveys and programmes. It succeeded in misleading the Muslim community…  As a result, the Muslims voted for the Samajwadi Party amid the misinformation spread by the media, and the BJP's aggressive anti-Muslim campaign," she said.
The BSP won one seat in Uttar Pradesh out of 403.
In 2017, the party had won 19 seats.
The BJP has registered victory on 255 seats, Samajwadi Party 111 and the Congress two.
"The result of UP would have been different if the people were not trapped by the misinformation spread by the media, which dubbed the BSP as team 'B' of the BJP. These people will regret soon as they have missed the opportunity
"It is clear that we would have repeated the results of Bengal in UP if the Muslims had joined hands with the Dalits the way they did there (in Bengal)," Mayawati said.
She said the Muslim community was working with the BSP but shifted en masse to the SP. "This harmed the BSP a lot as the upper caste and OBCs, who were supporters of the BSP, turned to the BJP in fear that the SP would win and promote jungle-raj again in the state."
While urging BSP workers not to be disappointed by the results, Mayawati said: "The Congress and the BJP have faced such setbacks in the past and have returned to power after sometime. We don't need to regret what happened and start looking forward for a better future in the coming years."