'Ask Modiji if he spoke to her'
PM's in-law speaks on Jashodaben after mishap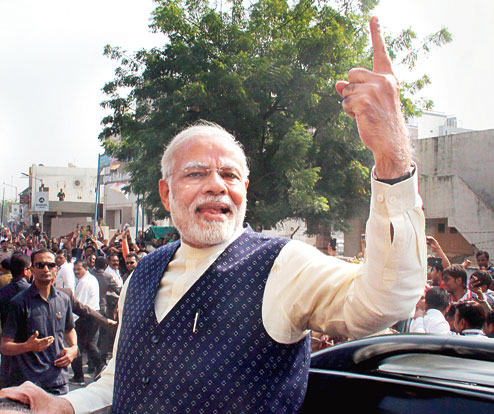 ---
Published 15.02.18, 12:00 AM
|
---
New Delhi: Two questions have occasionally bubbled up and receded swiftly among some of those who had noticed a report on a road accident tucked away in newspapers last week: has Jashodaben Narendrabhai Modi recovered fully from the injuries suffered in the collision and did her husband look her up after the lethal accident in which a relative was killed?
The answers are essentially private matters between two individuals but when they involve the Prime Minister and his wife, it is only natural in a democracy for citizens to air such questions and the media to try and answer them.
The answer to the first question: Yes, Jashodaben has recovered from the injuries.
The answer to the second question: "You can ask Modiji if he spoke to his wife or not," her brother Ashok Modi told The Telegraph over the phone on Wednesday.
The Prime Minister usually does not hold media conferences where any question can be asked. Occasionally, he has been known to give interviews where some of the questions have to be submitted and vetted in advance.
Ashok, the brother with whom Jashodaben lives at Brahmanwada in Gujarat's Mehsana district, was by no means complaining. On the contrary, he explained that her status as the Prime Minister's wife did stand Jashodaben in good stead when adversity struck in Rajasthan last week.
The Innova in which Jashodaben and others were travelling collided with a trailer-truck on a national highway in Chittorgarh on February 7, killing the relative named Basantbhai Modi who was driving the car.
In different cars and a bus, around 100 people from Gujarat, including Ashok, had gone to Rajasthan to attend a wedding.
Ashok said Jashodaben suffered injuries on her head and arm. A Gujarat police special operations group officer was also injured.
Ashok said on Wednesday: "I don't know if the PM called her or not. But the meherbani (courtesy) we got was because Jashodaben is the PM's wife. The collector, the SP and local BJP leaders all helped us at the Sanwaliyaji (Government General) Hospital in Chittorgarh.... You can ask Modiji if he spoke to his wife or not. We cannot forget the help of the Rajasthan government."
Ashok added: "She is busy with prayers now. We had gone to the wedding of a nephew's son in Atru (in Rajasthan's Baran district). She has not travelled anywhere else since. Her recent travels have been to Rajasthan, Uttar Pradesh, Madhya Pradesh, Bihar and places in Gujarat for community marriages, Beti Bachao-Beti Padhao programmes and the Swachh Bharat Abhiyan."
A section of journalists based in Gujarat told this newspaper that a security cordon prevents them from contacting the family.
The movements of Jashodaben, a retired schoolteacher, have been kept confidential ever since her passport application was rejected in 2015 - for not being able to produce any document to prove her spouse was Narendra Modi, whom she had mentioned in the application.
Narendra Modi had acknowledged Jashodaben as his wife in his 2014 Lok Sabha nomination affidavit.
In interviews, she has said she had married Modi around five decades ago. They lived together for about three months. Some of the biographies of Narendra Modi, circulated by the BJP, say he left for the Himalayas to become a monk soon after their marriage.
In his election campaign, Modi had said that he could never be corrupt as he had no family to support.