Raid raj unites Opposition parties
Opposition parties tear into CBI for sudden flurry of activity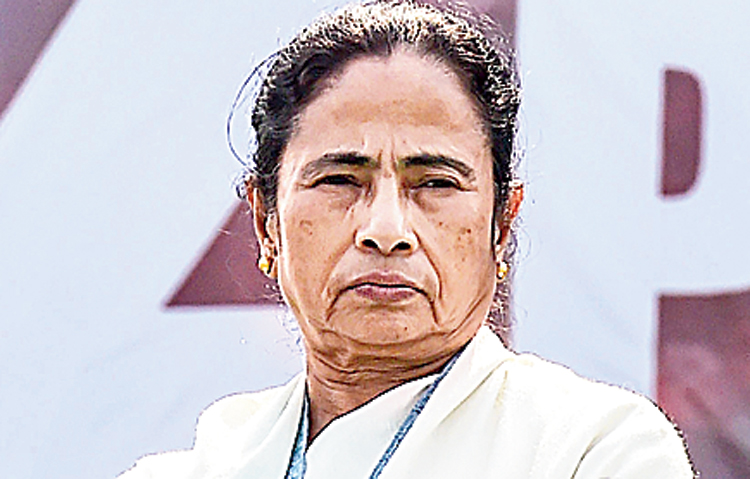 West Bengal chief minister and Trinamul Congress chief Mamata Banerjee
The Telegraph file picture
---
Published 25.01.19, 09:54 PM
|
---
The CBI on Friday raided the home of Congress leader and former Haryana chief minister Bhupinder Singh Hooda and registered a new case linked to land allocation in Gurgaon. CBI sources said a controversial land deal linked to Robert Vadra, the husband of Priyanka Gandhi Vadra, was also part of the probe.

The same day, the CBI and the Enforcement Directorate told Delhi High Court that custodial interrogation of Congress leader P. Chidambaram was required in the INX Media case as he was evasive during questioning. The court has reserved its order.

The multiple thrusts came less than 48 hours after Priyanka took the political plunge and over a year after the Supreme Court had asked the CBI to register the land case linked to Hooda. Asked why the CBI took so long to act, the agency spokesperson said: "I cannot comment on this."

Twenty-four hours earlier, the CBI had arrested film producer Shrikant Mohta, known for his proximity to the ruling Trinamul Congress, in Calcutta in a Rose Valley case. He was on Friday remanded in 14 days' judicial custody in Bhubaneswar after the CBI refrained from seeking his custody citing his "poor health".

The flurry of action by the CBI has not only ignited cries of political vendetta but also helped form a "mini-mahagathbandhan" on Twitter.
A 165-character microblog mentioning Akhilesh Yadav and Mayawati, posted on Twitter at 12.07pm on Thursday, drew significant attention from Twitterati, with Rahul Gandhi and Arvind Kejriwal among the 6,300-odd people to have liked it and Akhilesh among the 1200-plus to have re-tweeted it by 12.30am.
"From @yadavakhilesh to Behen Mayawati Ji, nobody is spared. From north to south. From east to west. Political vendetta by BJP. Are they scared? Are they desperate?" asked the tweet by Bengal chief minister Mamata Banerjee.
Her posts were uploaded shortly after the CBI swoop on Hooda.
At noon, Mamata posted: "So political vendetta continues. BJP & its 'allies' comprising multiple Govt agencies harassing all allies of Oppn from Kol to Delhi & beyond."
At 12.16pm, she posted: "One headless agency has now become spineless BJP!"
Soon after, her Twitter handle became a melting pot for non-BJP forces.
Along with the thousands of likes — including one from Patidar leader Hardik Patel — and hundreds of re-tweets, came tweets of support from AAP chief Kejriwal and RJD leader Tejashwi Yadav.
"Modi ji is fighting political battles thro enforcement agencies. From @yadavakhilesh & Mayawati in UP to @MamataOfficial in Bengal n AAP in Delhi Modi-Shah duo has spared no political opponent," tweeted Delhi chief minister Kejriwal.
"The CBI has become BBI (BJP Bureau of Investigation). Whoever joins hands with the BJP gets clean-chit and becomes Raja Harish Chandra & those who criticise them are hounded by agencies. Even my father was not spared, because he is a critic of the RSS and BJP led Central Govt," tweeted Tejashwi.
Trinamul sources said that instead of having to keep it confined to her own party,
Mamata had been able to expand the scope of the attack, appealing to a much wider audience in the national Opposition.
"The Narendra Modi-led Centre has made it so easy for her to take this line of attack and give it a national spin. More so because it coincided with the move against Hooda," a Trinamul politician said.
A Trinamul MP said that Mamata would not let this opportunity pass and would look to build a wider, pan-India campaign against the misuse of federal agencies.