Army brags about militants killed in Kashmir
Around 450 people, including nearly 100 civilians and around 100 security personnel, lost their lives in 2018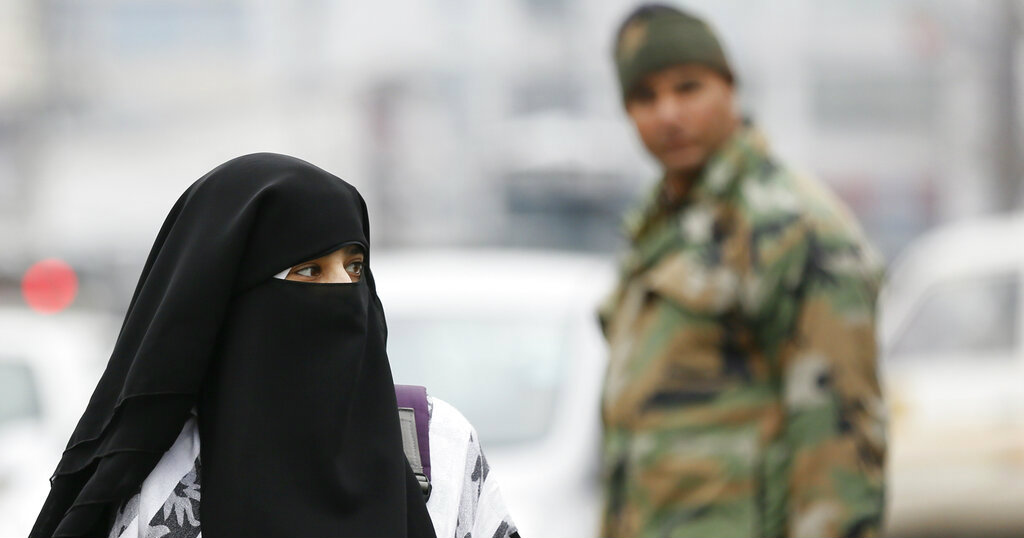 A Kashmiri woman walks near an explosion site in Srinagar on Thursday as a paramilitary trooper stands by.
AP
---
Srinagar
|
Published 17.01.19, 08:49 PM
|
---
The army's Jammu and Kashmir chief said on Thursday that 2018 had been an "extremely remarkable" year for the security forces, but many pointed to official figures that suggest it had been the state's bloodiest year in a decade.
Lt Gen. Ranbir Singh spoke of the number of militants slain in 2018, but remained silent on the heavy casualties suffered by civilians and the security forces. His comments kicked up a row with National Conference leader Omar Abdullah accusing him of celebrating the deaths and the People's Democratic Party calling the statements "tragic".
Singh, the Northern Command chief, told reporters in Jammu that 2018 had been an "extremely remarkable year… from the security point of view".
"The record of 10 years shows that the Indian Army, along with other security (forces), killed the highest number of terrorists (last year). A lot of terrorists surrendered under pressure and a lot of them were arrested," the officer said.
"We killed more than 250 militants, around 54 were arrested, four surrendered. This shows the strength of the security forces," Singh added.
The general made the comments a day after governor Satya Pal Malik said the aim was not to kill militants but to bring them back to the mainstream. "Our aim is not to kill militants. I want not even a single person be killed," he told PTI. Jammu and Kashmir is now under governor's rule.
According to sources in the administration, around 450 people, including nearly 100 civilians and around 100 security personnel, lost their lives in strife in the state in 2018. The last time so many were killed was in 2008, when 500 people died.
The number of active militants crossed 300 for the first time in a decade with around 200 local youths taking up arms. The number of active militants in 2013, the last full year of UPA rule at the Centre, was 78. Only six Valley youths had joined militancy that year.
Former chief minister Omar Abdullah opposed General Singh's comments.
"I beg to differ, a great year would be one in which no young man would join militancy, no terrorists would be killed & no security personnel would lose their lives in encounters," Omar tweeted. "The compulsion of killing militants/terrorists shouldn't be treated as a cause for celebration."
People's Democratic Party spokesperson Najmus Saqib said death and destruction do not make a year remarkable.
"(If that is so), it is really tragic. You had policemen getting killed, civilians getting killed. If death and destruction means remarkable, you have to change the meaning of the word," he said.
Lt Gen. Singh on Thursday inaugurated the Kalai bridge built by the Border Roads Organisation in Jammu's Poonch district.
The officer said the Indian Army was giving a befitting reply to Pakistan's ceasefire violations on the border, claiming that the Indian forces were one step ahead of the neighbour.
In the past week an army major, a BSF assistant commandant, a soldier and an army porter have been killed by Pakistani forces.