Arab fury erupts on BJP MP for tweet on women
Five years on, words return to haunt Tejasvi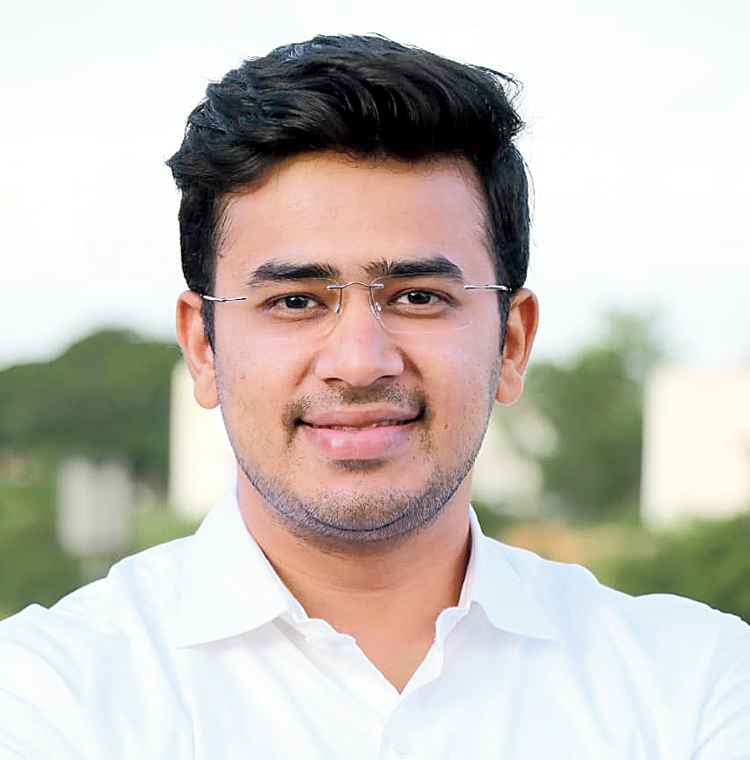 ---
Bangalore
|
Published 20.04.20, 09:16 PM
|
---
A five-year-old tweet by BJP Lok Sabha member Tejasvi Surya has returned to haunt him with the Arab world expressing outrage at his remarks about Arab women.
The now-deleted tweet, dated March 23, 2015, makes disparaging comments about sex and motherhood among Arab women.
Surya, 29, who became an MP last year, had deleted the tweet after attracting flak back then, but archived comments tweeted by people from the Gulf show that he had justified his remarks.
"I have merely stated what Tarek Fatah said. Having said that, I agree with him that Islamofascism is (a) grave threat to civilisation," Surya had posted before deleting the tweet.
Surya's secretary Aravind told The Telegraph on Monday that the tweet had quoted from an interview Pakistani-Canadian journalist Tarek Fatah had given to the Right-wing magazine Swarajya for its March 2015 issue.
It isn't clear why the tweet has attracted attention now, but Arab women and men have tweeted their outrage in large numbers since Sunday evening, calling for action against the MP.
"Pity Ur upbringing @Tejasvi_Surya that respect for women couldn't be instilled in U despite India having some great female leaders. Please note if someday the govt bestows a foreign ministry to you, avoid travelling to Arab lands. You are not welcome here. This will be remembered," wrote Noora Al Ghurair from the United Arab Emirates.
A Kuwaiti lawyer who tweets as @AlMJShrika tagged the PMO and Modi.
"@PMO respected Prime Minister @narendramodi India's relation with the Arab world has been that of mutual respect. Do you allow your parliamentarian to publicly humiliate our women? We expect your urgent punitive action against @Tejasvi_Surya for his disgraceful comment," he tweeted.
In an earlier post on Monday, the lawyer had questioned Twitter for allowing Surya's account.
"Dear @Twitter, this Indian politician Tejasvi-Surya has slurred Arab women, I wonder how is his account still active? Is it not against Twitter's official policy? Please act as Arab sentiment has been badly wounded," he tweeted.
Many Indians too condemned the MP from Karnataka.
"This really ridiculous statement given by @Tejasvi_Surya, which he deleted later. He not only insult #Arab women but also showed his mentality towards women," tweeted Sumra from Mumbai.
She tagged Modi and posted: "MrPM @narendramodi what action u r going to take against your MP?"
Congress spokesperson Sanjay Jha alleged Surya had "humiliated" India.
"The BJP gives tickets to Pragya Singh Thakur and Tejasvi Surya etc because it helps popularise their hard-line bigoted political profile. But the chickens usually come home to roost. Today, India stands embarrassed, humiliated," Jha tweeted.
Surya had recently triggered controversy by describing those protesting against the new citizenship matrix as illiterate "puncturewallahs".
His comment on Arab women had come amid a wave of Islamophobic posts from Indian expatriates in the Gulf after Modi assumed power in 2014.
Princess Hend Al Qassimi, a member of the UAE royal family, recently warned against the growing trend of Islamophobia on social media after an expat, Saurabh Upadhyay, tweeted that Tablighi Jamaat members were responsible for the surge in Covid-19 cases in India.
"Anyone that is openly racist and discriminatory in the UAE will be fined and made to leave," the princess had tweeted.
A man from Karnataka named Rakesh B. Kitturmath who worked in Dubai was sacked and arrested recently for making offensive remarks on Facebook about Muslims praying at mosques.
In early April, a man named Mitesh Udeshi was arrested in the UAE for posting a cartoon on his Facebook page that was deemed to have insulted Islam.
A few days earlier, an Indian expat named Sameer Bhandari was sacked after a police complaint was lodged accusing him of having asked an Indian job-seeker to go to Pakistan.
The UAE also arrested one of its own citizens last week after he allegedly called for separating residents based on their religion and ethnicity.