Moolchand health hub sends SOS to Modi, Kejriwal
Another Delhi hospital reports twenty deaths due to scarcity of oxygen
Delay in supply led to the tragedy, says medical director of Jaipur Golden Hospital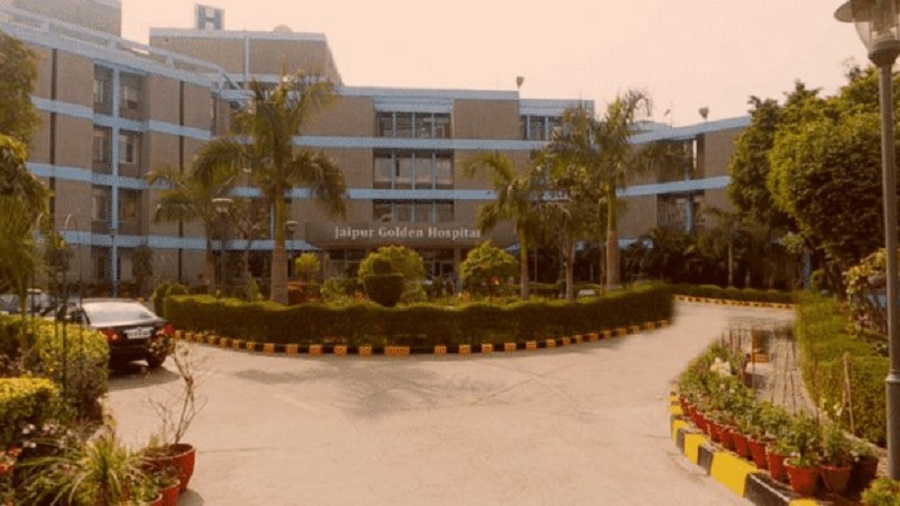 Jaipur Golden Hospital
File picture
---
New Delhi
|
Published 24.04.21, 12:39 PM
|
---
Twenty critically ill patients died overnight at Jaipur Golden Hospital in Delhi amid a serious oxygen crisis, officials said on Saturday.
"The oxygen pressure has dipped as we are running out of stock," Dr D K Baluja, the medical director of Jaipur Golden Hospital, told PTI.
The incident comes after Friday's tragedy at Sir Ganga Ram Hospital where twenty-five Covid-19 patients died over 24 hours.
Sources said "low pressure oxygen" was the likely cause of the deaths in Ganga Ram, one of the city's biggest and most high-profile hospitals, where healthcare staff were reduced to manually ventilating patients in the intensive-care unit and emergency department.
The deaths in two of the top most infirmiries of the city lays bare the crisis that is engulfing the national capital at the moment.
Dr. DK Baluja, while talking to NDTV.com said, "We had been allotted 3.5 metric tons of oxygen from the government. The supply was to reach us by 5 in the evening, but it reached around midnight. By then, 20 patients had died." 
He said the hospital has over 200 patients and they had only half-an-hour of oxygen was left at 10:45 am.
It received the last refill of oxygen around midnight, after hours of delay.
At least 215 Covid patients admitted at the hospital are critical and in dire need of oxygen, including 35 who are in the ICU, he added.
"Nobody has promised anything. Everybody is saying we will do our best," the medical director said when asked if the hospital received any help from the government.
Jaipur Golden Hospital is the second hospital in the city to send an SOS over shortage of oxygen on Saturday morning.
Earlier Moolchand hospital, in a tweet, appealed for urgent help from Prime Minister Narendra Modi, Chief Minister Arvind Kejriwal and Lt Governor Anil Baijal. More than 130 Covid patients are on life support, it stressed.
"Urgent sos help. We have less than 2 hours of oxygen supply @Moolchand_Hos. We are desperate have tried all the nodal officer numbers but unable to connect. Have over 135 COVID pts with many on life support #. @ArvindKejriwal @CMODelh i@LtGovDelhi @satinderjain26 @PMOIndia (sic)," read the tweet put out by Moolchand Healthcare Saturday morning. The hospital has stopped admitting new patients till it resolves the issue, sources told NDTV.com