Andhra's 'power star' Pawan Kalyan searches for spotlight
Most people said they love Kalyan for his oratory, but this is a 2-cornered election between YSR Congress and TDP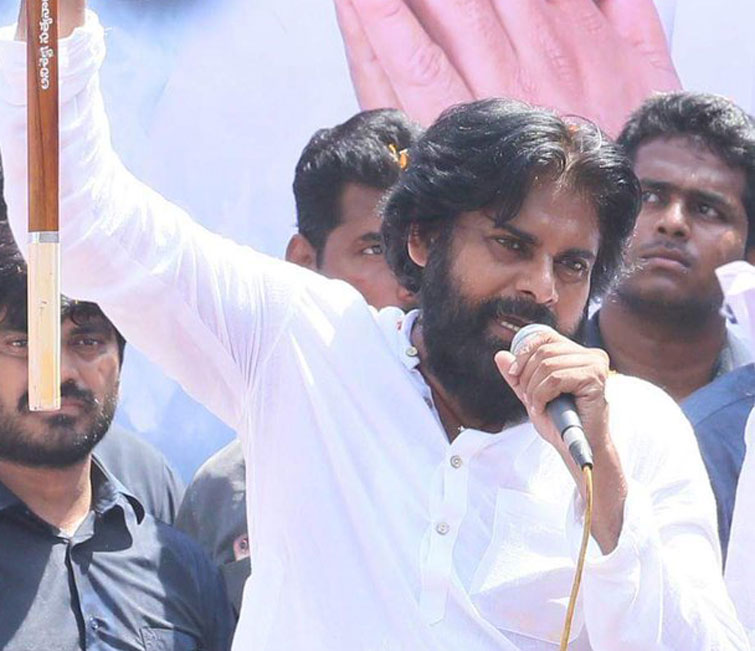 ---
Gajuwaka
|
Published 11.04.19, 01:08 AM
|
---
B. Venkataraman fits the stereotype of a Pawan Kalyan fan — under 25, lanky male, longish hair, mild stubble and stars in his eyes every time someone mentions the actor-politician's name. A technician on a monthly wage of Rs 9,000 at Atchutapuram special economic zone, he had spent the day waiting for Kalyan — often referred to as Telugu cinema's "power star" — to turn up for a rally in Anakapalle, a town 40km from Visakhapatnam known for its jaggery.
Venkataraman is looking for whether Kalyan has a solution for creating more jobs.
"The government supplies additional water, but even then our sugarcane crop is not good. It is hard to support my family as the cost of living in Anakapalle is becoming like Vizag. I support Pawan because there are thousands of vacancies that the state or Centre have not filled. I want a job that pays well," he said.
Anakapalle's jaggery market crashed for two months after demonetisation. It recovered but lost out to jaggery from Karnataka and Maharashtra. Even as they struggle to shift to chemical-free jaggery that fetches higher rates, farmers here have protested Andhra buying jaggery from these states.
Kalyan's party, Jana Sena, is contesting 18 of the 25 Lok Sabha seats in Andhra, and 140 of the 175 Assembly constituencies. The rest are being contested by its allies, BSP, CPI and CPM. The star is contesting two Assembly seats himself, including nearby Gajuwaka.
The voters present at Kalyan's rally were mostly young men with temporary jobs in factories, and small family land holdings. Almost all of them this paper spoke to had a grievance against north India's perceived "domination" over the south, and against corruption in the state — particularly the Janmabhoomi Committees that decide the distribution of government welfare schemes. But not all of them saw their leader as a replacement for N. Chandrababu Naidu.
"For us the main issue is safety," said Swati, a fresh graduate. "Students are angry because scholarships don't come on time, and there is nepotism in distribution."
Nookaratnam, an elderly woman, said: "There are 80 youths with degrees in our extended family who are unemployed."
Swati admitted she likes Prime Minister Narendra Modi for his "strong personality" but said she finds the local BJP candidate "too weak". All the women said they want "change". However, they all praised Naidu for his sops to self-help groups, and for action against molesters in public buses. Even as they spoke, two youths on a bike rode through the Jana Sena supporters and shouted: "Only Jagan (Reddy) will become CM."
Swati said: "We like Pawan for his oratory, but here it is YSR Congress versus TDP, and Chandrababu gaaru (elder brother) deserves another chance."
In Gajuwaka, a road show by YSR Congress leader Y.S. Jagan Mohan Reddy last Sunday brought traffic to a standstill in a residential area of industrial workers. Rama Akella, an unemployed BEd degree holder, was among the crowd. "Besides the old PSUs here, there are no decent jobs," Akella said. "I don't blame Chandrababu gaaru, but we need jobs. I've come here to see what Jagan has to say."
Most people in Gajuwaka said they love Kalyan for his oratory, but this is a two-cornered election. Asked whether their choices would differ in the Assembly and Lok Sabha polls, everyone said their pick would be the same: "A Telugu party." The phrase "third front" figured more in conversations than BJP — which holds the Visakhapatnam Lok Sabha seat (of which Gajuwaka is a part) and has fielded former minister D. Purandeshwari, daughter of NT Rama Rao.