Dad Deo versus daughter Shruti in in Andhra Pradesh
V.K.C.S. Deo, a six-term parliamentarian in the fray this time on a TDP ticket, is up against his daughter, V. Shruti Devi of the Congress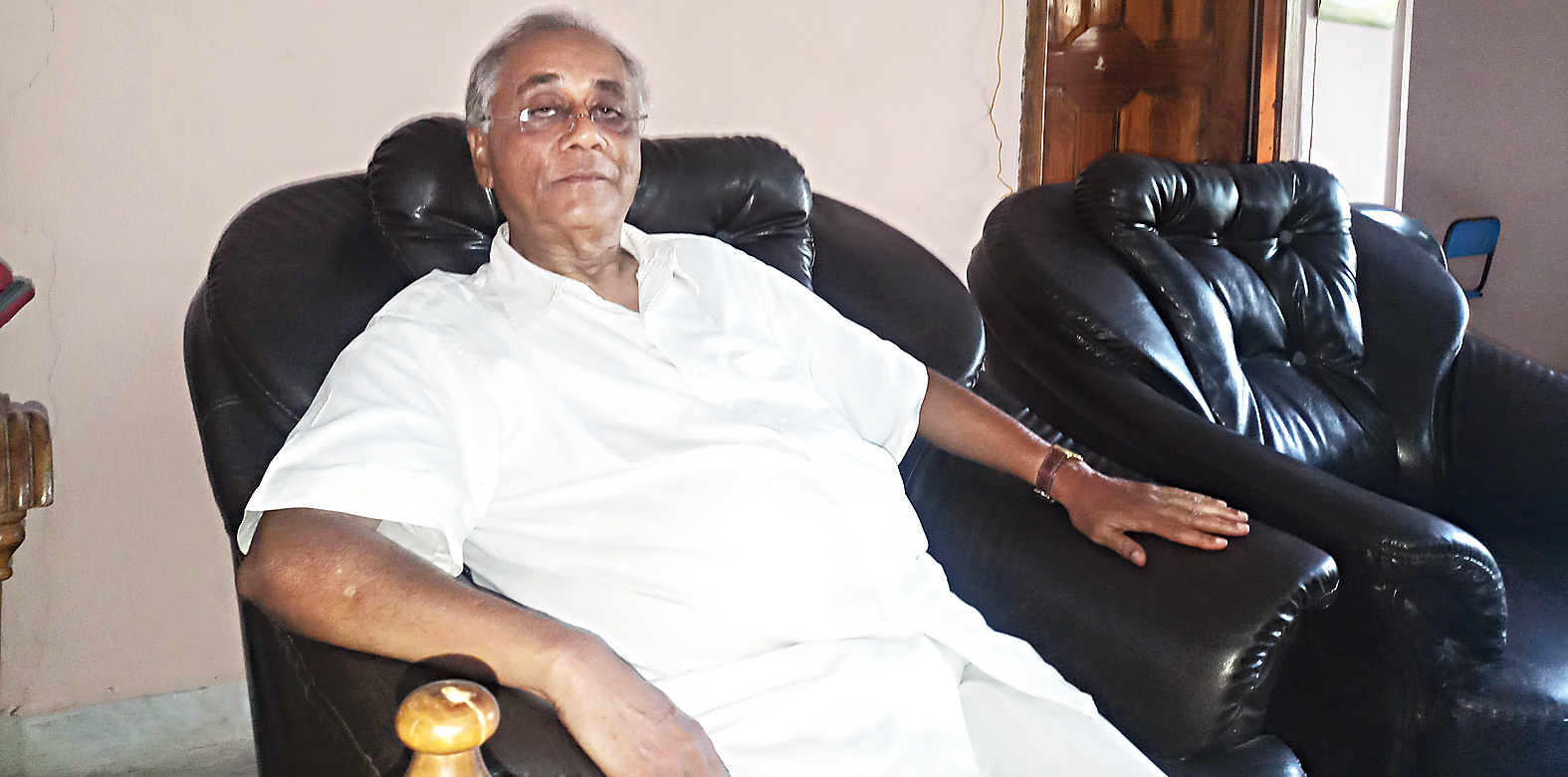 ---
---
Father and daughter are fighting it out against each other in the Araku Lok Sabha constituency.
V.K.C.S. Deo, a six-term parliamentarian who has entered the fray this time on a Telugu Desam Party (TDP) ticket, is up against his daughter, V. Shruti Devi of the Congress.
However, this is not the only challenge for Deo, who had earlier served as an MP for the Congress and the Indian Congress (Socialist). The Forest Rights Act pioneer and crusader against unrestricted bauxite mining in Salur has only goodwill and a section of the local faction-riven TDP to fall back on when the state votes on Thursday.
Deo, a former Union minister, told The Telegraph when asked about his daughter: "She is 46 and an independent adult who is free to exercise her constitutional right to elect and stand in an election. Her candidacy is a matter between her and her party…. We still talk, we live in the same house…. We do not have political discussions."
Asked if the electoral rivalry had caused bitterness with her father, Shruti said: "That has been happening for three-four years." She added after a pause: "Only in terms of political communication."
Father and daughter belong to the royal family of Kurupam, a village in the dense forests of the Araku Valley on the Eastern Ghats close to Odisha.
Deo is facing a tough competition from the YSR Congress's G. Madhavi, a schoolteacher and daughter of the late CPI legislator G. Demudu. Deo is also contending with rebellion in his own ranks in the TDP. The Araku seat is now represented by the YSR Congress.
The election has posed a struggle for Shruti too — she faces the daunting task of reviving the Congress that has lost political support in most of Andhra Pradesh.
Shruti, a Supreme Court lawyer, has been dividing time between Araku and Delhi ever since her father's crushing defeat as a Congress candidate in Araku in 2014, when he came third and lost his deposit. That development propelled her into active politics.
She told this newspaper while leading a march dominated by women through the town's main thoroughfare: "I had been fighting for a ticket even before he (Deo) left the party. That may have been a final factor for him (to quit the Congress)…. I am the strongest candidate here and we are seeing the impact of our efforts to rebuild the organisation during our conversations with people about our manifesto."
Shruti confidently calls upon shopkeepers and women passing by to join the march. Confidence is all that's keeping her going. While publicity materials of the three main players in the simultaneous Lok Sabha and Assembly elections in Andhra Pradesh — the TDP, YSR Congress and the Jana Sena alliance — are ubiquitous all along the 120km drive to Araku from Visakhapatnam, the Congress is conspicuous by its absence.
At the march, most women said they came because they had been invited by municipal councillor S. Seetha, who has been instrumental in getting them the benefits of the TDP government's housing schemes, for which they praised chief minister Chandrababu Naidu.
Deo told this paper during a short break from campaigning why he left the Congress.
"After the bifurcation (of Andhra Pradesh), the Congress ceased to exist here. I had to either retire from politics or join a local party. I chose the TDP as it is a party with a vision and commitment to the people…. I had to add whatever influence I have to make sure (Narendra) Modi and (Amit) Shah do not come back to power," he said.
The TDP office in Salur — one of the Assembly segments of Araku — has large pictures of its Assembly poll candidate, R.P. Bhanj Deo, and that of its nominee for the neighbouring Lok Sabha seat of Vizianagaram, P. Ashok Gajapathi Raju, but none of V.K.C.S. Deo.
An office attendant sheepishly explained: "The announcement (of V.K.C.S. Deo's candidature) was not made properly." He quickly pointed to Bhanj Deo's banner and said: "He has always been with the TDP from the beginning. He never left the party."
V.K.C.S. Deo insisted that he never faced any hostility for being a "newcomer". He, however, took rest at the house of TDP MLC G. Sandhya Rani, and not at Bhanj Deo's home, which is the hub of campaign activities.
All the characters in this political stage are from the dominant Konda Dora tribe. Salur's residents said their main problem was alcoholism.
"There are no major industries here except transport, which is profitable. Men spend their profits on liquor. Outlets make at least Rs 1 lakh a day. The result is that you can't walk here at night without stepping on a drunkard sprawled on the road," trader Ishwar said.
Ishwar is a rare voter who wants V.K.C.S. Deo as MP and incumbent YSR Congress MLA of Salur , Rajanna Dora, re-elected. Both the leaders have a Congress past.
"While I was in the Congress, I had to take a lot of pain and labour and was able to get a (court) stay on bauxite mining in scheduled areas. But I couldn't get the licences granted by my party's government led by (the late) chief minister Y.S. Rajasekhara Reddy cancelled. Chandrababu Naidu had them cancelled," Deo said.
He chuckled and said his role of stitching ties between the now-defunct Indian Congress (Socialist) and the TDP in 1989 might now be reversed if the TDP and the Congress entered into a post-poll alliance.
Last year, Araku Valley's TDP MLA K. Sarveswara Rao and former MLA S. Soma were killed allegedly by Maoists who oppose quarrying. Deo said he had not faced threats from the insurgents this time.