Chandrababu Naidu attacks Prashant Kishor on voter list deletion
Kishor hits back, saying: 'An imminent defeat can rattle even the most seasoned politicians"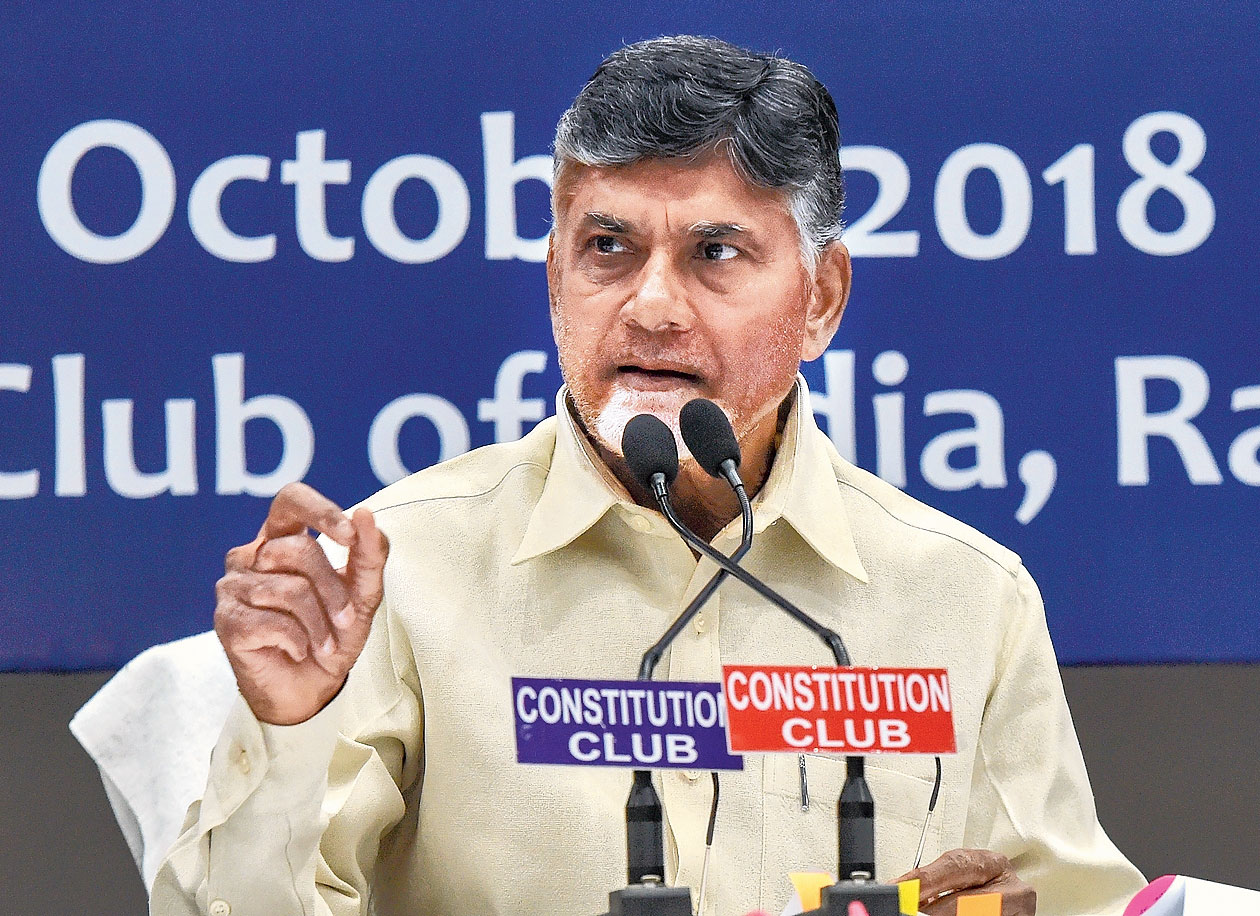 ---
---
A bitter row about the role of political strategist Prashant Kishor in the Andhra Pradesh elections has burst into the open after a no-holds-barred attack against him launched by chief minister N. Chandrababu Naidu.
Naidu alleged that Kishor, who has been working with the Opposition YSR Congress Party (YSRCP) since 2017, was the mastermind behind a campaign to have Telugu Desam Party (TDP) voters deleted from voting lists. He alleged this was done by misusing the Election Commission's Form 7, to object to the inclusion of specific voter's names.
The TDP says that 30 lakh of its voters have had their names deleted from the Election Commission lists because of a concerted campaign by the YSR Congress Party masterminded by Kishor.
At an election meeting in Ongole in coastal Andhra Pradesh, Naidu heaped abuse on Kishor, saying: 'He is a Bihari dacoit. There is no law and order in Bihar. They have all come together and are committing cyber crimes. They are taking away our own votes without our realisation. They are using proxy names and taking away votes.'
Naidu also called Kishor PK which is a swear word in Telugu.
Naidu's remarks were tweeted by a news agency on Tuesday. Kishor, who heads an organisation called the Indian Political Action Committee (I-PAC), hit back at once quoting the tweet and saying: 'An imminent defeat can rattle even the most seasoned politicians.' He added that Naidu's comments about Biharis showed his "prejudice & malice against Bihar".
The Andhra Pradesh chief minister has launched attacks against Kishor and YSR Congress Party chief Y.S. Jaganmohan Reddy on earlier occasions. In February he accused Reddy of playing caste politics in the state at the instigation of Kishor. According to news reports, Naidu said: "With a Bihari poll consultant, Jagan wants to play caste politics in the state. People should teach a lesson to such people."
On another occasion, Naidu accused Kishor of trying to turn Andhra Pradesh into another Bihar. Kishor has played a key behind-the-scenes role in the YSRCP, advising them on strategy and even sitting in on candidate selection meetings.
Prashant Kishor teamed up with YSRCP in July 2017. While introducing Kishor to party workers, Jagan had said: "This is Prashant Kishor, and he will help us with Mission 2019." Kishor was famously given considerable credit for ensuring Narendra Modi and BJP's win in the 2014 general elections.
In 2015, I-PAC had built strategies for Nitish Kumar to win him another term as Bihar's chief minister.
In 2016, the Congress brought Kishor on board for 2017 Assembly elections in Punjab and Uttar Pradesh. While Amarinder Singh won Punjab and was given the credit for it, in Uttar Pradesh, the Congress lost despite an alliance with the Samajwadi Party.
Earlier this month, Naidu had alleged that the Telangana Rashtra Samithi (TRS) government had masterminded a police raid on IT Grids, a Hyderabad-based infotech firm that worked with the TDP and which had the names of 70 lakh TDP workers and leaders on its database. The TDP says the raid was launched and a complaint was only registered a few days later against the firm.
The TDP believes its workers have been targeted in the wake of the raid and Naidu has accused Telangana chief minister K. Chandrasekhar Rao of colluding with the BJP and the YSRCP to dominate the state. He insisted this was done on the advice of Kishor.
Some blame of party leaders deserting the TDP has also fallen at Kishor's doorstep. In the past few weeks, around eight TDP MPs, MLAs and MLCs have joined the YSR Congress Party. Sources suggest that more than 20 TDP leaders have also jumped ship sensing trouble for the TDP in the polls.
The ruling party also says that Kishor advised the YSRCP to make allegations against it after the murder of Jaganmohan Reddy's uncle Y.S. Vivekananda Reddy, last week. The YSRCP accused the TDP of being behind the murder even though it was generally thought that local rivals were behind it.
Andhra Pradesh goes to the polls in the first round on April 11. The elections are for 25 Lok Sabha seats and 175 Assembly seats. The Congress, which once ruled the undivided Andhra Pradesh, is also fighting elections without any alliance. It has promised that the state will be given special status if it comes to power at the Centre.
An imminent defeat can rattle even the most seasoned politicians. So I'm not surprised with the baseless utterances of @ncbn

Sirji rather than using derogatory language that shows your prejudice & malice against Bihar, just focus on why people of AP should vote for you again. https://t.co/CYSJNRJ43W

— Prashant Kishor (@PrashantKishor) March 19, 2019