Narendra Modi began his second innings in power by inducting his most trusted lieutenant Amit Shah into his cabinet on Thursday, when the Prime Minister was sworn in with 57 other ministers at the Rashtrapati Bhavan.
Bihar ally JDU of Nitish Kumar, however, struck a jarring note by refusing to join the government on the ground of inadequate representation in the ministry. Uttar Pradesh ally Apna Dal of Anupriya Patel, a minister in the previous government, was left out.
Around 6,000-plus guests attended the glittering event, among them world leaders, industrialists, religious leaders, celebrities, politicians, BJP functionaries and the families of party workers killed in Bengal.
Shah's entry — although not as the number two in the pecking order, as expected — marked the high point. He was the third to take oath, after Modi and Rajnath Singh, the home minister in the previous government who seems to have preserved his official position as second-in-command.
With Arun Jaitley, the finance minister in the first Modi government, recusing himself on health grounds, Shah is being tipped to bag the key finance portfolio and face the challenge of reviving a faltering economy.
Bengal, where the BJP won 18 of the 42 seats, got two ministers of state: Babul Supriyo was retained and Raiganj MP Debasree Chaudhuri, who has an RSS background, made her debut in the Union ministry.
Shah's entry into governance is being widely seen as his emergence as Modi's "natural successor". Regarded so far as the BJP's most successful president and an "election-winning machine", he appears to have been rewarded for scripting the party's emphatic electoral victory.
Shah later tweeted: "Thankful to Prime Minister Shri @narendramodi ji for reposing faith in me. Your leadership and continued support is a great source of inspiration. I assure you that I will put my best efforts to serve our people and country."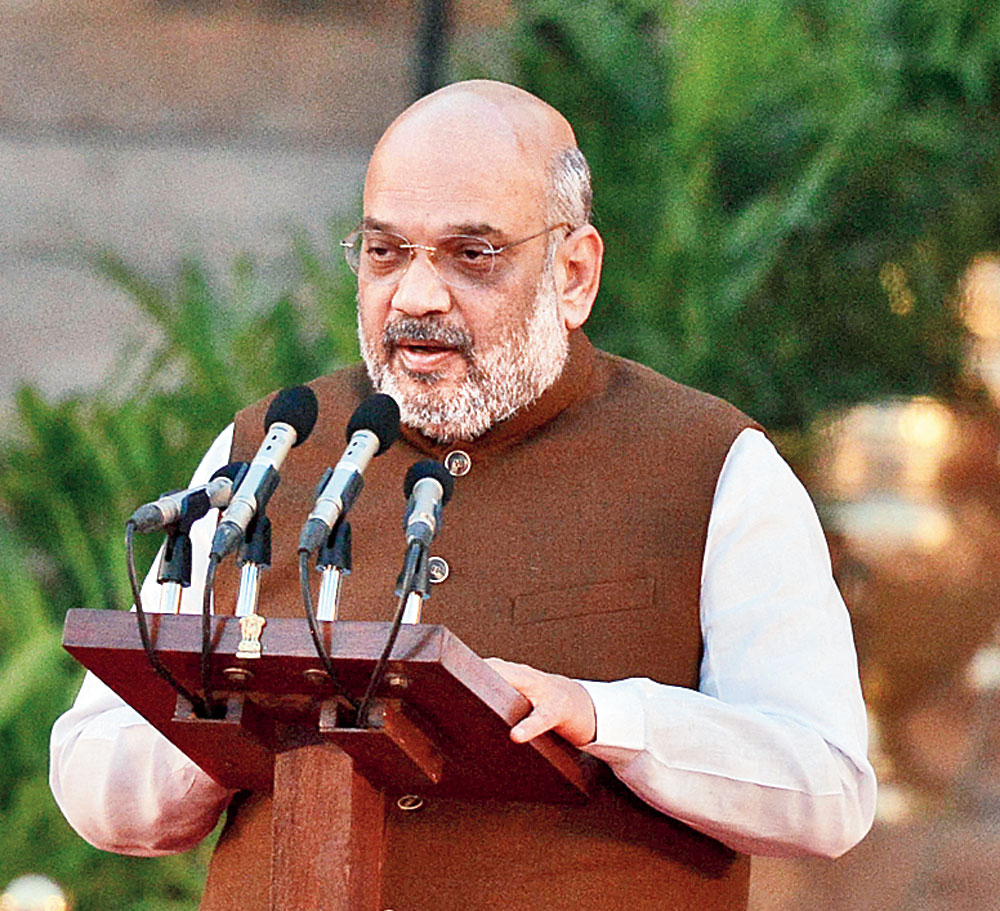 Amit Shah takes the oath. Shah later thanked the Prime Minister for reposing faith in him Picture by Prem Singh
Several high-profile ministers from Modi's first government were, however, missing. While outgoing foreign minister Sushma Swaraj had chosen to quietly step aside by not contesting the polls, Maneka Gandhi, Suresh Prabhu and Radha Mohan Singh have been dropped for "unsatisfactory performance", sources said.
Sushma tweeted: "Mr Prime Minister, You gave me the opportunity to serve the countrymen and overseas Indians as foreign minister for 5 years and have also personally given great respect throughout the tenure. I am very grateful to you. I pray to the Lord that our government runs very successfully."
The big surprise of the evening was the induction of former foreign secretary Subrahmanyam Jaishankar as a cabinet minister. He appears set to be the external affairs minister.
Most of the members of the previous ministry have been retained. Nitin Gadkari, who was expected to be punished for his veiled digs at Modi and Shah in the run-up to the elections, kept his cabinet berth.
Gadkari held a raft of portfolios in Modi's first government, including road transport and highways, and shipping. He was the fourth to take oath, just after Shah.
Nirmala Sitharaman, defence minister in the earlier government, has been retained. Smriti Irani, who defeated Rahul Gandhi in his family borough of Amethi, was sworn in amid loud applause.
A total of 24 cabinet ministers took the oath, apart from Modi, along with nine ministers of state with independent charge and 24 junior ministers.
The cabinet ministers included familiar faces like D.V. Sadananda Gowda, Ravi Shankar Prasad, Piyush Goyal, Prakash Javadekar, Dharmendra Pradhan, Mukhtar Abbas Naqvi and Thaawar Chand Gehlot.
BJP ally Ram Vilas Paswan took oath as a cabinet minister, as usual. Arvind Sawant and Harsimrat Kaur Badal represented pesky ally Shiv Sena and the Shiromani Akali Dal, respectively, in the cabinet.
Eight-time MP Maneka was not spotted at the swearing-in but appears in the running for the temporary post of pro-tem Speaker, who presides over the first meeting of the Lok Sabha, which elects the Speaker and the deputy Speaker.