Air space curtain hits flights
Passenger planes flying over Pakistan affected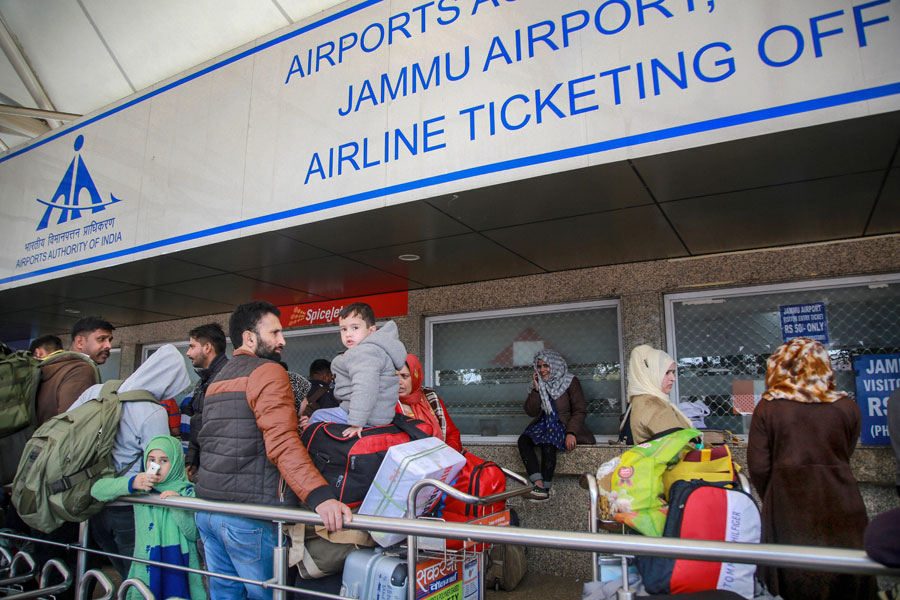 Passengers stranded outside the Jammu airport after it was closed for civilian operations amid tension along the Pakistan border on Wednesday.
(PTI)
---
New Delhi
|
Published 27.02.19, 09:28 PM
|
---
Several international airlines, including Etihad, Emirates and Qatar Airways, suspended flights to Pakistan while others like Air India, Jet Airways, British Airways and Singapore Airlines were forced to re-route flights to and from Europe as Islamabad shut down its airspace amid heightened tensions with India.
Nine airports in north India were also shut down for a few hours after Pakistan air force planes violated the Line of Control in retaliation against India's air strikes against Jaish militant camps deep inside Pakistan territory on Tuesday.
"Flight operations to all these airports have since resumed," said a spokesperson for the directorate-general of civil aviation (DGCA).
Flights in north India were suspended after a Notam — a notice sent out to pilots alerting them to any change in procedure or hazards linked to flight operations — was issued by the air traffic control. As a result, 47 flights were cancelled in Delhi that included 25 departures and 22 arrivals. Four flights to other destinations in north India were diverted to Delhi.
The Notam initially said flights to Srinagar, Jammu, Leh, Pathankot, Amritsar, Shimla, Kangra, Kullu Manali and Pithoragarh would remain suspended for three months till May 27. But this was withdrawn later.
Jayant Sinha, minister of state for civil aviation, said his ministry was strictly following the "guidelines and instructions" of the Indian Air Force.
In Pakistan, the civil aviation regulator closed its airspace "until further notice".
Airlines flying over India and Pakistan to Europe, the Middle East and Southeast Asia faced disruptions. Flight tracking portals like Flightradar24 showed that several flights were being diverted southwards via Mumbai to avoid Pakistani airspace. (Calcutta effect, See Metro)
The India-Pakistan air corridor is critical for international flights between Europe and Southeast Asia and Australia with almost 800 commercial flights traversing this route every day.
"You have to overfly Pakistan and India and go to Southeast Asia and Australia. Most of the traffic destined for Bangkok and Singapore will now have to fly over Iran and then possibly take a detour," Mark Martin, founder and chief executive at Martin Consulting India, told Reuters.
Qatar Airways said in a statement that it had temporarily suspended flights to seven cities in Pakistan: Faisalabad, Islamabad, Karachi, Lahore, Multan, Peshawar and Sialkot.
"Other flights routed over India-Pakistan aerospace may also experience delays due to the rerouting around the affected area," the statement added while advising passengers to check the status of their flights before heading out to catch their flights.
Bahrain's Gulf Air said it had suspended flights to and from Pakistan while low-cost carrier flyDubai said it was reviewing its schedule.
Air India said inbound and outbound flights from the US and Europe to Delhi have been re-routed via Ahmedabad and Mumbai. Flights landing in India from the US and Europe are being diverted to Dubai, Sharjah and will land with a delay. "There will be no cancellations, only an increase in flying time," a civil aviation ministry official said.
Vistara said in a statement: "Due to airspace restrictions, flights to and from Amritsar, Srinagar, Chandigarh and Jammu are currently on hold. Customers are requested to check flight status before commencing their journey to the airport."
A SpiceJet spokesperson said: "Passengers whose flights were cancelled today due to airspace restrictions have been provided a full refund or have been rebooked on alternate flights of their choice at no extra charge."