6 lakh devotees at Rath Yatra
The devotees pulled the chariots one by one amid hundreds of cymbals and gongs beating in unison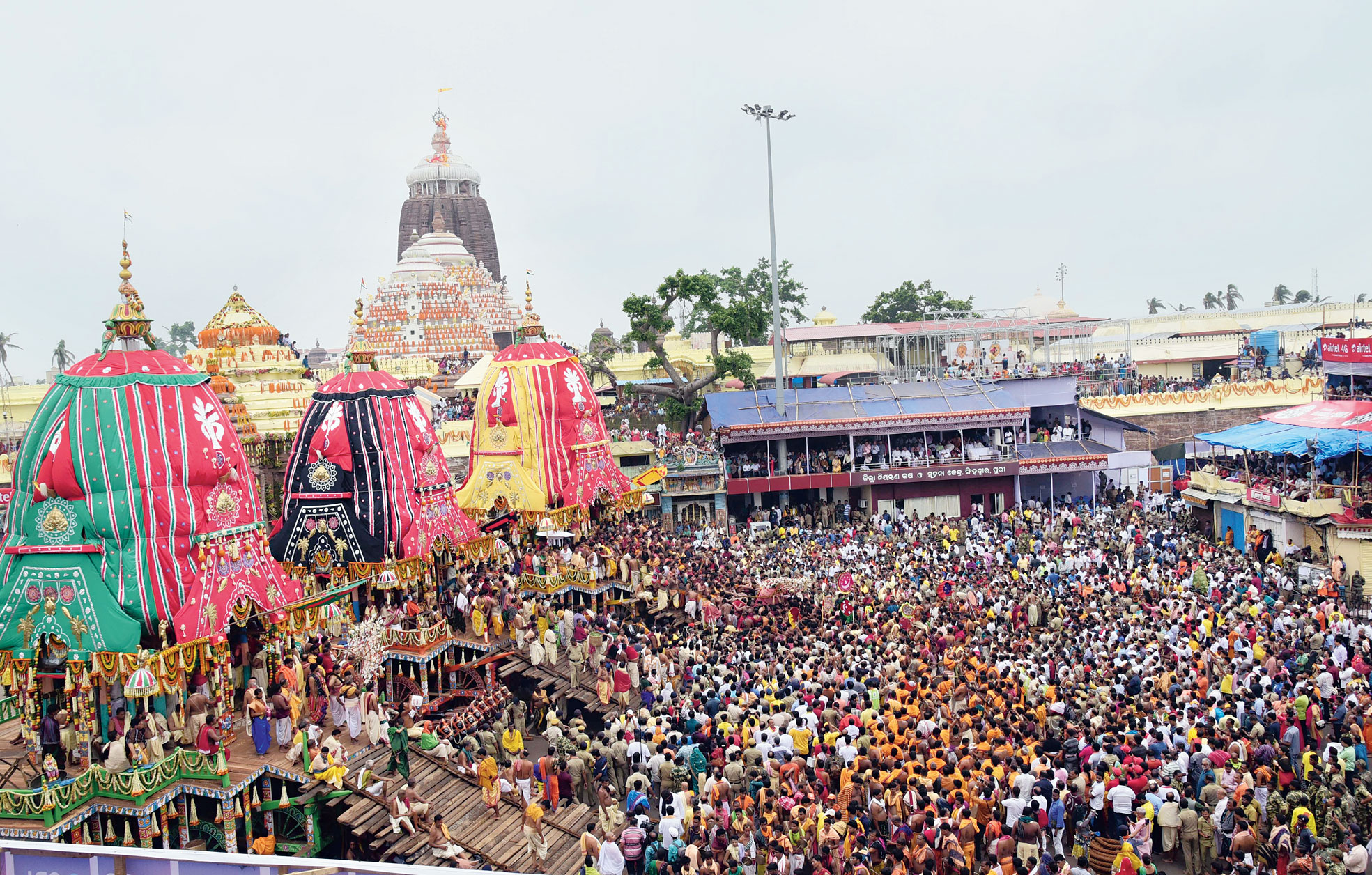 ---
|
Puri
|
Published 05.07.19, 02:04 AM
---
Around six lakh devotees thronged Puri on Thursday to be part of the Rath Yatra of Lord Jagannath and his siblings — Balabhadra and Subhadra — overcoming the scars inflicted by Cyclone Fani that battered the pilgrim town on May 3.
The 2.5km Grand Road in Puri was chock-a-block with devotees who sang and danced with joy and chanted "Jai Jagannath" and "Hari Bol", defying the high humidity. Many of them fainted while witnessing the Rath Yatra.
The devotees pulled the chariots one by one amid hundreds of cymbals and gongs beating in unison. The first chariot to be pulled was Taladwaja, the rath of Lord Balabhadra. It was followed by Devadalan, the chariot of Subhadra. Nandighosh, the chariot of Lord Jagannath, was the last to be pulled.
Chief minister Naveen Patnaik and governor Ganeshi Lal first touched the ropes of the Nandighosh chariot and after that it was pulled by the devotees.
The decorated chariots of the deities rolled without a hitch and were taken to Gundicha temple, 2.5km from their 12th century abode ate Shree Jagannath temple. The devotees walked with the chariots.
"A sight worth seeing," said 76-year-old Santhan Bothra, who came from Maharashtra to see the festival.
All the three chariots reached Gundicha temple in the evening. The chariot of Lord Balabhadra was the first to reach, followed by the chariots of Goddess Subhadra and Lord Jagannath.
After spending the night on their chariots, the deities will enter Gundicha temple on Friday for their nine-day sojourn.
Shree Jagannath temple and Gundicha temple have been decorated with flowers and fruits.
The rituals began early in the morning with mangal aarti. The pahandi bije, the procession where the Gods come out of the sanctum sanctorum to ride the chariots, started at 8.30am.
After Puri Shankaracharya Swami Nishalalanda Saraswati offered his prayers to the deities on the chariots, the scion of Puri's erstwhile royal family, Dibya Singh Deb, arrived in a procession to do the ceremonial sweeping of the three chariots decks — a ritual called Chhera Panhara.
The atmosphere was filled with the spirit of divinity when Dibya Singh Deb was doing the sweeping at Nandigosh chariot, the mount of Lord Jagannath.
"Here the king is the sweeper. The practice has been continuing for the past few hundred years. We don't need others to teach us the act of sweeping and cleaning," said 67-year-old Ramakanata Das.
There was colour all around the Grand Road with Odissi dancers performing and mimicry artistes dressed up as Lord Shiva and Hanuman regaling the crowd.
Naveen was present throughout the day like every year and witnessed the Rath Yatra. Almost all the ministers were also present.
The state government is making efforts to bring normality in Puri.
The statues of Jaya and Vijaya, located on the Lion Gates of the 12th century Shree Jaganath temple, that had broken during Fani have been replaced with new ones.