28 deaths in Assam's detention camps, minister tells Rajya Sabha
Deaths have nothing to do fear or pressure, says Nityanand Rai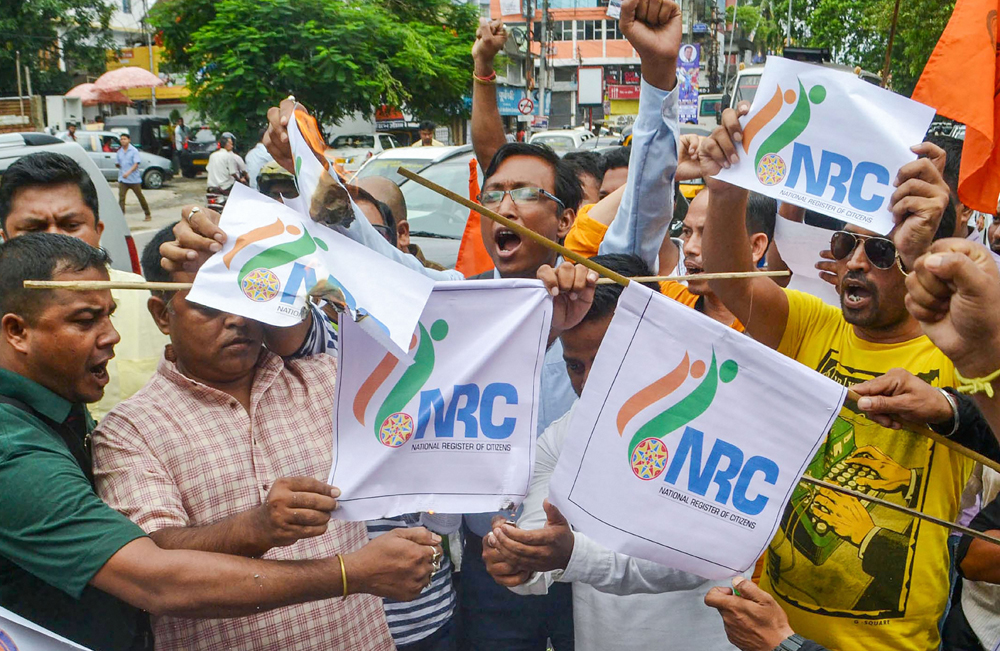 Activists of the Hindu Yuba-Chattra Parishad burn copies of NRC in Guwahati on August 31.
(PTI)
---
New Delhi
|
Published 27.11.19, 02:25 PM
|
---
Twenty-eight people have died in Assam's detention camps where suspected immigrants are confined, but these were not because of pressure or fear, the government told the Rajya Sabha on Wednesday.
In a written reply, the government disclosed that 988 "foreigners" were lodged in the six detention centres in Assam.

In the Upper House, Trinamul MP Santanu Sen asked the government today about the measures it had taken to prevent deaths in detention camps that have become synonymous with the the National Register of Citizens (NRC). Sen said he had found out that "most of the persons who died, they died out of apprehension'.
Responding to his query, the minister of state for home, Nityanand Rai, told the Rajya Sabha that 28 people had died but there were adequate medical facilities for the detainees. "No one died because of any pressure or any fear, they died because of illness. And for any illness related to the patient, there were doctors and treatment facilities made available," Rai told Parliament. The detention camps were set up in 2008.
Assam, which has struggled with an immigration problem for almost four decades, sends people it deems illegal migrants to detention centres. These centres have been criticised for violating human rights and forcing people to live in inhuman conditions.
According to the Citizens for Justice and Peace (CJP), a human rights group, about 100 people have died because of various reasons. Some died in detention centres, others committed suicide. CJP has been tracking these deaths since 2011.
Zamsher Ali, the CJP coordinator in Assam, maintains a list of deaths occurred. Over the phone, Ali said there have been 29 deaths, including the most recent death of Nikhil Barman in the Goalpara camp. According to CPJ's data, most of the deaths occurred after 2016.
"Of the 29, 26 detainees died after the BJP's Sarbananda Sonowal came to power in Assam. The detention camps have been running since 2008, but we didn't see so many deaths during the previous government's rule. Why has it increased during the BJP period?" Ali asked.
Former bureaucrat Harsh Mander, who visited the detention camps in Assam as an NHRC special monitor in January 2018, attributed several reasons that make detainees fret the worst. He said that people were separated from their families, they could not work, nor had they any recreation facilities. There is no provision for a parole in such cases.
"All this creates an environment of intense, permanent sadness. It is elementary knowledge that physical health is closely related to mental health," Mander said. "It was like everyone was in mourning. When I visited, after the women realised there is someone who is there to listen to them, there was a mass mourning, they started wailing."
Mander later resigned as NHRC special monitor citing inaction on the report he filed on detention camps. He later filed a petition in the Supreme Court on the living conditions in the camps.
Mander said that one good thing that came out of the case, which is still on, that they could draw the apex court's attention to the core problem of indefinite detention. The court agreed to direct the state to release people after they complete three years in camps.
"The fundamental right to life, assured under Article 21, applies not only to the citizens but to all residents, including foreigners. The state is responsible for them whether they are citizens or not,' Mander said.