2015 riot case: Supreme Court stays Hardik Patel's conviction
Solicitor general Tushar Mehta, appearing for Gujarat government, said the issue before the court was whether the conviction should be stayed or not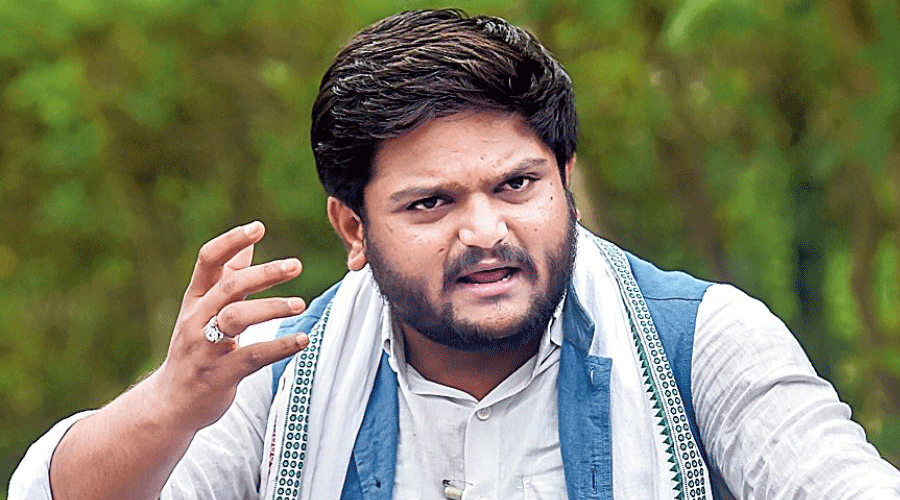 ---
New Delhi
|
Published 13.04.22, 01:59 AM
|
---
The Supreme Court on Tuesday stayed the conviction and two-year sentence in a rioting and arson case against Gujarat Congress leader Hardik Patel, which clears the way for him to contest elections.
Patel, who stormed into prominence in 2015 by spearheading the Patidar agitation for reservation, could not contest the 2019 elections because of his conviction by a trial court in 2018.
Under Section 8 of the Representation of the People Act, 1951, a convicted person is disqualified from contesting elections for six years from the date the sentence ends.
"Having heard Shri Maninder Singh, Senior Counsel, and Shri Tushar Mehta for the State… having regard to the facts and circumstances, we are of the view that this is the fit case for high court to have stayed the conviction. The conviction is, hereby, stayed until the appeals are decided accordingly," a bench of Justice Abdul Nazeer and Justice Vikram Nath said.
The Gujarat High Court had in 2019 stayed the sentence but refused to stay his conviction, aggrieved over which he had appealed in the apex court.
He had also challenged the validity of the high court's order of March 29, 2019, refusing his plea for a stay on the conviction.
Senior advocate Maninder Singh, appearing for Patel, during the arguments told the bench that he was not being allowed to contest the election on account of the conviction and the same is a violation "of my right to freedom of expression. It is a violation. I have already lost one chance to contest election in 2019," he told the bench.
He pleaded that Patel was not a "serial killer", and submitted "They (Gujarat government) have misused the police power. Therefore, I don't know what they have to say, but my lords must decide this case soon."
Solicitor general Tushar Mehta, appearing for Gujarat government, said the issue before the court was whether the conviction should be stayed or not.
"In criminal law, there is no standard guidelines to say which one is right. Your lordship may decide the issue. Whether Patel might have won or not, is not the issue in this case," Mehta said.
The solicitor general said besides cases of arson and rioting, Patel was also facing charges under IPC section 395 relating to dacoity as such the conviction should not be stayed.
After hearing Mehta, the bench however took the view that it was a fit case for staying the conviction and accordingly passed the order.