Crisis-year Champions League all set for grand final
Either Paris Saint-Germain will pick up the European Cup for the first time or Bayern Munich will become six-time winners of the continent's premier competition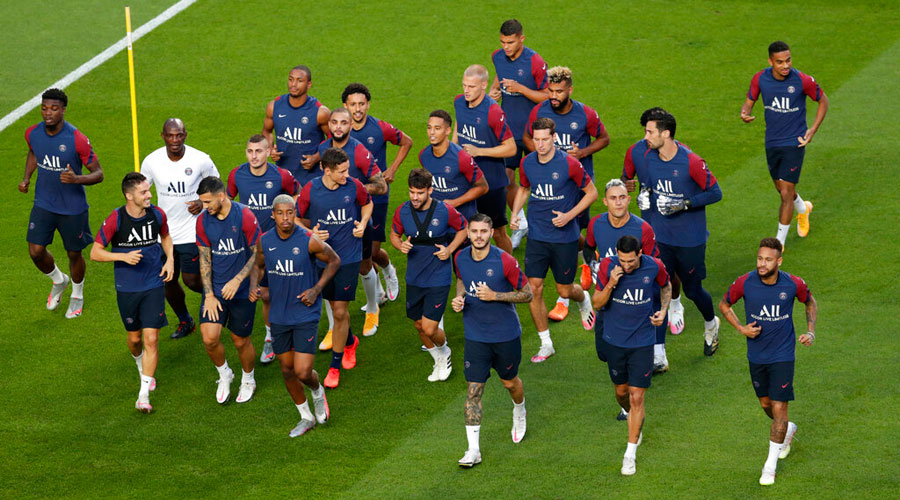 ---
|
Lisbon
|
Published 23.08.20, 02:54 AM
---
After an unprecedented suspension of the competition, pandemic-enforced changes to the format and a switch of location for the final, the Champions League will conclude on Sunday.
Either Paris Saint-Germain will pick up the European Cup for the first time or Bayern Munich will become six-time winners of the continent's premier competition. And just a few hundred people, including the coronavirus-checked players and officials, will be allowed into the final, which is being played in Lisbon in late August rather than Istanbul in May as originally scheduled.
Never before has the European Cup been handed out in such empty surroundings. Only the large trophy in Rossio — Lisbon's main central square — gives away that the biggest match in European football is taking place here.
Around Benfica's stadium, there is not a single sign indicating a game due to be watched on television by hundreds of millions of people on Sunday night will be played inside.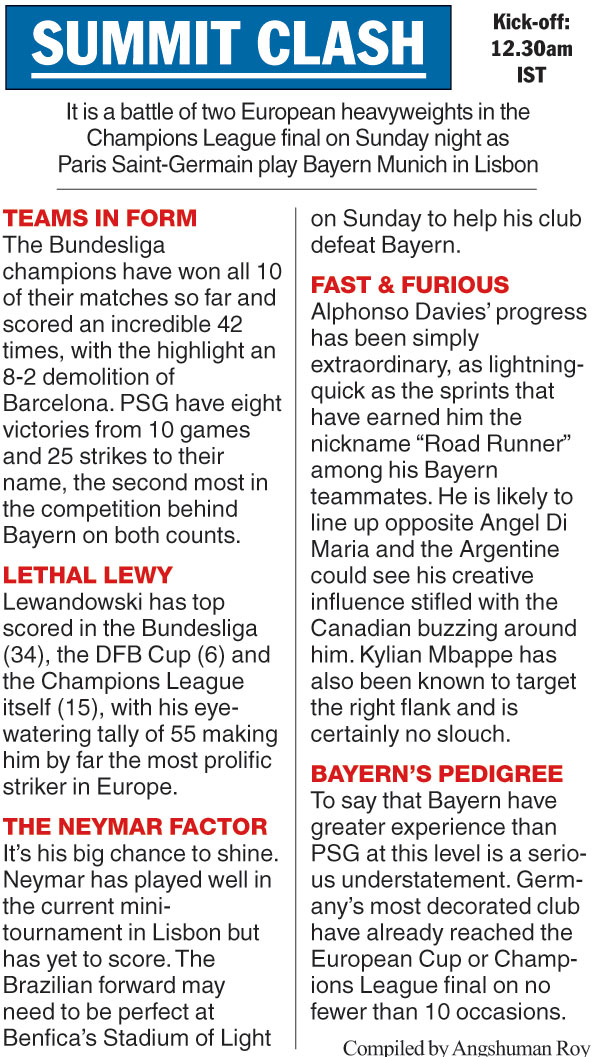 PSG's mission
Celebrating the 50th anniversary since their formation — after the merger of Paris clubs — PSG are younger than the 65-year-old European Cup. Becoming European champions would be the fulfilment of a nine-year journey of lavish investment since the state of Qatar bought the club.
More than $1 billion in player investment has turned PSG into such a dominant force in France that the seasons become a procession.
Bayern's quest
Since winning the Champions League for a fifth time in 2013, Bayern have lost four semi-finals . Founded in 1900, Bayern established themselves as a super club long before states started investing in football.
Whereas PSG are an extension of soft power by Qatari Emir Tamim bin Hamad Al Thani, at Bayern it is the fans who control the football club . But a quarter of the business is owned by Adidas, Allianz and Audi.
In the dugout
This is a meeting of two German coaches. Hansi Flick only took charge of Bayern in November, gaining internal promotion after Niko Kovac was fired with the team fourth in the Bundesliga.
Would Thomas Tuchel still be in charge of PSG had it not been for the 90th-minute recovery to oust Atalanta in the quarter final?
Winning French titles is the minimum expected of Tuchel. At the end of his second season in charge, he will be judged on his European record by the Qatari leadership.