The Irishman grips you by its subtlety and unexpected twists
The Irishman lives in its story, context and dialogue, not to mention excellent acting that spans characters ageing over a period of time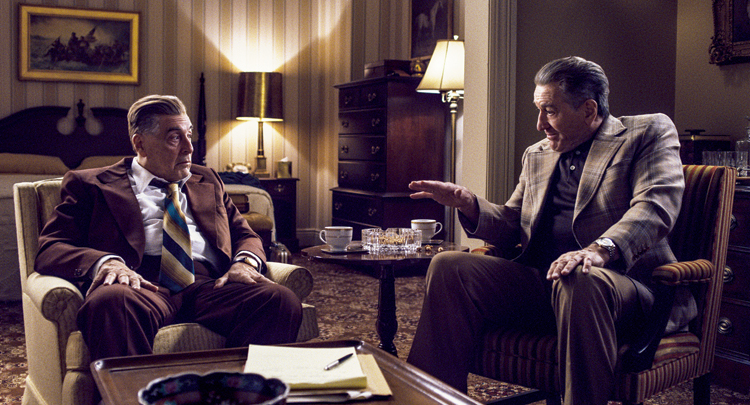 Al Pacino, as Jimmy Hoffa, and (right) Robert De Niro as Frank Sheeran in a scene from 'The Irishman'
(AP photo)
---
Published 09.12.19, 12:28 PM
|
---
The concluding scene of The Irishman sums up the idiom on which over three hours of the film rests comfortably.
An old Robert De Niro - looking older than his 76 years; something to emphasise for The Irishman has plenty of footage with the actor rendered younger using special effects - is seen asking the priest leaving his room at a nursing home to not shut the door completely. He wants it left a tad open. That's how he likes it, he says. In many ways that slightly open door encapsulates director Martin Scorsese's approach to gangster movies perfected over the years. The Irishman is violent but a lot less so compared to other films in the same genre. Where it scores is in its constant mental tension, a sense of something brewing, much like a door left half open. You do that because you don't fear what may come through or because you still fear what lurks outside and need a view to stay alert? Frank Sheeran knows.
The film brings to focus a phase in the existence of modern day US. Like many gangster themes, it points to scales of corruption unnoticed by the public lost to adulating personality. In its shadow devious schemes operate - in this particular instance, money belonging to a giant trade union (Teamsters) diverted to projects run by the Mafia and when the diversions are questioned or sought to be checked (by forces that are themselves no angels), the mob decides to show who is the boss. The film is based on Charles Brandt's 2004 book I Heard You Paint Houses: Frank 'The Irishman' Sheeran and Closing the Case on Jimmy Hoffa. It was a work of narrative non-fiction. That renders characters and context real even as the story has been challenged in some quarters.
For most viewers, the film's realism is anchored by Hoffa (played by Al Pacino) and the JFK years of presidency the film has for backdrop. De Niro's Frank Sheeran is the main character, narrating the events with a bit of back and forth jumps in timeline. Alongside De Niro and Pacino, you have two other familiar faces - Joe Pesci and Harvey Keitel, the latter in a limited role. All of them have portrayed characters in gangster films before; some of the roles they did ending up as cult classics. That was long ago and these ageing actors coming together for yet another gangster film has the effect of a Rolling Stones concert, except they are not pretending to be young, volatile and trigger-happy. They have aged, they play characters that have aged and the tension they bring to the table is not a physical one but one of the decision preceding violent action. It is the sound of gun loaded to intention before the bullet flies. To that extent this is a chilling movie. You are acquainted with polite conversations where a word, intonation or gesture is the equivalent of contract to kill, sealed. There are several instances of gun shots and machine gun fire. But this is not a movie you measure by the number of bullet holes you counted or grizzly wounds you witnessed on screen. This is a film that grips you by its subtlety and unexpected twists. It lives in story, context and dialogue, not to mention excellent acting that spans characters ageing over a period of time.
It is hard to choose between the main actors but if I had a choice, I would say this film wouldn't be what it is without Joe Pesci as Russell Bufalino. The casting is perfect. Hoffa, who wears his emotions on his sleeve, is brought alive by Pacino, known for his strength in such roles. De Niro, famous for his portrayal of explosive people with few words to say, is perfect as Frank Sheeran, everyone's confidant and the one who survives to the film's last frame. Russell is the boss of a major crime syndicate. In the movie, Hoffa is an outsider to the Mafia; Frank is an insider who is however near colourless in his loyalties that - like his years in Europe as a soldier during World War II - he comes off as practical survivor. The Mafia of The Irishman lives through Russell and his code of conduct. Pesci does a splendid job of it, living that mask of insensitivity - or the predicament of not knowing any other life but that code - to the hilt.
For a gangster film by Scorsese, two other attributes stand out in The Irishman. In Sheeran's daughter, Peggy, you have a character who represents the other side of living with a man of violence. She stays remote from Sheeran and the man he is most loyal to - Russell. Neither of them gains her friendship. On the other hand, Hoffa - he hides none of his feelings - gets along well with Peggy. Aside from Sheeran battering a shopkeeper who pushed her, Peggy is not witness to his violence in the movie. But the simple fact that he is capable of aggression and the distance growing between the two is one of the masterly depictions of the many sides of violence in The Irishman without actually making the screen go red with blood. Mention must be made here of Lucy Gallina as the young Peggy - a small role, brilliantly played. Second, there is the film-spanning drift of Sheeran coming to terms with - or unable to come to terms with - his gangster background rich in crime and murder. It is a process rarely chronicled in gangster films. That half-open door with a man on wheelchair within provides a hint of inescapable end.
The de-ageing of the main protagonists has been criticised by some. That is fair to an extent, especially in the early scenes where the alterations are a bit glaring. As the movie unfolds and characters age, it becomes less of a bother.

The writer is a freelance journalist