Why trying to play Gujju in Bollywood doesn't work
A revisit to the Gujarat-tinged Hindi films of recent years shows an interesting commonness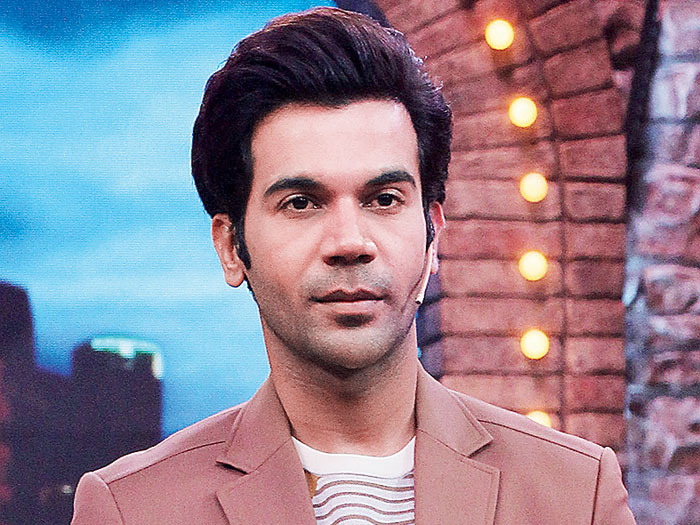 A versatile artiste like Rajkummar Rao too fell into the trap last month when an inane Made In China made it to the theatres.
Fotocorp
---
Published 09.11.19, 06:06 PM
---
What's it about Gujarat that it may be a hit on the political scene but is a disaster at the Hindi box office?
From Shah Rukh Khan to Kangana Ranaut and Rajkummar Rao, every actor who has attempted to go Gujju has fallen as flat as a dhokla made without soda.
Well, SRK didn't actually try the Gujju act himself as he was Harry Singh, a "characterless Punjabi" in Jab Harry Met Sejal (2017), but the film was so overwhelmingly Gujarati in its flavour that it was savoured by nobody.
It was one of those films where one wondered what the talented Imtiaz Ali was smoking when he got Sejal (his heroine, played by Anushka Sharma) to impersonate a Gujarati instead of performing naturally like one.
A revisit to the Gujarat-tinged Hindi films of recent years shows an interesting commonness.
Sejal got off to a smart start with her muttering JSK, short for Jai Shri Krishna, before the annoying caricature of the community derailed the proceedings. She calling him "Hairy", saying "so-rry", "go-d" and "do-minate" were too commonplace to be funny. There was no story too, except a romp around Europe and the "do-minance" of that Gujarati mockery.
The same year, Kangana came up with her parody of a Gujarati wacko in a haywire "comedy", Simran. Again, director Hansal Mehta got her to enact Praful Patel, armed with an ancient arsenal of clichés like "so-rry", "pro-blem", "hay-lo", "stoke-market". Cringe-worthy, especially coming from a director who's himself a Gujarati. He worsened it by additionally portraying Praful's mother as a helpless creature who rolled out theplas by the dozen.
What it had in common with "Hairy" and Sejal was that the main protagonist's performance was once again marked by little more than poking fun at the Gujarati accent.
The audience today is fortunately not the same one that laughed at caricatures of Tamilians, Bengalis, Parsis and Gujaratis, a popular element in Hindi cinema of the 70s. It wasn't as if Sejal and Praful were cast like Naseeruddin Shah was in Pestonjee (1988), in which he played a Parsi to perfection under Vijaya Mehta's direction. His Parsee accent was a seamless part of the character and not inserted merely to raise laughs.
But Hindi filmmakers don't really learn. Actors don't either. A versatile artiste like Rajkummar Rao too fell into the trap last month when an inane Made In China made it to the theatres. To be fair, the expected Gujju accent-and-pronunciation was a part of his performance, not put in merely for comic effect. But the overall Gujarati-ness of the film was its USP under a director who had made films in that language and was attempting one in Hindi for the first time. And it failed.
What ailed all these films was that they were made as comedies but had little humour in them. And the focus was so much on being a Gujarati that scant attention was paid to keep the viewer engaged with sparkling stories and performances that went beyond caricaturing a community.
Among the successful Gujjus of the decade was Kareena Kapoor as Pia in 3 Idiots (2009). Despite Raju Hirani too succumbing to the "fafda" syndrome (Pia refers to the Gujarati snack more than once), the general ambience and what the film had to say was so much more than just spoofing a western India region that it was a blockbuster.
SRK too didn't stoop to raise a chuckle as he seriously went about playing a Gujarati don in Raees (2017) and the collections gave the producers a bonus.
Also count Bhansali's Ram Leela and Abhishek Kapoor's Kai Po Che! (both in 2013) as substantial films that effectively caught the spirit of Gujarat without using the pronunciation of its people as fodder for laughter.
Perhaps there lies a lesson for anybody else who wants to transport the colourful dandiya-and-garba-loving people to the Hindi screen again. Lock in a substantial story first; they're a vibrant Indian community. And so-rry, but do shelve the accent — it ain't funny anymore.
Bharathi S. Pradhan is a senior journalist and author