Mouni Roy on Made In China and switching from TV to films
'I don't miss the long working hours but I do miss the people'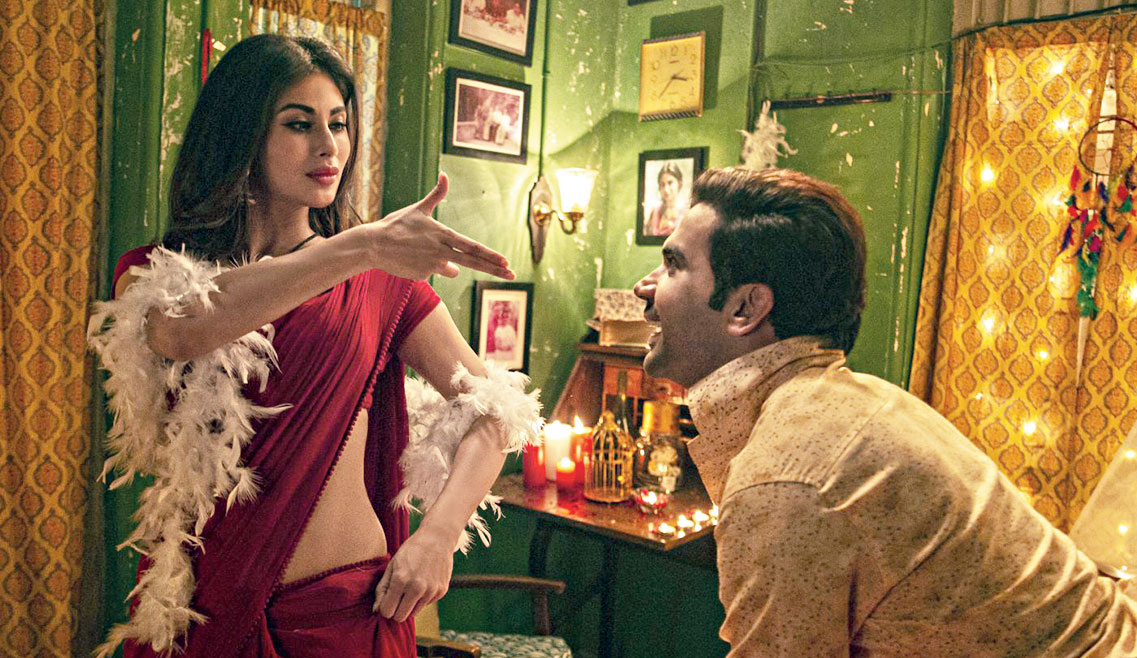 Mouni Roy and Rajkummar Rao in Made in China.
Picture: Maddock Films
---
Published 23.10.19, 03:46 PM
|
---
Actress Mouni Roy will next be seen opposite Rajkummar Rao in director Mikhil Musale's dramady Made in China. She spoke to t2 about being scared of working with Rajkummar, all the things she's learnt from him and what she doesn't miss about her television days.
What got you interested in the film?
To begin with, the story. I got a call from Sharada (Karki) at Maddock (Films) and when I went to meet them, the director, Mikhil, wasn't there. They narrated the story to me and within the first 20 minutes, I knew that I wanted to be a part of it if they would have me. So I'm really grateful that everything worked out and I got to be a part of this film.
When you sign a film, what is more important — the story or the length and arc of your character?
It's both — it has to be the film in its entirety. If it's not a good story, how can your part be etched out well? I think it goes hand in hand and you can't separate one from the other. They're both very important.
Did you also have to learn the Gujarati accent to play Rukmini?
When I was given the character brief, I was told she was a girl who had lived in Bombay. So she doesn't have the typical Gujarati accent but there were some mannerisms that I had to imbibe. She's quite an interesting character. She wanted to do something with her life, have an identity of her own. She falls in love with Raghu, a very simple, struggling businessman. She moves to Ahmedabad. They might seem like an odd couple but together they are perfect. In spite of all their dissimilarities there is so much love. Her journey is intertwined with Raghu's journey.
Did you know Rajkummar before shooting this film?
We had met socially. When I signed this film, I was petrified at the idea of having to deliver dialogues in front of him! (Laughs) He is one of the finest actors in our country. What I realised when we started shooting is that working with someone as good as Raj is a blessing because in the process you become better. You just learn so much. My takeaway from this film is all the things I have learnt from my director and Raj.
Like what?
Like how to do deliver a certain kind of dialogue or to create a backstory for your character before a scene. Working on this film was like getting a crash course in acting.
As a co-star, is Rajkummar as intense and focused as people think he is?
He is really the best. He is as fun or intense as the scene requires him to be. You have to remember that we are all on a set to do our jobs. But, in between scenes, he was a lot of fun. He started this ritual on set where everyone would get together to dance to a fun song before we'd begin shooting.
Last year you made your big film debut with an Independence Day release, Gold, and now Made in China is releasing on Diwali. Are the pressures any different?
I really don't know. This is only my second year in the movies. I am just very happy to get the opportunities that I am getting. I am just enjoying every minute that I am here.
Are you a Diwali person?
I am an every-festival person… except Holi, maybe. I love all the festivals — wearing new clothes, doing all the pujas and eating all the mithais. Food is my favourite part of any festival.
What's the first year in Bollywood been like for you?
It's been amazing. I had the opportunity to be a part of some special films like Gold, RAW (Romeo Akbar Walter) and now Made in China. So I have spent most of the year shooting, which is amazing. I have travelled a bit because I have managed to take time off from work. I was in Thailand for my birthday recently (September 28) before which I was in London, Amsterdam and Dubai. It's been great to spend some quality time with my family.
You moved from television to films last year. Is there anything about the working style here that's surprised you?
Initially, I was just very lost. There was all this free time and I didn't know what to do with myself. In television, we shoot every single day and there are really long hours and very little downtime. When I started shooting for films, I was like: 'What do I do with all this free time I have?' It took me a little while to get used to the rhythm of the place and to submit to it.
Do you miss the television medium at all?
I don't miss the long working hours but I do miss the people. I worked with a lot of them for nine years or so.
How is the shoot for Brahmastra going?
It's going really well. I am not allowed to say anything more about the film.