When Rajinikanth came to Mumbai: 5 Bollywood cult classics starring 'Thalaiva'
Amitabh Bachchan, Rekha, Sridevi, Hema Malini and Govinda were Rajini's co-stars in these films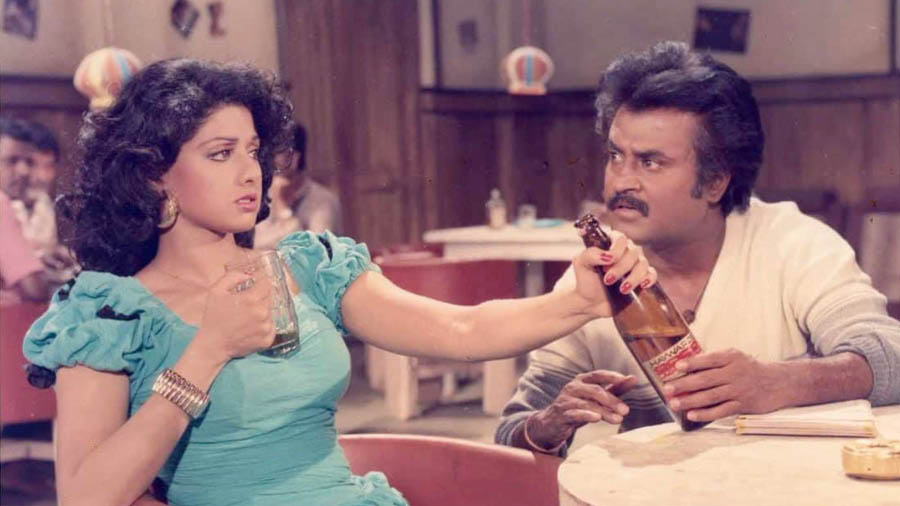 A still from Chalbaaz.
IMDb
---
Calcutta
|
Published 12.12.22, 03:55 PM
|
---
Rajinikanth, Tamil cinema's tour de force, entered Bollywood in the 1980s and enjoyed sporadic success in the tinsel town of Mumbai. However, the actor's Bollywood foray did not only win him a lifetime of friendship with Amitabh Bachchan but also resulted in a slew of movies that acquired cult status over the next three decades.
On the 72nd birthday of 'Thalaiva' — as Rajinikanth is known among his fans — we pick five Bollywood films where the actor stamped his authority with his inimitable mannerisms and larger-than-life persona.
Andhaa Kaanoon (1983)
Rajinikanth made his Bollywood debut in 1983 with T. Rama Rao's vigilante action film Andhaa Kaanoon. It was a remake of the 1981 Tamil language film Sattam Oru Iruttarai, and featured Amitabh Bachchan, Hema Malini, Reena Roy and Amrish Puri.
Rajinikanth played Vijay Kumar Singh, an angry young man driven to avenge the tormentors of his family members by taking the law into his own hands. Vijay teams up with former forest guard Nisar Khan (Amitabh) to avenge the death of his parents. This film captured the raw essence of Rajinikanth's action avatar and introduced him to the Hindi audience. 
Asli Naqli (1986)
Rajinikanth's first big Bollywood hit came in Sudarshan Nag's Asli Naqli. The film also features Shatrughan Sinha, Anita Raj, Shakti Kapoor, Amrish Puri and Raadhika in key roles. 
Rajinikanth's Birju Ustad is a local thug, who is hired by a scheming man to inherit the property of a wealthy family after the death of its patriarch. Birju poses as the family's long-lost son. One of the biggest hits of the year, Asli Naqli had music by Laxmikant–Pyarelal. Rajinikanth was also praised by critics for his performance in the movie.  
Chaalbaaz (1989)
After proving his mettle in Hindi action films, Rajinikanth starred in his first comedy role in Chalbaaz. Directed by Pankaj Parashar, Chaalbaaz is a loose adaptation of the Ramesh Sippy 1972 blockbuster Seeta Aur Geeta. It stars Sridevi in a dual role, with Sunny Deol, Rajinikanth, Anupam Kher, Shakti Kapoor and Saeed Jaffrey. 
The film revolves around two twin sisters — Anju and Manju (both played by Sridevi) — who were separated at birth and ended up growing up in different circumstances. Rajnikanth played a happy-go-lucky cab driver, Jackie Pandyekar a.k.a Jaggu, who lives in a slum and is a lifelong friend of Manju. The film became a massive box office draw and also received critical acclaim. 
Hum (1991)
This 1991 action crime film is one of Rajinikanth's most popular Bollywood outings. Directed by Mukul S. Anand, it also stars Amitabh Bachchan, Govinda, Kimi Katkar, Deepa Sahi, Shilpa Shirodkar, Danny Denzongpa, Anupam Kher and Kader Khan.
The film chronicles the story of Tiger (Bachchan), who shuns a life of violence in Mumbai's dock area to save his two half-brothers after the murder of his father. Rajinikanth played Vijay, a police officer and the brother of Tiger. After Tiger's adversary reveals the true identity of Tiger to his brothers, all hell breaks loose. To save the family from a dreaded gangster, the three brothers reunite. Hum was one of the biggest hits of the year.   
Phool Bane Angaray (1991)
This action crime film directed by K.C. Bokadia was a commercial and critical hit. Apart from Rajnikanth,  Phool Bane Angaray starred Rekha, Prem Chopra, Charan Raj, Beena Banerjee and Jagdish Raj.
Rajinikanth played the role of Inspector Ranjit Singh, an upright cop driven to track down criminals. He gets incriminating evidence of a politician's involvement in the murder of an opposition leader. However, he is killed by the politician's henchmen and then Ranjit Singh's wife (Rekha) vows to avenge his death by joining the police force.