A decade ago, Kanu Behl's directorial debut Titli — about the uneasy dynamics in a society where the predilection for violence lurks dangerously beneath the surface — premiered in the Un Certain Regard section of the 2014 Cannes Film Festival, was nominated for the prestigious Caméra d'Or, and was the only Indian feature film in Cannes that year.
Now, Kanu — an alumnus of Kolkata's SRFTI — is back at Cannes with his film Agra, premiering at the festival's Directors Fortnight section. The Telegraph caught up with Kanu for a conversation on Agra and his 'true audience'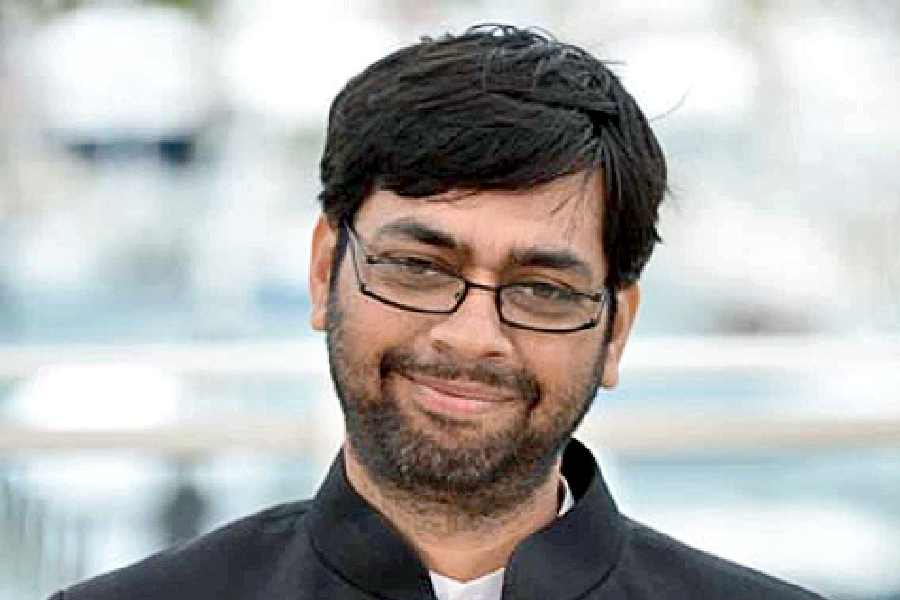 Kanu Behl
You have been to Cannes before with Titli. What does making it again with Agra mean for you as well as for the film?
Titli going to Cannes was quite a dream come true and a great start. And, of course, Agra being premiered at Cannes feels great too. But what I am really looking forward to is for my films to be able to meet their true intended audience, which is the Indian audience. As much as I look forward to the film premiering at the festival, I am also excited that the next part of the journey will bring Agra to audiences in India.
What was the genesis of Agra and what's the core idea of the film?
After Titli, I was thinking about what I wanted to do next and felt the need to address the deep sexual suppression which not only have I experienced, but have also observed in many boys and men around me and the way it played out for them. For me, probably, it was not as hard to deal with as it was for some of the other people that I have seen around me, and I really felt the need to speak about it.
The idea for Agra really began with that and I also wanted to find a larger context for it within a country. To see if it was specific to India and hence differentiated from all other countries, except maybe from China which is now the secondmost populous country in the world. In India — culturally, socially and practically — we are crammed tightly together in such little space, almost like sardines in a can.
I also wanted the film to be contextualised within our secret sexual life as much as in the context of the physical spaces that we inhabit. And how all physical spaces affect sexuality and vice versa. And that's really where the core idea of the film germinated and the story took a life of its own.
You have an eclectic cast. What does each of them bring to the film and to their respective roles?
Well, yes, the cast is made up of a mix of actors like Rahul Roy, Priyanka Bose, Sonal Jha and Vibha Chibber, who is a very experienced actor. But really, for me, it was a journey to find the spiritual inhabitants for the parts in the film. I was looking for certain central and spiritual energies that I could tap into and which suited the characters in the film. And the casting was built around that.
Rahul plays a failed businessman and also has another aspect to his personality, so I was looking for someone who could inhabit both spaces together, and that's what, interestingly, Rahul brings to the part.
Mohit Agarwal is the protagonist and it is such a difficult character. I really needed a physical presence that was not imposing, and more importantly, someone with innocence who could bring a certain empathy to the part because it was going to be very difficult to digest what we see him doing within the film. I wanted the audience to look with empathy at this character who is dealing with his own sexual repression, and not as someone who is doing bad things and needs to be put away as a mad person.
It is a film about a bunch of human beings who are dealing with a lot of complex and nuanced relationships and Mohit's presence and his spirit really encouraged me to go on this journey. It was pretty much the same with Priyanka. The moment she heard the script, she knew that what we were trying to address is hardly ever explored in India or even across the world, and I am very happy with her and all the actors who came together to build this world.
Your films, more often than not, have the overarching themes of patriarchy, family rot and suppression. Do you get naturally drawn to these themes? What is it about these themes that make you want to bring them alive on screen?
For me, Titli and Agra are entirely different films, even though I feel it's easy for them to be interpreted as films from the same series. I think Titli was much more about patriarchy and notions that travel within a family from generation to generation and how that plays out in the form of maybe violence or anger.
Agra, on the other hand, is a film about repression, sexuality, our need for sexual expression, and how it relates to physical space. Mostly, I really want to have a conversation with the audience in every film and I am not intentionally connecting them to an overarching theme. I personally don't find any interest in having the same conversation again and again. Agra hence is completely different from Titli.
With Indian films now being recognised and awarded more internationally than they have ever been before, what does it mean to a filmmaker like you and the kind of films that you make?
I think awards and recognition are always secondary. I don't think any film-maker sets out wanting to get recognition. I think they are seeded with a certain idea and they want to bring it to fruition. I think it is the journey I am on which is important and everything else that comes with it is a byproduct of the natural desire to have a conversation about something one feels strongly about.