The Good 'Hill'
The Good Doctor is about a talented autistic surgical resident with savant syndrome, who is on a mission to save lives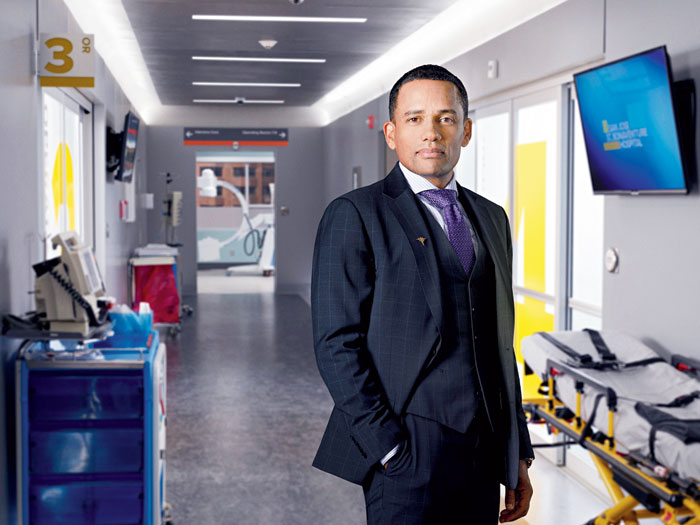 ---
---
Popular American medical drama The Good Doctor's season three is live on SonyLIV. The story revolves around a talented young autistic surgical resident, Dr Shaun Murphy (Freddie Highmore) with savant syndrome, who is on a mission to save lives, amidst the many roadblocks that take a dramatic turn of events during the series.
The season will unfold the drama that will come in Shaun's way and his brewing relationship with co-worker, Dr Carly Lever (Jasika Nicole). The Woods caught up with actor Hill Harper (of CSI: NY fame), who plays the role of Dr Marcus Andrews in The Good Doctor.
"Someday I want to get to India. I've never been there and I want to come there. I'm excited about that prospect," he says, while settling down for a chat over the phone.
Over the years we have seen many popular medical shows like Grey's Anatomy or House. What's different about The Good Doctor?
That's actually a great question. I think one thing that makes The Good Doctor very different from other medical shows is the fact that it's about a character attempting to overcome some very serious obstacles. In most of those other shows, there's a cute or funny lead personality but in our case he is almost the anti-hero. Dr Shaun Murphy doesn't say the right things at the right time, he doesn't do the right thing when he's supposed to. But ultimately he is a genius and it is about overcoming obstacles, about celebrating difference... the reason why I think the show is so popular around the world is because many people around the world can relate to it.
What's going to be new this season?
The residents are taking up leadership positions themselves. Part of the storyline is that you're going to see that they are going to lead in surgeries. I think what's going to be very interesting to explore is how Shaun Murphy or any of the residents for that matter - who have always been mentored - now shift to surgeries and how they behave with each other. I think that's something really interesting we will explore on the show.
How do you think this show has started a conversation not only about people with autism but also how they are treated at the workplace?
I think very specifically, at least from the people who have reached out to me on social media, people tell me, 'Hey my son or cousin or daughter deals with autism or issues about autism'. I hear it consistently that they are able to look at the show and say, 'That's how I see the world!' and it helps people understand that different people who are dealing with different issues see the world differently. It doesn't mean that they are wrong, it just means that they look at things differently and seeing something differently is okay. We don't always have to look at the world in the exact same way.
Your character Dr Marcus Andrews is a mentor to Dr Shaun Murphy in the show. Did you research or work with kids with autism in order to prepare for such a role?
Yes, I met with a number of young people who are dealing with autism. That was a huge educational experience for me because it really opened my eyes in the same way I think it did for people watching the show. I'm very proud of the writing because at the end of the day it's really about one of the best writers taking this on in such a beautiful way.
How do you think your character has evolved from the first season till now?
Oh, I'm so happy to see the evolution of the character. It started out as definitely the complete antagonist and now he's developed a respect and empathy for Shaun. He's moved into more of a mentorship role but he still believes in tough love. The foundation elements of the character hasn't changed. But the elements that has to do with the way he sees Shaun and whether Shaun deserves to be there or not, there's that evolution. In most shows, once the character is established in one way, they keep it that way the whole time. But there's great writing in this case, they really allow a character to grow and evolve and that's wonderful.
Dr Marcus Andrews was fired after the events of season two and now been re-hired as an attending surgeon. What can the audience expect from him now?
I think that's a great question. In the first two seasons, my character was trying to be a leader in the hierarchy scale. Now, he is actually working for people he used to be the boss of. He's not going to be striving to go to the next level, he's going to be more relaxed, more humble. At the same time, he goes back to the essence of why he became a surgeon in the first place... it was to help people. He can just help patients now and I think that's exciting for him.
Can you give us a glimpse of what really happens behind-the-scenes on the sets of The Good Doctor?
Behind-the-scenes is actually really wonderful because all of us are dear friends. In these three seasons, we have become good friends. A number of us are parents of young kids, three of us have kids under four years old and we have all become dear friends. I like to do contests, some days it's like 200 push-ups over the course of a day or something fun just to stay active. Recently, I was able to get bikes from a friend that we can ride from our trailer to the set. We just try to treat each other well and have fun, it's a really fun set and has a family feel. It's really nice. I hear about all the horror stories about other shows that has people yelling and screaming and complaining and all the drama but our set is not like that at all.
The show seems to really celebrate diversity...
The fact that we are so diverse without ever really talking about it. It doesn't impact the story per se but it's a reflection of how the real world looks. And I think that sends a powerful message. In fact, my friend Gabriel Union who's an actress, said to me, 'Wow the show is so diverse. I'm so not used to seeing that.' If you go to a real hospital in the US, they are super diverse. The thing is we tend to under-diversify images on television. Like, a show like Friends set in New York City, is ridiculous. That is fiction. If you're in New York City, you would never see a coffee shop that is so non-diverse. Our show is depicting the melting pot that the United States is. This talk of race and non-diversity that you see around you is just politics. But our show is about opening your heart, celebrating diversity, celebrating different mindset, view points and there's an impact that's really positive.
How is Freddie Highmore to work with?
I think that right now, in playing Dr Shaun Murphy, he is doing the best work of any actor on television. Period. I've been working with him on a daily basis and the level of commitment in how he plays the character... I'm just so impressed by him in how he is as a person onscreen and off it. He deserves to win all the awards and all the Golden Globes. He is doing phenomenal work and I love working with him.
Who's been your favourite best guest star on the show so far?
Joshua Malina guest stars on the show this season. He was on The West Wing and my dear friend Dulé Hill was on the same show. I met Josh in Dulé's wedding and we became friends. So it was great to see him on our show, he's such a good actor. He plays a wonderful character on the show and is wonderful to work with.
You met Barack Obama while a student at Harvard Law School and became good friends. Does he watch your show?
(Laughs) No, but since it's the so-called number one show in the world, I gotta believe he DVRs it at least. He is pretty busy so I don't know how much he is sitting there watching. But my hope is, he binge-watches it... like he records and then watches it all at once.
Your Instagram bio reads 'Actor, Author, Activist, Father'. How have all these experiences shaped you as a person?
Well, the most recent one being a father to a three-and-a-half-year-old son has shaped me the most without question. It has certainly taught me empathy and my heart has opened up. That's why I'm so fortunate to be on a show like The Good Doctor because in many ways my character is revolving around to be a father figure to Shaun. I really like that and I think I bring that naturally because I'm experiencing being a father in real life.
You have three Ivy League degrees. Do you miss the world of academia as an actor?
You sound like my parents. Like, 'You have a law degree! Why aren't you using it?' I'm kidding (laughs). I think the beautiful thing about the education experience is that it opens you up to have more options. I love the fact that I can play characters as an actor and do what I love but at the same time I have a social justice law firm that I work for. I have businesses that I have opened that creates jobs and my books are motivational in nature that hopefully are empowering. I'm writing another book now that I'd like to put out in 2020 but I don't know if I'd have it finished by then. We'll see.
Do you enjoy watching other medical dramas?
I'd be honest. I do not watch any of the other medical dramas because I don't see how they could be as good as The Good Doctor. But I'm sure they're wonderful. I live near the set of New Amsterdam (an American medical drama on NBC) in New York City. If Dr Marcus Andrews worked at that hospital, he'd have had a really easy commute (laughs).