Team 'Upload' chats about their sci-fantasy show
Creator Greg Daniels and actors Robbie Amell and Andy Allo gets candid about the web series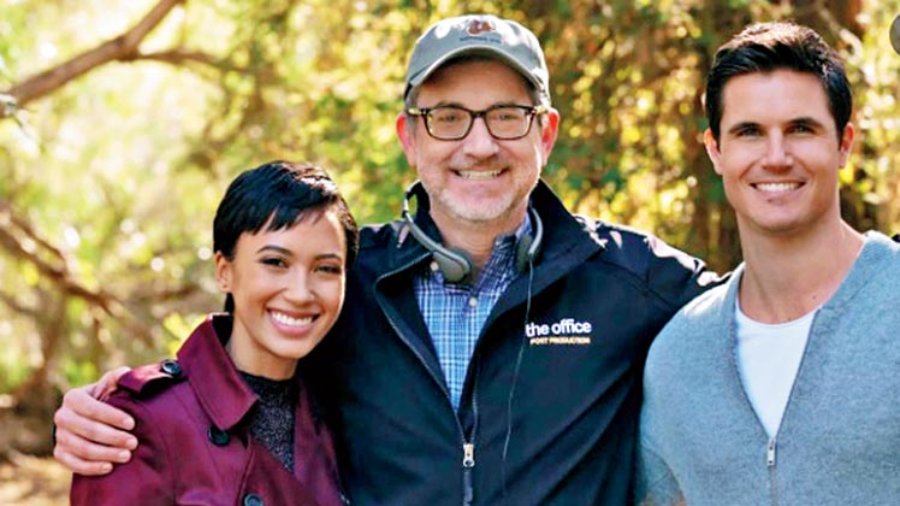 Show creator Greg Daniels (centre) with his Upload actors Andy Allo and Robbie Amell
---
Published 17.03.22, 05:25 AM
|
---
Imbued with a certain wit and wryness, the first season of the web series Upload became a runaway hit when it dropped in May 2020. The sci-fi fantasy blended a variety of genres and told the story about a future where people can upload their consciousness to a virtual afterlife.
Created by Greg Daniels, the man who has given us seminal comedies like The Office and Parks and Recreation, the show stars Robbie Amell as Nathan, who is uploaded to a fancy corporate-run digital afterlife after a freak accident and Andy Allo as Nora, his "afterlife angel", who starts off as Nathan's tech support and then becomes much more. With Season 2 of Upload now streaming on Amazon Prime Video, The Telegraph caught up with Greg Daniels, Robbie Amell and Andy Allo over a late-evening video call to know more about their smash-hit show.
GREG DANIELS (creator)
In retrospect, what do you think worked for Upload in Season 1?
As a producer, I really have this theory that you want to work hard enough to get an A-plus in every category. In Upload, I think the cast was very appealing and a lot of people hadn't seen them before. I think that's really fun... when you meet new performers.
Also, I think that the premise is pretty intriguing and what I had fun doing was combining a lot of genres. It was a love story, but also a comedy and it was also a mystery... and it was fun to be drawn along in a lot of different directions with the story.
As you said, this show meshes a lot of genres. What's been the key to bringing it all together?
I have been working as a TV producer-writer for a long time. And when you do something like this for a long time, what's challenging is to do the same thing over and over again. The stuff that makes one interested and excited is taking on something that's difficult.
I love tracking the mystery in Upload, but I also enjoy tracking the love story, and try and make the show entertaining and funny on a moment-to-moment basis. Also, we never forget the side characters, and let them have their own individual stories and their growth. It's an awful lot to keep in one's head, and every now and then someone will point out in the writers' room, 'Oh wait a minute! That clue doesn't make any sense'. And so, we have to go back and change it. But ya, the whole point is to always keep it entertaining.
I heard you have already started working on Season 3...
Well, we still haven't been greenlit for Season 3 but we have started writing it in the hope that we will (get greenlit). And if we can come up with some really good ideas, it will strengthen our argument.
What do you think it is about this premise that gives it the potential to have such long legs across seasons?
Ultimately, the core of the premise is that there is a new society that these tech companies are creating, a sort of a metaverse that you can live in full time. But it's also an opportunity to ask questions like if one could start from scratch and make a brand-new society, what would the rules be. If you don't think about it, then the rules are set by somebody else... like a big company, and their rules will be to get as much money out of you as they can. But if you stop and think about it, then maybe you will organise it differently. That's a pretty big premise. When I thought about this premise many years ago, I thought, 'This is good, this is rich, I want to work on this. I feel this idea could expand and force people to think'.
When I talk to people who have loved the show, one of the things they say to me is that it makes them think and that they have discussions about it afterwards. So I think that's a good thing, you know. To be able to be entertaining while meshing a bunch of genres, but also at the end of it making the viewer think, 'Huh! What if that really happened?! What would I do?'
Like most of us, are you intrigued by the afterlife? If you had to choose an afterlife, what would that be?
I am kind of getting older, so the question of the afterlife is maybe getting a bit more pressing! (Laughs) I kind of like the design of the Lakeview Hotel in Upload. It's based on an actual hotel in upstate New York and I think it's very beautiful. The breakfast looks very good to me... and that's a good afterlife to have! (Laughs)
ROBBIE AMELL AND ANDY ALLO (actors) When Season 1 dropped, were you taken aback by the tsunami of praise that came its way?
Robbie Amell: We make our work in a bubble and we always hope to God that people are going to like it... and you hope even more that they aren't going to hate it! (Laughs) I think we really had that situation of people being at home (because of the pandemic), they were going through a hard time and they needed something that was light and a little bit of an escape... the subject matter is relevant and Greg (Daniels, creator) is a genius! He knows how to create characters and stories that viewers can kind of fall in love with. And I think we just got very, very lucky.
It's a great show... even if I wasn't in it, I would have watched it. So I wouldn't say I was very surprised by the response. But when you work on something, you always hope for the best.
Andy Allo: You never know how people will react to something. You want them to like it because you like it so much! (Laughs) And to have such a warm welcome in Season 1, and so overwhelmingly, was such a high. What were the highs for you in Season 1 and what learnings did you bring into this season?
Andy: For much of Season 1, we were getting used to the cast, the crew, your character and having it really sit with you. I speak for myself and the nervousness that I felt. It was just about going on this wild ride. Nora's journey, she falling for Nathan and having to make some sacrifices for that.... But in Season 2, we have had some time with our characters and it felt very much like coming home. There wasn't as much nervousness. In fact, I was like, 'Let's just play, let's have fun'. This season that Greg and the writers have crafted is, in my opinion, next level. Everything and everyone just levelled up for this new season.
Robbie: I agree with all of that. The only thing that worried me a little in Season 1 was that whether it would work because there are so many tones to the show. It's a romance, it's sci-fi, it's a drama, it's satire, it's comedy..... Kudos to Greg and the writers for really finding that balance. What's great about Upload is that it doesn't side with one thing... it shows you the grey. That's honest and the smart way to show things. So much in our world right now is black and white, and I feel like that the grey area is a little more real.